NEXT STORY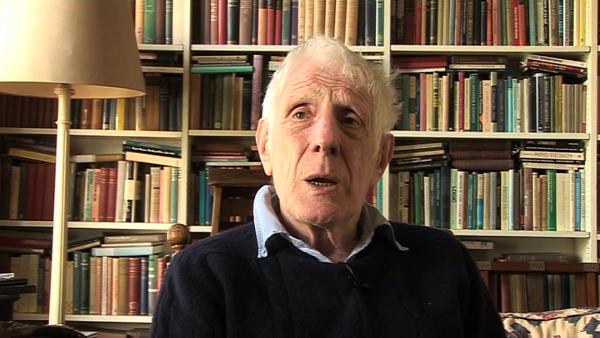 Friends and solitude
St Matthew Passion
Jonathan Miller
Theatre director
1
2
3
4
5
When I first did the Desert Island Discs I knew nothing really about music at all. I mean, I liked music and I liked a lot of Beethoven and I liked Bach and I liked Mozart. I used to go to the St Marylebone [sic] Public Library and get gramophone records, as they were called, you know, on loan, in the same way as you go to the library and you could borrow things. And I acquainted myself with all of the Beethoven symphonies and the piano concertos and all the Mozart symphonies and so forth, and bits and pieces of Bach.
I knew nothing about the [St] Matthew Passion at all when I was young. I never went to it. And it was only when I got married and my wife and her musical interests, I got directed towards the Matthew Passion... and then this rather unexpected invitation came my way about 20 years ago, someone said have you ever thought of staging it?
And I thought, well, no, I've always been slightly... you can't ever be impatient with any performance of the Matthew Passion because it's so beautiful to listen to. But I always got slightly impatient with the standard format of people dressed in tuxedos standing behind lecterns with a choir obediently ranged behind them. And it always struck me as a drama. And I said to the man who asked me, would it be possible to have a day or two with a scratch orchestra and a bit of a choir with, you know, no pay at all, just to run it through and see how we might do it?
So we went to a high school down in Pimlico during the holidays, and on the second floor of this school we got almost the complete choir and orchestra and a few soloists. And I thought, well, you know, let's, why don't we get up and start acting some of these scenes? I don't just want to have them sung, and, well, why don't we do away with the score? Just learn it like you'd learn an opera?
And in the course of it I became absolutely passionately addicted to this moment when St Peter discovers, as Jesus predicts, that he will betray him. And he sort of goes into a state of remorseful sadness about what he's done. And then there's this extraordinary consoling aria sung by a countertenor, with an obbligato instrument - a violin accompanist. And I said why don't we just bring the violinist over and play it into his ear as a consolation to him and have the countertenor put his arm around his shoulder and can sing consolingly to him?
And I'm always reduced to tears by the Erbarme Dich, and so I chose it as one of my items. But that was one of the best things I've ever staged. No costumes, I mean, just everyone was in their ordinary clothes and they just sat around in a circle and every now and then they'd get up and act.
And with one or two exceptions, actually, I got almost unanimous approval from the critics, I think they were bowled over by it. And I've done it now in America three times and I'm about to do it next year for the fourth time at the Brooklyn Academy of Music. And we fill the place, absolutely pack it out with it, and the audience goes mad with it. They suddenly feel they've seen and heard it for the first time. And that's all I ever want to do with works, I want to find a way of doing it which somehow brings them to attend to aspects of it which were previously invisible.
I've always been very struck by one important issue in psychology, and it's called the figure-ground relationship. That's what the Gestalt psychologists talk about. The best example of it is this famous thing called the Rubin Vase, when you see two faces, black faces looking at one another across... and then you realise that, actually, you can see it another way. Without there being any change in the format it isn't two black faces looking at one another, it's a white vase on a black background. And that business of two equivocal, equivalent versions of something which you can encourage people to see what they previously had not looked at.
There's another famous example which is called the Duck-Rabbit. A format which looks in one way like a rabbit with long ears with its little snout facing that way, and then someone says, but doesn't it also look like a duck, and instead of the ears they're the bill and you're suddenly, oh, yes, I quite hadn't seen that, and seeing it with the bill eliminates, without changing the format, the ears. Well, that has always been my aim in the theatre, never to change the format very much but to bring to people's attention aspects of the work, as Wittgenstein would talk about, aspects which had previously escaped their attention.
That's the only reason why I continue to work in the theatre, is that there is a creative obligation in the afterlife of these works to demonstrate to the audience that they're not straightforward versions of what they seem to be. That they are like the Rubin Vase and the Duck-Rabbit. They're things which have alternative aspects which without any violation of the format you can actually bring to their attention. This often involves resetting it, but you don't change the words, you just change what the words are about. But try and explain that to Herbert Kretzmer and you're up shit creek with no paddle at all.
Jonathan Miller (1934-2019) was a British theatre and opera director. Initially studying medicine at Cambridge, Sir Jonathan Miller came to prominence with the production of the British comedy revue, Beyond the Fringe. Following on from this success he embarked on a career in the theatre, directing a 1970 West End production of The Merchant of Venice starring Laurence Olivier. He also started directing opera, famously producing a modern, Mafia-themed version of Rigoletto.
Title: "St Matthew Passion"
Listeners: Christopher Sykes
Christopher Sykes is a London-based television producer and director who has made a number of documentary films for BBC TV, Channel 4 and PBS.
Tags: St Matthew Passion, Desert Island Discs, Pimlico, USA, Brooklyn Academy of Music, Beethoven, Mozart, Bach, St Peter, Ludwig Wittgenstein, Herbert Kretzmer
Duration: 6 minutes, 42 seconds
Date story recorded: July 2008
Date story went live: 16 August 2011