NEXT STORY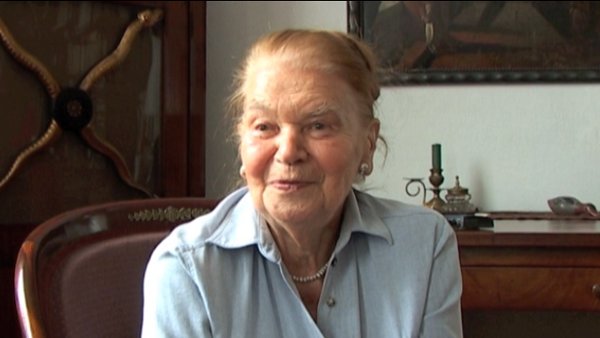 Herbert's attack on Słonimski
Afternoon tea at the Słonimskis
1
...
4
5
6
7
8
...
10
Poza tym jeśli chodzi o Słonimskich, tutaj pozwolę sobie – jeszcze zanim przejdę do Iwaszkiewicza – pozwolę sobie powiedzieć, że to byli... to był rodzaj... chyba najbliższych nam przyjaciół, mimo że... dzieliła nas tak duża różnica wieku. Słonimski bardzo często dzwonił do nas, bywali u nas na... na kolacjach – bo jeszcze wtedy bywały u mnie kolacje, już dzisiaj od dawna ich nie ma – ale bywaliśmy także u nich, bo oni urządzali takie herbatki. I to były takie herbatki rzeczywiście w czasie tea time, bo to takie londyńskie ich przyzwyczajenie, że oni podawali to... tę... tę herbatę – oczywiście świetną, jakąś angielską herbatę podawali, znaczy Janka – i do tego ona nie dawała... znaczy, były też słodycze, ale już były na zupełnie drugim miejscu, natomiast były bardzo ładne kanapki, między innymi tradycyjna londyńska kanapka z ogórkiem. Tak że wszystko to... wszystkośmy chętnie jedli, pałaszowali i rozmawiali, bo... bo w zaciszu domowym Słonimski mniej był taki wojowniczy – po prostu łagodniał, wspominał, opowiadał jakieś anegdotki, zresztą powtarzał się – to już sprawa wieku, co myśmy doskonale wiedzieli; ale pamiętam, że z Andrzejem Kijowskim wymieniliśmy takie zdanie – tu myśmy tak coś mówili, że właśnie miło, że jeszcze raz usłyszymy tą anegdotę, zresztą bardzo życzliwie i z wielką przyjemnością jego słuchaliśmy, a on mówił – `Ale może to... może jemu chodzi o to, żebyśmy to zapamiętali` – no więc jednak zawsze jest jakieś wyjście z takiej sytuacji.
In addition, if we're talking about the Słonimskis, I'll permit myself to – before I pass onto Iwaszkiewicz – I'll permit myself to say that they were probably our closest friends even though we were divided by such a great age difference. Słonimski would often call us, they'd come to our house for... dinner, because then I used to hold dinners – I haven't done that for a long time – and we also used to visit them because they would arrange afternoon teas. These really were held at tea time because this was a custom they'd adopted in London where they'd serve this... this afternoon tea which of course was wonderful, it was English tea that they served, meaning Janka served it, and she didn't serve... I mean, there were cakes as well but they weren't in pride of place. Instead, there were very pretty sandwiches, including traditional London cucumber sandwiches which we all readily ate, woofing them down and chatting because in the tranquility of his home, Słonimski was less belligerent, he became gentler, he reminisced, he told anecdotes, he repeated himself but that was because of his age which we were well aware of. I remember an exchange of views with Andrzej Kijowski, we said that it was nice to hear the same anecdotes again, that we listened to him with great pleasure, to which he said perhaps he wanted us to remember what he was telling us – there's always a way out of this kind of situation.
Born to a Polish father and a Russian mother, Julia Hartwig (1921-2017) was a Polish poet, essayist, translator and author of children's books. She studied at the University of Warsaw, the Catholic University in Lublin and the Jagiellonian University in Kraków. Czesław Miłosz called her 'the grande dame of Polish poetry'. Julia Hartwig was one of the few poets in Poland who made masterly use of poetic prose. She translated poems by Apollinaire, Rimbaud, Max Jacob, Cendrars and Supervielle, and published monographs on Apollinaire and Gerard de Nerval. She also translated from English, and published a large anthology of American poetry which she co-edited in 1992 with her late husband, the poet Artur Międzyrzecki.
Title: Afternoon tea at the Słonimskis
Listeners: Andrzej Wolski
Film director and documentary maker, Andrzej Wolski has made around 40 films since 1982 for French television, the BBC, TVP and other TV networks. He specializes in portraits and in historical films. Films that he has directed or written the screenplay for include Kultura, which he co-directed with Agnieszka Holland, and KOR which presents the history of the Worker's Defence Committee as told by its members. Andrzej Wolski has received many awards for his work, including the UNESCO Grand Prix at the Festival du Film d'Art.
Tags: London, Artur Międzyrzecki, Antoni Słonimski, Janina Konarska-Słonimska, Andrzej Kijowski
Duration: 1 minute, 36 seconds
Date story recorded: June 2010
Date story went live: 15 June 2011