NEXT STORY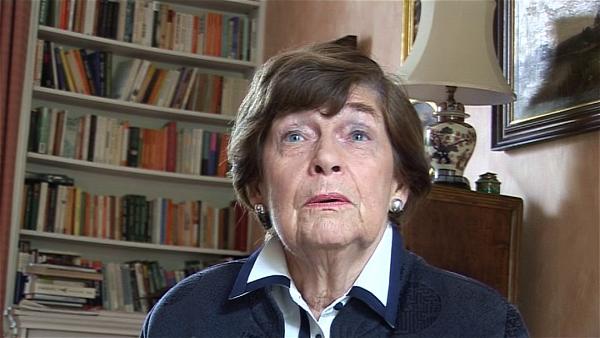 Covering the Paris fashion collections for Picture Post
Katharine Whitehorn
Writer
1
2
3
4
As soon as I was a journalist... you know, I had a flatmate at one point who was an architect. A particular sort of architect, she was very good archaeological reconstruction. And she once used the phrase, 'This is what I am for'. And that's absolutely what I felt about journalism. And the first job was not particularly inspiring, but at least a first step on the ladder. I worked for a thing called Home Notes, which was a funny little paper, you know, about the size of a Penguin book, printed on really awful paper. Well, I suppose it was still quite... I think we still ... probably still had paper rationing, or something.
And I had to put the headlines on the real life love stories which came in in batches of six from hardened professionals. And I always remember, and missed no chance to say, how they did the horoscopes. Because the thought that people actually believe in horoscopes fills me with great gloom. It was a girl called Chrissy who used to come around and say, 'What's your sign, dear?' So you'd tell her. She'd say, 'What would you like to have had happen to you this week?'
And from there, through, oh, well meeting people who... meeting people who were already better journalists, senior journalists, I got on to Picture Post. And the thing that clinched it was somebody in... that was the tenant of a friend of mine, worked for Picture Post. So I said, 'Look I'd love to work for Picture Post, can you... can you help?', you know. And he said, 'Well it won't do you any good if I recommend you because I think I'm on the way out', which he was, 'But I'll recommend you to Bert Hardy, the photographer'. And Bert used me as the model in a picture series about being lonely in the big city. And took a picture of me standing, looking forlorn with a suitcase in a station, and sitting looking extremely gloomy in front of my gas fire. And that photograph follows me round to this day.
Anyway, with his help I finally got a job on Picture Post. But that photograph, which first of all they rang up and said, after Picture Post folded, it was in the Getty Collection, the Houghton Collection, somebody rang up and said they want that photograph for Lucozade, do you mind? You get a fiver. Well, a fiver is a fiver, sure. So here was this huge poster of me with the thing, 'Feels like crying, yet all she needs is energy. Drink Lucozade'.
And the next one... they said they want to use this for what was then called the Society for the Unwed Mother and Her Child. I said, 'No'. But it's been cropping up ever since. Usually... and no permission from me, and certainly no pay. And the last one, somebody used it as a cover on their novel and it got a huge poster in the Underground, but it was so long ago that nobody except my own son recognised that it was me. So that's the passing of the years for you.
A distinguished journalist and renowned author, Katharine Whitehorn (1928-2021) has written for The Spectator and Picture Post. She was the first woman to have her own column in the Observer and was their star columnist for the best part of 40 years. Educated at Newnham College, Cambridge, is recognised as someone who has transformed 20th century women's journalism. She took a keen interest in social welfare issues, was a Fellow of the Royal Society of Medicine and was the first woman rector of the University of St Andrews.
Title: 'That' picture
Listeners: Bob Bee
Bob Bee is a Scottish documentary maker who has made many films on the Arts and Science for ITV, BBC and Channel Four.
Tags: Home Notes, Picture Post, Getty Collection, Houghton Collection, Lucozade, loneliness, horoscopes, Bert Hardy
Duration: 3 minutes, 15 seconds
Date story recorded: September 2010
Date story went live: 16 February 2011