NEXT STORY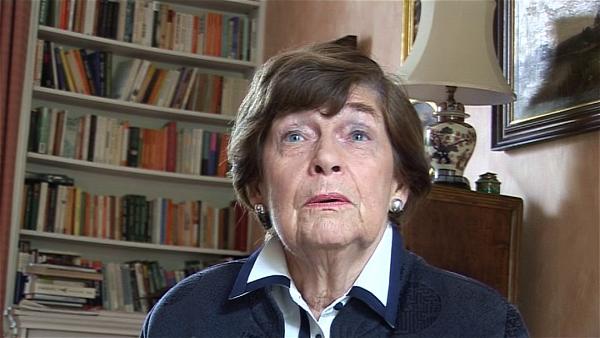 Getting the sack from Woman's Own
Katharine Whitehorn
Writer
1
2
3
4
So that was it. Picture Post folded. It took a long time to wind itself up, and during that time Gavin and I did see a bit more of each other. And then it was a... we were paid off quite handsomely. And the idea was that... Gavin had decided he would go tootling around the continent. And it was actually the sort of thing I'd done quite a lot of. And he said, 'Why don't we go together?' Well I didn't want him to trot along being told by me what I had... what to do. Because I had kicked around the continent a bit together... by myself.
I don't know that I put this in, but the summer after Cambridge I hitchhiked around France by myself. And you know, I'd been abroad a fair bit and he hadn't. He had been on a film shoot to Libya in which he had actually been the first and only man to beat Sophia Loren at ping pong as he said brutally, 'Because I was the only man fool enough to keep my eye on the ball!' So we arranged that we would meet in the South of France, and where did...? Suddenly having to think of a place where you're going to meet somebody in several weeks' time in the South of France... the whale in the Monte Carlo Museum.
And I, sort of, trickled my way down going through... seeing friends in other places, and there we met up there. And moved slowly down through Italy, quite a long time in Florence, a shorter time in Rome. Down through Italy, and then across to Athens. And then we deliberately chose the island which had least said about it in any of the brochures, which is Sifnos, and that was where we, sort of, got it together completely. And then we... but I was waiting on the island and I sort of... for him actually to propose. And he was thinking of doing...
I'd said, 'Don't propose in bed or what'd we tell the children?' So he thought, right, I'll give her a proper... I'll give her a proper proposal. So we waited until we were at Delphi at dawn and he proposed there. And then there was a question of writing to tell your family what you had done, and I was able to write, you know, a long and fulsome letter about the whole thing. Gavin said, 'Tell her I've got the chest of a boy of 14 and the lungs of a man of 90'. Well I didn't. Tell her... what was the other thing? 'Tell her I'm ten feet tall and half an inch wide', which was nearly true. Unlike practically all of my other boyfriends he was actually good and taller than me. And he went home fairly quickly, and I trickled home rather slower. Spending... first time I went to Venice. And that was at the end of the summer and we got married the next January. It had to be early January because... had to be in the school holidays because of using the school premises.
My father by then was teaching at Marlborough and the school premises in Marlborough are pretty nice.
A distinguished journalist and renowned author, Katharine Whitehorn (1928-2021) has written for The Spectator and Picture Post. She was the first woman to have her own column in the Observer and was their star columnist for the best part of 40 years. Educated at Newnham College, Cambridge, is recognised as someone who has transformed 20th century women's journalism. She took a keen interest in social welfare issues, was a Fellow of the Royal Society of Medicine and was the first woman rector of the University of St Andrews.
Title: 'Don't propose in bed'
Listeners: Bob Bee
Bob Bee is a Scottish documentary maker who has made many films on the Arts and Science for ITV, BBC and Channel Four.
Tags: Picture Post, France, Libya, Monte Carlo, Monte Carlo Oceanographic Museum and Aquarium, Delphi, Monte Carlo Museum, Sifnos, Marlborough College, Gavin Tudor Lyall, Sophia Loren, Sofia Costanza Brigida Villani Scicolone
Duration: 3 minutes, 37 seconds
Date story recorded: September 2010
Date story went live: 16 February 2011