NEXT STORY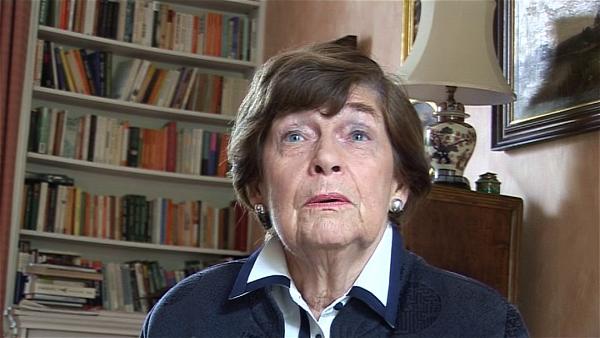 Women's rights and equality
Katharine Whitehorn
Writer
1
2
3
4
Since you have unwisely given me this pulpit, one of the things that has got to stop is this idea that keeping people alive come what may, however much they want to die, however frightful their lives, is a good thing. It is not.
And the Dignity in Dying people, I've got a lot of time for them, but they're far too much focusing on, oh isn't it frightful when they're going to die in three weeks that we can't let them go now. That's not the problem. If you're going to die in three weeks all you have to do is suffer for three weeks. How about being blind and paralysed for five years? Would you enjoy that? No. And I do think that it's a serious thing that's got to be tackled... is that now that we can stop the end of life happening when it naturally would, we've got to rethink the end of life the way we absolutely have rethought the beginning of life.
And Catholics say, no, no, no, we haven't, you know. You say, you don't think you have? Because you don't approve conception? Okay, what about saving very premature babies? What about IVF? Surrogate motherhood, whatever. We simply do not now leave it to fate. And we're going to stop having... leaving death to fate either. And I'm much more concerned to be involved in this discussion and try and make sure it's done the right way. And there are good ways of doing it.
I did a long thing on Oregon for The Guardian, and it's very interesting because people tell great lies about that. For example, they made an enormous fuss two years ago because one of the strict things that you have... that in Oregon they have to do a psychological test on anybody who's going to use their assisted dying to make sure they're not just depressed. And two doctors had fallen out of line and not done it. So this is being used as a reason... do you think two doctors who had actually given the wrong medicine would mean we would stop giving medicine to anybody? And that's the logic of it. The other thing that they got completely wrong is that they... and this is much more serious and much more sad... the presumption is that if you allow assisted dying, hospice care will deteriorate. And there is a question mark hanging over Holland. Oregon is the second best state in America for hospice care. They do it in a rather different way. Hospice for them doesn't mean just the building, it means palliative care. And they do a great deal of it in people's homes. The only thing that's wrong with it in Oregon is that they're so hedged about the safeguards that far from wiping out the poor, the unwanted... the poor and the unwanted haven't a hope of getting it. It's the educated and the white who manage to get it, but that can be changed. And I really, truly think... I didn't have this thought, but I think it's dead right... people are going to look back on the way we keep our very ill patients alive and miserable, the way we look back on the way we put the mad into Bedlam in the 18th century. So I think this is going to be one of the big issues. What you do with older people, what they do with themselves is going to be an issue. And oddly enough, I seem to have shifted into another mainstream area. I think there's a lot to be done in it and it's interesting.
A distinguished journalist and renowned author, Katharine Whitehorn (1928-2021) has written for The Spectator and Picture Post. She was the first woman to have her own column in the Observer and was their star columnist for the best part of 40 years. Educated at Newnham College, Cambridge, is recognised as someone who has transformed 20th century women's journalism. She took a keen interest in social welfare issues, was a Fellow of the Royal Society of Medicine and was the first woman rector of the University of St Andrews.
Title: Thoughts on euthanasia
Listeners: Bob Bee
Bob Bee is a Scottish documentary maker who has made many films on the Arts and Science for ITV, BBC and Channel Four.
Tags: Oregon, The Guardian, Holland, Dignity in Dying, Bedlam
Duration: 3 minutes, 57 seconds
Date story recorded: September 2010
Date story went live: 16 February 2011