NEXT STORY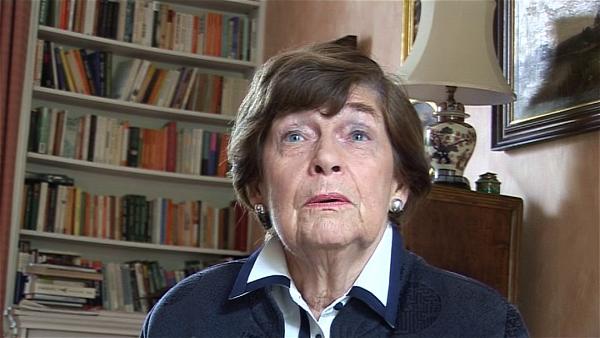 I never made any serious friends until I was about 15
I belonged to a very lucky generation
Katharine Whitehorn
Writer
1
2
3
4
My generation... all the people I was up at Cambridge with expected to have both husbands and families and careers. Now I think not a lot of them were as successful in doing this because the great lesson is that bits of a society move at different rates. And I had people write to me like in the '70s saying that until I was talking to their school they had never met anybody who didn't think that getting married and raising a family was all that women did. And if you had a job it was just a little typing job that you did until you found the right man.
And you know, there was this huge wave of women getting into things. And I think interestingly and importantly, I think that women who got into various jobs and positions because of the war were not pushed back into domestic roles anything like as much as the Americans were. Because, you know, the Rosie the Riveter, the post... Rosie the Riveter was assumed to be about to give up her job, and the world that Betty Friedan wrote her book, first... you know, the ground-breaking feminist book, Feminine Mystique, about, was the one which all these intelligent women, college educated women, very often American women better educated than us, had been thrust back and told...
And I met when I was at Cornell, a variety of women who actually said, I'm here to get my 'Mrs' degree. [Growl]. Well no wonder there was a rebellion brewing about that. But you see here it all happened in what the Americans would regard a much more limp, and we'd regard as a much more measured, way. But it didn't stop. And I think I was an incredibly lucky generation because as I say, educated as good as my brother, except for my own efforts not to be, but that's another story. Half my college paid for by... publically paid for. It wasn't the state, it was the county, but same thing. Health service that worked. All this women's revolution in journalism I've been talking about, you know, it was an unbelievably lucky moment to be alive.
[Q] Lovely.
I suppose the next thing that I'm working on is trying to make it a rather more better moment to be dying. How about that?
A distinguished journalist and renowned author, Katharine Whitehorn (1928-2021) has written for The Spectator and Picture Post. She was the first woman to have her own column in the Observer and was their star columnist for the best part of 40 years. Educated at Newnham College, Cambridge, is recognised as someone who has transformed 20th century women's journalism. She took a keen interest in social welfare issues, was a Fellow of the Royal Society of Medicine and was the first woman rector of the University of St Andrews.
Title: I belonged to a very lucky generation
Listeners: Bob Bee
Bob Bee is a Scottish documentary maker who has made many films on the Arts and Science for ITV, BBC and Channel Four.
Tags: Cambridge University, The Feminine Mystique, Cornell University, Rosie the Riveter, Betty Friedan
Duration: 2 minutes, 38 seconds
Date story recorded: September 2010
Date story went live: 16 February 2011