NEXT STORY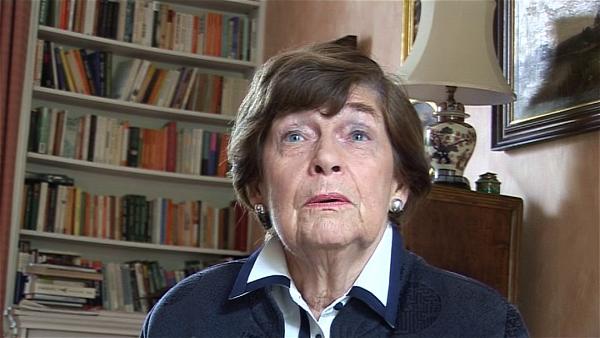 USA was 'heaven on Earth'
Studying in the US gave a completely different slant on Europe
Katharine Whitehorn
Writer
1
2
3
4
At some point I was putting in for a scholarship to go to America because in those days you had to have a reason to go to America at all. Got a visa and I got an English Speaking Union scholarship and a Fulbright travel grant, that was the way they did it in those days. And it was... well, going to America in '54 was an absolute revelation. It was a completely different world. No more war-torn Europe. And of course we'd all idolised America, you know, we loved their songs and their movies and everything like that.
And I mean even when I was in publishing I made them do the first edition of Dorothy Parker stuff for years. That kind of thing. And I shared a house with five other post-graduates who were three Americans, one of whom was sort of more or less Chinese in origin, a Philippina, a Finn, and me [unclear]. And even now, only one of them has died, and I'm still in touch with them, all the other four.
And having been in America at that time, it gave you a completely different slant on Europe. I sort of came back saying, well this is a goldfish bowl, I can do this. And I had a broken heart though. I tried to... I was... my boyfriend at the time was rather unfortunately the oldest son of my mother's closest friend. So everything that was going on got relayed back to Scotland. However that couldn't be helped. And I desperately wanted to marry him but he didn't want to marry me. And honestly, every time I think about this I sink to my bony knees and give thanks because if I'd married him I might have been a tolerably happy academic wife, but I'd never have been me. So you never know what's going to turn out right, do you?
A distinguished journalist and renowned author, Katharine Whitehorn (1928-2021) has written for The Spectator and Picture Post. She was the first woman to have her own column in the Observer and was their star columnist for the best part of 40 years. Educated at Newnham College, Cambridge, is recognised as someone who has transformed 20th century women's journalism. She took a keen interest in social welfare issues, was a Fellow of the Royal Society of Medicine and was the first woman rector of the University of St Andrews.
Title: Studying in the US gave a completely different slant on Europe
Listeners: Bob Bee
Bob Bee is a Scottish documentary maker who has made many films on the Arts and Science for ITV, BBC and Channel Four.
Tags: English Speaking Union, Fulbright scholarship, Dorothy Parker
Duration: 2 minutes, 11 seconds
Date story recorded: September 2010
Date story went live: 16 February 2011