NEXT STORY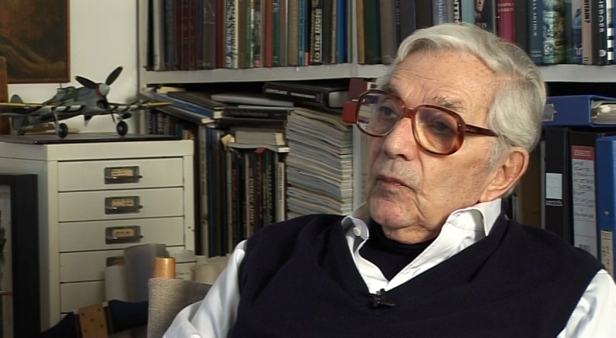 The first thing that went wrong
1
2
3
4
5
6
...
15
The only problem I seem to remember was I got jaundice, yellow jaundice. I must have eaten some bad mussels in Marseilles, and I was… I didn't know, because I was all… I became yellow like a canary, and I was staying at the Hotel Rühl in Nice. And they sent a doctor, Dr Rosanoff - I'll never forget his name – from Russia, and he said, 'You've got jaundice, and you've got to stay in bed'. I said, 'But the Hollywood director's coming over tomorrow'. He said, 'Forget the Hollywood director'. Well, I didn't forget the Hollywood director, and… but I was so yellow, you know. And in any case, at the hotel, I heard the owner ring up – you know, it was one of the small hotels in Villefranche – was it safe to have somebody who was as yellow as a canary staying in his hotel?
And so I got a car, I went to Nice airport, and I collected the director, who was a man called Raoul Walsh, who was a sort of blood-and-guts director. And I felt terrible, you know. I don't know if you've ever had yellow jaundice, but I mean really terrible yellow, and I tried to pretend – I had dark glasses on, you see – pretend that I was okay, and I said to him, 'Really, I'm not too well, and, you know, I've got a bit of a yellow skin'. He said, 'No, no, you're that sort of exotic type, you know!'
Well, I wasn't going to give in, so… but I couldn't go with him on the locations which I had found before, so I had all the meetings with them in the hotel, lying in bed, you know, with the Russian doctor saying he's not going to accept any more responsibility. He said, 'If you don't stop this and take the medication' – in those days they gave me artichokes, you know – you'll be dead'. So, you know, it's nothing to laugh about.
Well, I got away with it, and established a great relationship, a) with the shipbuilder, who became a lifelong friend who unfortunately died last year, and the whole family. And they have this fantastic house in Villefranche, and we used to stay there, and he lent me his old pre-war Mercedes to drive around. And I tried to, you know, I said, how many times am I going to be in a place like this? Jack Warner had a villa at Juan les-Pins, a Villa Aujourd'hui, and all those things. Garbo was staying at Haut de Cagnes, you know. It was fantastic, but I didn't feel very well, and if you see some of my photographs of back then.
Sir Kenneth Adam (1921-2016), OBE, born Klaus Hugo Adam, was a production designer famous for his set designs for the James Bond films of the 1960s and 1970s. Initially, he trained as an architect in London, but in October 1943, he became one of only two German-born fighter pilots to fly with the RAF in wartime. He joined 609 Squadron where he flew the Hawker Typhoon fighter bomber. After the war, he entered the film industry, initially as a draughtsman on This Was a Woman. His portfolio of work includes Barry Lyndon and The Madness of King George; he won an Oscar for both films. Having a close relationship with Stanley Kubrick, he also designed the set for the iconic war room in Dr Strangelove. Sir Ken Adam was knighted by Queen Elizabeth II in 2003.
Title: Getting yellow jaundice
Listeners: Christopher Sykes
Christopher Sykes is an independent documentary producer who has made a number of films about science and scientists for BBC TV, Channel Four, and PBS.
Tags: Marseilles, Nice, Hollywood, Villefranche-sur-Mer, Juan-les-Pins, Cannes, Captain Horatio Hornblower, Raoul Walsh, Jack Warner, Greta Garbo
Duration: 3 minutes, 48 seconds
Date story recorded: December 2010 and January 2011
Date story went live: 14 September 2011