NEXT STORY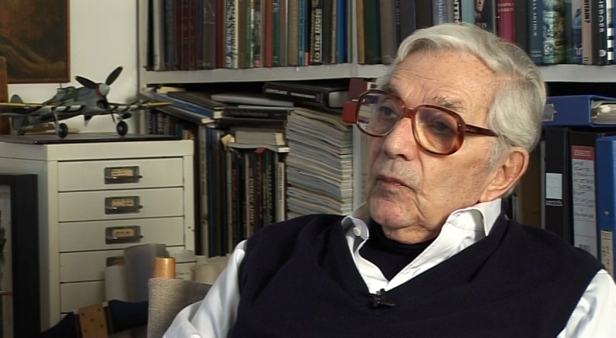 How I met my wife Letitzia
Becoming the reluctant 'ship man'
1
2
3
4
5
6
...
15
[Q] So had you found very definitely what you wanted to do? By the time you finished…?
Yes. Well, when you say very definitely, I would be lying, because I adored the life I was leading, and I always adored ships, and so I was doing the first one with Gregory Peck, it was Hornblower. When I married Letitzia, which was the following year, or something... no, when I got... it was in Ischia, I sailed, Warner insisted on my sailing these two ships down to Ischia, which is a six-day trip or something, and we nearly were shipwrecked, but that's another story, in Corsica; and so I was on ships, you know, and I was a ship expert. And then after The Master of Ballantrae, we did a film with Errol Flynn… No, I'm sorry, the... the first film was The Crimson Pirate, with Burt Lancaster, in Ischia. Then the next film was The Master of Ballantrae, where again I did the ships, which we did in Sicily, with Errol Flynn, and by this time I was sort of known as the... the 'ship man', really, and in terms of life and activity, I loved it. But that... something said to me in the back... you don't want to stick with ships for the rest of your professional life.
Then I... then I did Helen of Troy – again, you know, the ship... you know, the face that sank a thousand ships, or whatever it did. I built that in Fiumicino in Rome, and you know, with the... the galleys, you know. And not enough, then I did another one… oh yes, John Paul Jones, it was an American film about an American warship which was in the... in the Wars of Independence. So I got those ships in Sicily, and then rebuilt them in Fiumicino near Rome.
Then they ran out of money, I came back to England, and was lucky enough to work on a John Ford picture through Columbia – I had put the ships and all the... the art department equipment into legal hands, in the lawyers' hands, in Rome – and true enough, while I'm on the John Ford picture, the producer and director came over and said, 'We'd like to see your ships and your drawings'. And I said to John Ford, 'What am I going to do?' He said, 'Well, you've got to go with them, I'll give you two days off, but you've got to make sure that they pay everybody in Rome, and the lawyers and the ships, otherwise our, you know, all the Americans are going to get a bad reputation'. So I went, and they paid everybody and got the ships.
Sir Kenneth Adam (1921-2016), OBE, born Klaus Hugo Adam, was a production designer famous for his set designs for the James Bond films of the 1960s and 1970s. Initially, he trained as an architect in London, but in October 1943, he became one of only two German-born fighter pilots to fly with the RAF in wartime. He joined 609 Squadron where he flew the Hawker Typhoon fighter bomber. After the war, he entered the film industry, initially as a draughtsman on This Was a Woman. His portfolio of work includes Barry Lyndon and The Madness of King George; he won an Oscar for both films. Having a close relationship with Stanley Kubrick, he also designed the set for the iconic war room in Dr Strangelove. Sir Ken Adam was knighted by Queen Elizabeth II in 2003.
Title: Becoming the reluctant 'ship man'
Listeners: Christopher Sykes
Christopher Sykes is an independent documentary producer who has made a number of films about science and scientists for BBC TV, Channel Four, and PBS.
Tags: Captain Horatio Hornblower, Ischia, Corsica, The Crimson Pirate, Sicily, Helen of Troy, Fiumicino, Rome, John Paul Jones, USA, American War of Independence, UK, Columbia Pictures, Gregory Peck, Jack Warner, Burt Lancaster, Errol Flynn, John Ford
Duration: 4 minutes, 18 seconds
Date story recorded: December 2010 and January 2011
Date story went live: 14 September 2011