NEXT STORY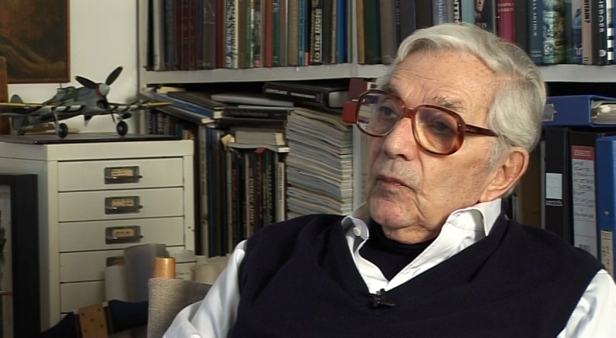 Paul Sheriff
'We hit a gale... I thought enough is enough, of boats'
1
...
3
4
5
6
7
...
15
We had two boats and everybody was waiting in Ischia, and as usual, which happened so often, in the Straits of Corsica we hit a gale, and I was on the smaller of the boats. The big boat had a crew of 24 drunken Bretons from Brittany, and Captain Olivier were, you know, was one of the old skippers who had been cod fishing on the banks of Newfoundland, but I was on the... the Marie-Annique with my naval advisor.
And, I... I woke – when my watch had finished, and I went to sleep down below – I woke up with the water swishing. They were built in double skins you see and they were leaking, so the water was... the double skin... and it wasn't very safe you see. And Vernon Sewell, who was my naval advisor, who actually owned one of the biggest steam yachts in... in England, and had led the Dunkirk evacuation, all he had was one Lewis gun, which didn't really fire, but they…
They were these British, fantastic, I mean they had… and a great film director, you know! And, what he did, he used to invite a lot of actors, and say, I take you to Le Touquet, or somewhere for... to the casino over the weekend. And while they were sailing over the weekend in that big steam yacht, he filmed... made a film of them, you know... because he knew how to run the sound and the camera and the…
So, in any case, he was my naval expert and he was very proud because he'd installed the engine in the Marie-Annique, where the first thing that happened – we weren't properly ballasted... and then, I said, 'Well, we should be able to contact the big one in front to turn back and take us into tow'.
Well, I found out that the Aldis lamp, which we had for that purpose, the battery had run out. And we finally used mirrors, you know, because there was a bit of sun every time the… and, Captain Olivier, on the big ship, eventually, reluctantly, turned round to help us.
And, I was having kittens, not because I was afraid of losing my life, or anything, but the big ship – which the whole stern castle I had built, I mean all the decoration, all that, out of plaster – and it was cantilevered away from the boat, and I said to myself, you know... because we had to... they had to tow through one of the windows. So I was steering the Marie-Annique to make sure that we kept in line with the boat in front, because otherwise the whole stern castle would have been ripped off, and there's Jack... Burt Lancaster, and all these people, Robert Siodmarck waiting in Ischia for their main props to arrive, and we were battling it out with the elements.
So, in any case, to cut a long story short I left the Marie-Annique in Bastia, in Corsica with Vernon, and I said, 'You get another engine', the reduction gear had stripped, and so on. And maybe it's not that important that we have the smaller one but I must get the big one to Ischia'. And then we sailed for six days and sometimes with full sail, you know – which more than, I don't know how many square metres – but doing nine knots at times.
And thank God we had all those drunken Bretons onboard, who climbed up there, you know and that's how... how we arrived at Ischia eventually. I learned a lot I may say on Hornblower and The Crimson Pirate, and afterwards, you know, I didn't take that many risks any longer.
But there's all sorts of… because, Vernon, thought it was going to be, we're going to have a great trip, and he ordered on Warner's account lobster and caviar, and so on. Well, I couldn't touch anything. This movement was terrible! And then, as I said, a few years later I did Helen of Troy, and then I thought enough is enough, of boats.
Sir Kenneth Adam (1921-2016), OBE, born Klaus Hugo Adam, was a production designer famous for his set designs for the James Bond films of the 1960s and 1970s. Initially, he trained as an architect in London, but in October 1943, he became one of only two German-born fighter pilots to fly with the RAF in wartime. He joined 609 Squadron where he flew the Hawker Typhoon fighter bomber. After the war, he entered the film industry, initially as a draughtsman on This Was a Woman. His portfolio of work includes Barry Lyndon and The Madness of King George; he won an Oscar for both films. Having a close relationship with Stanley Kubrick, he also designed the set for the iconic war room in Dr Strangelove. Sir Ken Adam was knighted by Queen Elizabeth II in 2003.
Title: 'We hit a gale... I thought enough is enough, of boats'
Listeners: Christopher Sykes
Christopher Sykes is an independent documentary producer who has made a number of films about science and scientists for BBC TV, Channel Four, and PBS.
Tags: Ischia, Straits of Corsica, Corsica, Brittany, Newfoundland, UK, Dunkirk, Bastia, Captain Horatio Hornblower, The Crimson Pirate, Helen of Troy, Vernon Sewell, Burt Lancaster
Duration: 5 minutes, 43 seconds
Date story recorded: December 2010 and January 2011
Date story went live: 14 September 2011