NEXT STORY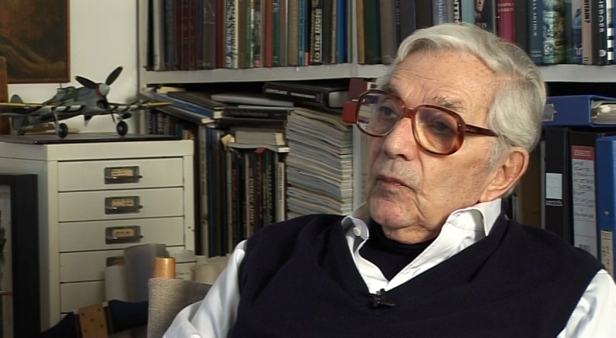 The Trials of Oscar Wilde
The John Paul Jones payment dispute
1
...
5
6
7
8
9
...
15
I was making... I was employed on an American film in Europe called John Paul Jones and there was a production designer, and I was the art director.
And there was... the producer was a man called Bronston, who started, eventually, all those big films in Spain, you know, and it involved boats, full-sized boats, and I set up the art department in Rome. I had the famous sailing expert Arthur Villiers fly with me to Sicily to see if we could find some big schooners, which I think... would convert into square-rigged frigates of the period, and we found all that.
And, so I set up the art department in Rome, and we bought these two old schooners, and had them sailed to Fiumicino outside Rome, and I started the conversion into a 24-gun frigate if I remember rightly, two 24-gun frigates. And they were very keen on this picture because apparently it was the first time in this... in the American Wars of Independence that an American frigate sank a British frigate, and so they had the whole navy behind them.
The only sad part was that I suddenly got a letter from my bank manager here saying that, to inform me that, I don't know what the word was, that the cheques had bounced, you know. And I'm sitting there in Rome with an art department of about 20 people and I had a very superstitious Bulgarian, draft those enormous... and he found a lucertola... it's one of these creatures on the wall. And he said, 'We'll all be in trouble now because that brings bad luck', and true enough, about two weeks later all their cheques started bouncing.
And I was all the time ringing New York and LA, saying, 'What the devil is happening?' Also, Bronston had asked me and Letitzia to entertain the Chief of the Navy, I can't remember the name, in the most expensive restaurant in Rome, at Passetto's, you know, and... because they were very important people. And we did all that until I ran out of money, you see.
And, they always said, 'Don't worry', you know, 'We are just switching bank accounts from one bank to another', and so on. Well, to cut a long story short – I was never paid, nor were the people paid, and I'd forgotten about it – and I'm working on the John Ford picture here, and I get a phone call in the morning from Barney Glassman and Sam Bronston, they're having breakfast at the Dorchester, would I like to join them for breakfast?
So... and all my work and my assistant's work had been put in the hands of a lawyer. Also, the ships, I mean they were big props, in Rome. So they said they... 'Now we're going to go ahead', and... but they wanted all my drawings released, and so on. So, I said, 'Well, let me think about it, because I'm working for John Ford at the moment, and I don't know if I can get away from the picture'.
So I talked to John and he said, 'This is going to give all of us a bad reputation. Ken, you better go with them to Italy, but you better make sure that they pay off everybody, and there's not any bad debt left behind'. And so I flew with them to Rome and I must say they did pay off everybody. This was nearly two years later, you know. And they made the picture too, but not with me, or Boris Leven, the production designer, because, a) I was busy on other pictures.
And I never saw the picture, so I can't tell you if it was good picture, but we had also a sense of humour about it, because we couldn't take it seriously. Except when all the cheques started bouncing, you know, it became pretty serious.
Sir Kenneth Adam (1921-2016), OBE, born Klaus Hugo Adam, was a production designer famous for his set designs for the James Bond films of the 1960s and 1970s. Initially, he trained as an architect in London, but in October 1943, he became one of only two German-born fighter pilots to fly with the RAF in wartime. He joined 609 Squadron where he flew the Hawker Typhoon fighter bomber. After the war, he entered the film industry, initially as a draughtsman on This Was a Woman. His portfolio of work includes Barry Lyndon and The Madness of King George; he won an Oscar for both films. Having a close relationship with Stanley Kubrick, he also designed the set for the iconic war room in Dr Strangelove. Sir Ken Adam was knighted by Queen Elizabeth II in 2003.
Title: The John Paul Jones payment dispute
Listeners: Christopher Sykes
Christopher Sykes is an independent documentary producer who has made a number of films about science and scientists for BBC TV, Channel Four, and PBS.
Tags: John Paul Jones, Spain, Rome, Sicily, Fiumicino, New York, Los Angeles, Passetto Restaurant, Dorchester Restaurant, Samuel Bronston, Arthur Billyard, John Ford, Barney Glassman, Boris Leven
Duration: 6 minutes, 8 seconds
Date story recorded: December 2010 and January 2011
Date story went live: 14 September 2011