NEXT STORY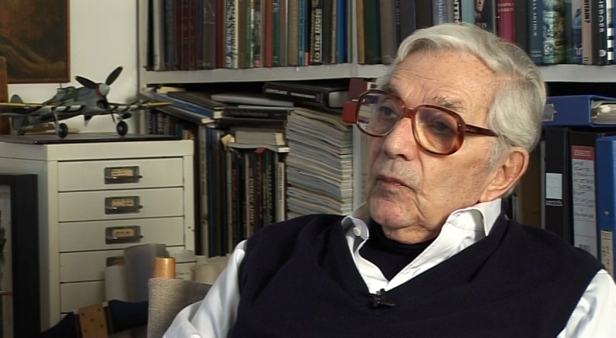 The real Peter Sellers
Redesigning the Dr Strangelove war room
1
...
6
7
8
9
10
...
15
The script was being written still and so on, and I was going ahead with my designs at Shepperton Studios, and after three weeks, in the car he said, 'You know, Ken, I've been thinking about it and I don't know what to do with the second level of your set, because, you know, there will be 100 extras, and so on, and they look like they have a lot of cheese on their face, and I don't know what to do with them. I said, 'Well, Stanley, you're the director you saw the design'. 'Yes, well, I don't know what to do. We have to come up with something else'. So he really threw me, because also I wasn't that experienced in those days. And I walked around in Shepperton – there are these beautiful grounds, you know, gardens – to try and calm myself down, took a couple of Valium, I think, and then started scribbling again on my... in a little cubby-hole under the window, and he was standing behind me. And I was going through various shapes, and I came up with this sort of, rather expressionistic triangular shape, and he said, 'Wait, that's like a triangle'. And I said, 'Yes, it is', and he said, 'But a triangle is the strongest geometric form'. I said, 'Yes'. I had no idea, but I said, yes, and he said, 'So wait a moment, what are you going to do with the wall treatment?' and I said, 'That's reinforced concrete'. 'Oh, so it could be like a gigantic bomb shelter?' And I said, 'Yes'. So that sold it, and I found out how... that you really had to justify every line I drew or anybody else drew, which is sometimes heartbreaking, because I was, or am, more or less, an instinctive designer, something like doodling, and something comes out which is interesting, but then to justify it intellectually is... not always easy.
So in any case, it certainly sold the set to Stanley, and, you know, he saw that circular table in the centre and the light ring above it, and he said, 'Well, the table I want covered in green felt'. I said, 'Stanley, I'll gladly cover it in green felt, but it's a black and white picture' He said, 'I don't care! Because I want the whole scene to be as though they are playing a poker game for the fate of the world'. So it made a lot of sense, and then he said, 'How do you see this light ring?' and I said, 'Well, I thought it was nice for the composition and to light the actors sitting round the table'. So he said, 'I'll light the whole set that way'. And then he came here, or we had a flat somewhere in London at that time, and we were going… we were experimenting, with me sitting here, let's say, and he was standing there at night time with photofloods, working out the right angle, and so on, so it was really very useful from that point of view.
Sir Kenneth Adam (1921-2016), OBE, born Klaus Hugo Adam, was a production designer famous for his set designs for the James Bond films of the 1960s and 1970s. Initially, he trained as an architect in London, but in October 1943, he became one of only two German-born fighter pilots to fly with the RAF in wartime. He joined 609 Squadron where he flew the Hawker Typhoon fighter bomber. After the war, he entered the film industry, initially as a draughtsman on This Was a Woman. His portfolio of work includes Barry Lyndon and The Madness of King George; he won an Oscar for both films. Having a close relationship with Stanley Kubrick, he also designed the set for the iconic war room in Dr Strangelove. Sir Ken Adam was knighted by Queen Elizabeth II in 2003.
Title: Redesigning the "Dr Strangelove" war room
Listeners: Christopher Sykes
Christopher Sykes is an independent documentary producer who has made a number of films about science and scientists for BBC TV, Channel Four, and PBS.
Tags: Shepperton Studios, Stanley Kubrick
Duration: 4 minutes, 10 seconds
Date story recorded: December 2010 and January 2011
Date story went live: 14 October 2011