NEXT STORY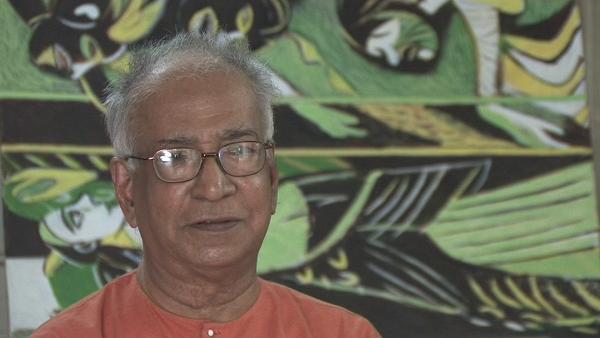 Life at Santiniketan and Nandalal Bose
Travelling to Santiniketan and being searched by the police
1
2
3
4
5
...
8
At that time, of course 1944 means there were a lot of military movements going on in India at that time, the trains were very crowded. And I was travelling not for the first time. And I got into the crowded train somehow and was sitting on my bedding I think more or less all the way through. Then from Madras when we came to the Cuttack Station, that is in Orissa at that time. A number of policemen came into the area and then they spotted me out and said that I want to check your baggage. Then they checked my baggage and found nothing incriminating so they said sorry and went away. That of course changed the atmosphere of the air. Suddenly all the people round they thought, they should give me a seat to sit. And then keep me in comfort, and there were a number of even military men who were asking me why did they do this and all. And finally when I got to Calcutta they almost took charge of me and put me on the right train to Santiniketan. Well, the background is this: because at that time in 1944, the Midnapur District in Bengal had declared itself independent. And there were a lot of underground workers going to Midnapur District sort of to talk to the villagers and say [inaudible]. So they thought that I was also one of the persons going to Midnapur that side, and that's why probably they did that. And really speaking one of my old jail mates had gone to Midnapur, he later ended up as a minister in the government. And he was also a confirmed Gandhian later, and he has written on Gandhian thought. I don't know whether he is still alive or not.
KG Subramanyan (1924-2016) was an Indian artist. A graduate of the renowned art college of Kala Bhavana in Santiniketan, Subramanyan was both a theoretician and an art historian whose writings formed the basis for the study of contemporary Indian art. His own work, which broke down the barrier between artist and artisan, was executed in a wide range of media and drew upon myth and tradition for its inspiration.
Title: Travelling to Santiniketan and being searched by the police
Listeners: Timothy Hyman
Timothy Hyman is a graduate of Slade School of Fine Art, London, in which he has also taught. In 1980 and 1982, he was Visiting Professor in Baroda, India. Timothy Hyman has curated many significant art exhibitions and has published articles and monographs on both European and Indian artists.
Duration: 2 minutes, 21 seconds
Date story recorded: 2008
Date story went live: 10 September 2010