NEXT STORY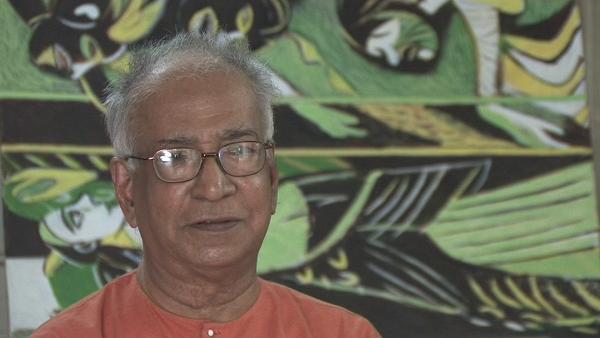 Mohandas Gandhi and art (Part 1)
Santiniketan and Gandhism
1
2
3
4
5
...
8
You're 20 and you've arrived at Santiniketan. At the age of 20 I wondered whether there was any contact between your Gandhism and the ethos of Santiniketan?
When I went there, I had come from the background I mean in my background there was some kind of an effect of Gandhi's ideas to me. But I cannot say I was an out and out Gandhian kind of a thing. Similarly in Santiniketan, Tagore himself did not want to get people around him embroiled in the various movements that Gandhi had started. It could be partly of his different kind of outlook or things or it might be also tactical, because he was running an institution which should not be thought of in terms of a subversive institution, that kind of a thing. But in any case, it is true, that during the Quit India movement, when some people wanted to sort of take part in it, he allowed them to forego their registration and then go and then he took them back. So in fact Sankho Chaudhuri was a student of that kind. He was studying at that time in the college, so he went and took part. So like that and amongst his followers Nandalal was one person who was terribly influenced sort of by Gandhian ideals in his own special way. So really there wasn't that kind of a thing. And the other thing is that if you're thinking in terms of, let's say, living in Gandhian simplicity, in the ashram of that kind, well it was there already. The only thing that wasn't there to the extent that Gandhi wanted was self-help. Gandhi wanted that you should wash your bathrooms yourself, you should wash your clothes yourself, you should do everything yourself and not leave it to others, or another class of people. He had made that very clear when he visited Santiniketan when he moved to India. In the first 2 or 3 days itself he had made it clear that this is what I think is the right thing to do. And they did under pressure from him for a while. After that now, that date is observed even in Santiniketan today, called the Gandhi Puja. So it is ritually they do it at that time, the kitchen is run by people, and the food is cooked by the ordinary people. But then there wasn't that kind of a conflict at all. And many of the other things were - the only thing is Gandhi was in certain kind of a insistence on celibacy and things of that kind, brahmacharya and all. I think people like us didn't take it so seriously, I mean, I thought it was not quite a sensible thing to talk about in a generalised sense. If somebody wants to be celibate he is welcome to do so, but otherwise not. And then, so really there was not that kind of a conflict at all. And then later when it came to be the relationship with Gandhi and Tagore, if you only go by the written word or the printed word. Of course there were lots of controversies: Gandhi said one thing and Tagore said another. And there were sort of areas of divergence. But then they respected each other as if they complemented each other. And in fact when Rabindranath was thinking that he wouldn't last long, that was in 1940, which was Gandhi's last visit when Rabindranath was alive in Santiniketan. He is supposed to have sort of been very - and he talked to him I have something to tell you. But he didn't tell him till the last moment. And when Gandhi was supposed to be leaving, then it seems he gave into his hands a kind of a written note. In it he was saying, 'I don't think I'll be there for a long time. And this institution is like a boat that carries the best treasures of my experience, so safeguard it'. And Gandhi read it only after he got into the train, this sort of thing. So he wrote back saying that I'll try my best. So he trusted Gandhi, I mean, he thought that Gandhi in spite of all, is probably the only person who can safeguard his sort of a heritage.
KG Subramanyan (1924-2016) was an Indian artist. A graduate of the renowned art college of Kala Bhavana in Santiniketan, Subramanyan was both a theoretician and an art historian whose writings formed the basis for the study of contemporary Indian art. His own work, which broke down the barrier between artist and artisan, was executed in a wide range of media and drew upon myth and tradition for its inspiration.
Title: Santiniketan and Gandhism
Listeners: Timothy Hyman
Timothy Hyman is a graduate of Slade School of Fine Art, London, in which he has also taught. In 1980 and 1982, he was Visiting Professor in Baroda, India. Timothy Hyman has curated many significant art exhibitions and has published articles and monographs on both European and Indian artists.
Duration: 5 minutes, 13 seconds
Date story recorded: 2008
Date story went live: 10 September 2010