NEXT STORY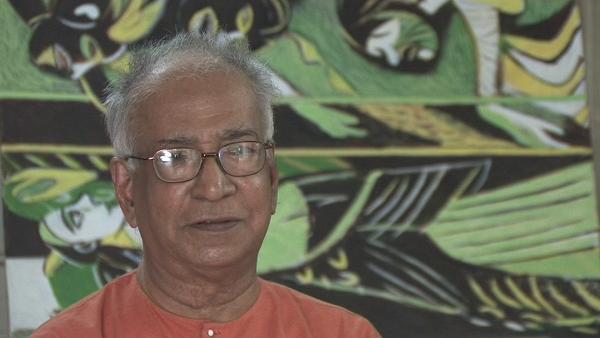 Tagore
1
2
3
4
5
...
8
It's a sort of a special kind of relationship. It's not that Nandalal believed in everything that he did, nor did we. Many of those people who admired Gandhi for various things he had done, and even if Tagore had different things to say about various issues, they respected each other and they thought they had their own kind of role in the region of India. So, and this has been kind of an influence in the way, in at least drawing up the, let us say, a kind of a blueprint for sort of the building of a new India kind of a thing. Whether that blueprint is being followed is not, it's another matter, but it is true that their ideas, one side or the other. Now, to tell about Gandhi's visit, I mean it will be an interesting thing because I saw Gandhi in 1945, or end '44 or early '45. He came from Noakhali and he had raised his CF Andrews Memorial Fund and he wanted that an institution in CF Andrews name should be started on one side sort of focussed on social medicine, that the villages around will get sort of proper exposure to medical facilities, and on the other, sort of have a library and a centre for inter-religious topics. He came and it was about how much, about 4 years after the death of Tagore. So in a sense, he was the mentor and the custodian of the Tagore legacy. So, he went around and visited every institution, they showed him around. He was very outspoken in whatever he said about it, what it was or what he thought it should be and things of that kind, and that there was also a fine get together of all the people who asked questions and he sort of answered those questions. So I remembered that year, and there were certain interesting things. He did want to put this cornerstone to ensure that the money will be used for this purpose, and he thought that after doing the ritual they will confirm to him. We were all around to see what Gandhi does and what Gandhi does not, so early in the morning when he was going to the ritual, he was up and about. He used to stay in that mud hut in the Tagore complex called Shyamali. Then he just walked out and was ready at 6 o'clock in the morning. Then he found that Tagore's son, Rathindranath Tagore was not still there, then people said no, no, he is trying to bring the car for you. Then Gandhi is supposed to have said that he will walk the whole distance because CF Andrews was somebody so dear to him. I don't want to go in any sort of vehicle for that. So everyone had to walk with him. It's not very far, hardly a kilometre, so they went there. Then he sort of did, went through the ceremony, and everything was arranged in a rather tasteful manner. That is when they put the cornerstone, they sort of put the cement and with a kind of mantra, they watered the whole thing. So, when he lifted the jug which was supposed to hold water, there was no water in the jug. So, he is supposed to have smiled and said, 'No this,' I was there so I have seen him say that, so he said, 'I hope the fate of this institution is not just like this'. And really speaking, the fate of the institution was. They had the cornerstone done. Till today there is no institution of that kind, except a small clinic, one room, and there is also nobody sort of sits regularly or does anything. So this is what happened at that time. Anyway, after that, when he went round the institution, of course he had not very much to say about Kala Bhavan, he was very happy, and his relation. But then at one time, and the last sitting, Nandalal is supposed to have questioned him about, because he says that well, I have done this with this institution, it has a sort of reputation, I have a... but then what will the future hold for me? So he is supposed to have said more or less to mean this that you hold onto the present, the future will look after itself, so you do not have to worry about that this time. So, and similarly many people said about money, we don't have money, how do we run the institution, and Gurudev is not there. He had said that if you hold onto Gurudev's ideas, then the money will come by itself. But don't try to sell yourself to other ideas for money. Then at the last moment, at that time there was one of those Tagore relatives called Indiradevi Chaudhurani who was Pramatha Chaudhry's wife who used to be head of the music college. Then she said, 'I have a question to ask. What do you think of our programme?' He was in a hurry to catch the train, so he told her that well, I am in a hurry, but I will answer your question by letter. Then he apparently did that the next day, saying that I am impressed by what you do, but I suppose your horizons are not large enough. You seem to think all music starts and ends with Tagore's music and that's not quite true. There are all kinds of music in India, both South Indian and North Indian, karnatic music, and then I would think an institution which claims to be a world university, you should invest in music here. It is written and that is here. So he was critical in a way. He had a kind of soft corner for the institution. He eventually tried to approach the government to take an interest in the institution. Only there, these people didn't read them rightly, otherwise they could have had change naturally. This, I have been witness to that at that time.
KG Subramanyan (1924-2016) was an Indian artist. A graduate of the renowned art college of Kala Bhavana in Santiniketan, Subramanyan was both a theoretician and an art historian whose writings formed the basis for the study of contemporary Indian art. His own work, which broke down the barrier between artist and artisan, was executed in a wide range of media and drew upon myth and tradition for its inspiration.
Title: Gandhi and Nandalal Bose
Listeners: Timothy Hyman
Timothy Hyman is a graduate of Slade School of Fine Art, London, in which he has also taught. In 1980 and 1982, he was Visiting Professor in Baroda, India. Timothy Hyman has curated many significant art exhibitions and has published articles and monographs on both European and Indian artists.
Duration: 7 minutes, 31 seconds
Date story recorded: 2008
Date story went live: 10 September 2010