NEXT STORY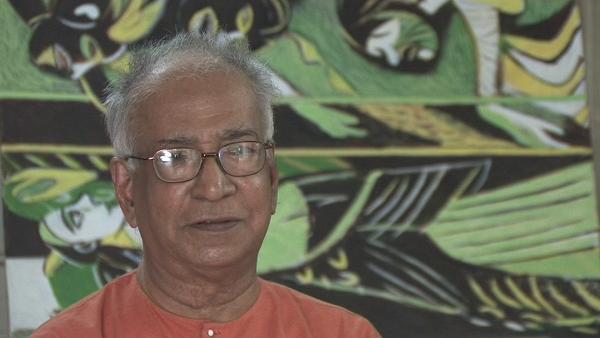 Organising an exhibition in Delhi
Developing relationships with Benode Bihari Mukherjee and Ramkinkar Baij
1
2
3
4
5
...
8
My relationship with Benode Bihari came in a peculiar way. After a few months in Kala Bhavan I did a few things that didn't please Nandalal. Otherwise, in the beginning he was very pleased with what all I did. Then I did certain things a little out of the air. I mean, they did not conform to the normal image, and they showed some facets of works of other lands that I had seen. So he one day called me in and said, 'You dress like an Indian but you think like a foreigner'. Then he suddenly felt that he said that a little too much, then he said, 'No, no, really speaking, I'll send you to Benode, he will explain things to you'. That's how it happened. So he more or less handed me over like an orphan to Benode Bihari. Then, Benode Bihari tried to explain to me, he said don't misunderstand Nandalal, he means well and these are the things that he probably wanted, and thereafter my relationship with him became thicker and thicker, and also with Ramkinkar. My relationship with Ramkinkar came in slightly another way. Ramkinkar was, came from a Bengali religious family, a family of barbers at one time, but he also worked with Kahendar, an idol maker, and he was very proficient, and then finally came to Kala Bhavan to study. He was already terribly accomplished, and in fact, Nandalal himself says that when he came, I felt that he had nothing else to learn, though Ramkinkar used to say I learnt a lot here. It was not the craft to do, but the whole atmosphere gave me a certain kind of a re-education of some kind. Now, I came to know Ramkinkar in this way. Ramkinkar was very inquisitive, and he was very inquisitive of knowing what the more educated and learned people sort of thought about literature, art, drama. He was especially interested in drama. So the first few friends I had there all used to go to Ramkinkar, and I used to go together with them. So, these two people I met in two different ways, but in those days they were also close friends. So I often met them on the veranda of Ramkinkar's house taking tea, and I had the pleasure of taking tea with them, and that's how the thing grew.
KG Subramanyan (1924-2016) was an Indian artist. A graduate of the renowned art college of Kala Bhavana in Santiniketan, Subramanyan was both a theoretician and an art historian whose writings formed the basis for the study of contemporary Indian art. His own work, which broke down the barrier between artist and artisan, was executed in a wide range of media and drew upon myth and tradition for its inspiration.
Title: Developing relationships with Benode Bihari Mukherjee and Ramkinkar Baij
Listeners: Timothy Hyman
Timothy Hyman is a graduate of Slade School of Fine Art, London, in which he has also taught. In 1980 and 1982, he was Visiting Professor in Baroda, India. Timothy Hyman has curated many significant art exhibitions and has published articles and monographs on both European and Indian artists.
Duration: 3 minutes, 15 seconds
Date story recorded: 2008
Date story went live: 10 September 2010