NEXT STORY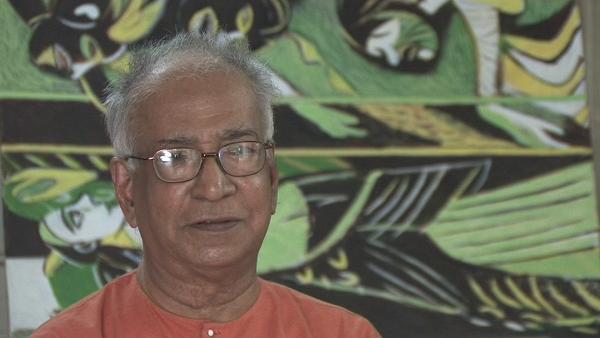 Interest in Italian painting
Working with Benode Bihari Mukherjee
1
2
3
4
5
...
8
Really we used to meet very often at the tea shop, Benode Bihari and I, and occasionally a friend or two. In fact, many of our interactions has been more in the tea shop than in the classroom, and that is the case with Ramkinkar too, and Ramkinkar I often visited in the evenings and sat with him, sometimes read with him and things of that kind. So I had that amount of good fortune, and then it is also true, they were, Nandalal was probably 40 years older than me at that time, or maybe even more, while the difference between me and them, these two teachers, was not that bad. I mean they were edging on 40 at that time. Anyway, it was a very useful experience because they were very serious artists and all the time thinking about what they have to do and any concepts that they have to sort of give form to, and they were very generous teachers. Through time, I suppose they clarified various things to me while working with them, not that I learnt anything so directly from them because I, during the first 3 years of my studies, I was dissatisfied with whatever I did. So I even didn't keep anything aside, except a few things. But then I suddenly found that by the time I reached the final year and started working with Benode Bihari on the mural that I had got some kind of a grasp of what to do, and then that's how he sort of trusted me to do certain things.
So what did you do on the mural?
Well, the old question, the main thing I did, because I had seen the book that he has written, that only sort of prepared the surface for the mural. But then, when he wanted certain things to be done in a discretionary way, he later allowed me to do one or two figures. In fact, there are two horsemen just below his figure of the gesticulating Sikh guru, which is done entirely by me. In fact, I had to do it twice, because when I did it once, I thought it should look exact, so Benode looked at it and said, 'Ah, you have done well, but that doesn't go with the other paintings. It has too much meat in it'. So I had to scrap it all then redo it again with less meat.
And that's almost fresco, buono fresco?
Ah, I did fresco-buono, yes.
KG Subramanyan (1924-2016) was an Indian artist. A graduate of the renowned art college of Kala Bhavana in Santiniketan, Subramanyan was both a theoretician and an art historian whose writings formed the basis for the study of contemporary Indian art. His own work, which broke down the barrier between artist and artisan, was executed in a wide range of media and drew upon myth and tradition for its inspiration.
Title: Working with Benode Bihari Mukherjee
Listeners: Timothy Hyman
Timothy Hyman is a graduate of Slade School of Fine Art, London, in which he has also taught. In 1980 and 1982, he was Visiting Professor in Baroda, India. Timothy Hyman has curated many significant art exhibitions and has published articles and monographs on both European and Indian artists.
Duration: 3 minutes, 26 seconds
Date story recorded: 2008
Date story went live: 10 September 2010