NEXT STORY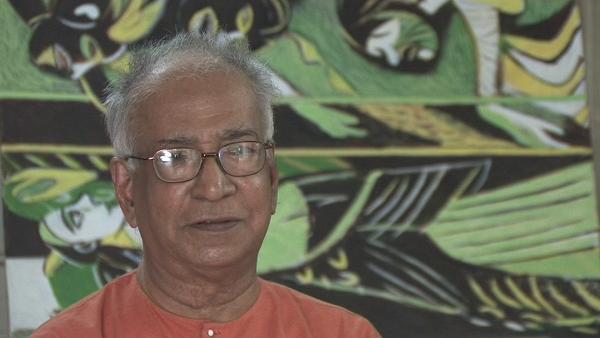 A change of direction – seeking the line between abstract and figuration
Going west before going east – my travels around the world
1
...
3
4
5
6
7
8
When was it you went to Japan?
After I returned from England, I started this exploration of the craft scene, then I came back. Then my other sort of next visit outside was to the United States when I got the JDR Third Fund grant.
So you went west before you went east?
Yes, I went west before I... and then of course while going west, because my wife and daughter were with me, I wanted them to see a little bit what could be seen on the way. So we stopped in Egypt and at least had a look at the pyramids and then the museum in sort of Cairo. Then we spent I think a few days in Paris, and I had my old friend Krishna Reddy there, so we stayed with him and went around a little, then came to London and stayed in a hotel, but then we were guests of the Tennyson's. Then at that time I think it was in Golders Green, Charles Tennyson and Margot were living there separately, so we spent, I think, a day with them. Then from there we went to... and on the way we also saw, I had a glimpse of Athens and in Italy a glimpse of Rome, but we couldn't spend as much time as we could at that time there. It was while returning from America that they had booked us around the world ticket, so we went to Hawaii and then to Tokyo, then from Tokyo and Kyoto, and we went to Kyoto, then my wife and daughter came directly back, then I thought I have come this far so I would rather see Cambodia too, so we went to Cambodia. In fact that visit, while in the United States of course the art scene did not excite me terribly much. I mean, of course it was very much in the air, but the artists craftsmen's work, and then because some of them had seen some work of mine in the New York World Fair and all, I had introductions to some of them, some designers and some artists craftsmen. But most of the artists craftsmen at that time that I met were people around, I think, San Francisco. It was the time when they had that craft fair and things of that kind, there were a number of people sort of in Berkley and in the other universities around who were interested in having a sort of an original way of using craft materials to make art objects.
KG Subramanyan (1924-2016) was an Indian artist. A graduate of the renowned art college of Kala Bhavana in Santiniketan, Subramanyan was both a theoretician and an art historian whose writings formed the basis for the study of contemporary Indian art. His own work, which broke down the barrier between artist and artisan, was executed in a wide range of media and drew upon myth and tradition for its inspiration.
Title: Going west before going east – my travels around the world
Listeners: Timothy Hyman
Timothy Hyman is a graduate of Slade School of Fine Art, London, in which he has also taught. In 1980 and 1982, he was Visiting Professor in Baroda, India. Timothy Hyman has curated many significant art exhibitions and has published articles and monographs on both European and Indian artists.
Duration: 3 minutes, 32 seconds
Date story recorded: 2008
Date story went live: 10 September 2010