NEXT STORY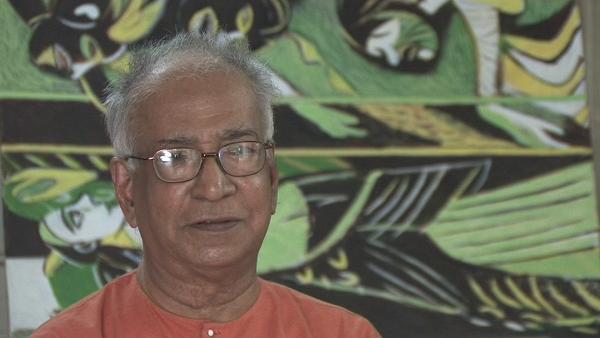 Discovering the art of the rest of the world
Wood sculptures, temples and study in Mangalore
1
2
3
4
5
...
8
I was sent to study in Mangalore, it is in Karnataka. In a Jesuit College that is called St Aloysius College. It is a very nice college, very well situated. It's one of the old colleges and they had a church that had a mural. Anyway through these years, when I was studying at home or studying at the college, I had got some amount of interest in drawing and making things, and things of that kind. It was easy to do at that time. And at the time we were in Mahé, we were in the beginning not staying in French Mahé but in the land opposite. There was a temple very close and it had some what I still think some fabulous wood sculptures, painted sculptures. And then of course they had some other things happening there.
Can I ask, wood sculptures of the 19th century or earlier?
I can't tell, it could be 19th century or even earlier.
Can you say a little more about that?
Because these wood sculptures are seen in many temples in the area and of course only recently have they been published now. But then this particular temple had, it was what they call a Bhagawati temple, means a temple of the mother goddess. And so there is the mother goddess is generally only a sort of piece of stone with two eyes encrusted on it. And people used to come and worship there but at the entrance and on the sides, it was a temple built like the other Kerala temples. Now they have dismantled it and it's not the same as I saw it because when I saw it about 2 years ago. But then these sculptures are still there. They have been covered up by some brass work but luckily they haven't dismantled it; they are still there. And there were two guardian sculptures near the shrine, they are still there exactly as they were. And there were friezes at the entrance that are also there. In those days I didn't know even what art was, I was just there, but then I was terribly impressed by them and then it was always at the back of my mind. Another thing that I was impressed with was the Kathakali theatre. We used to have Kathakali and Theyyam and these things there in the compound. The drama and the spectacle [inaudible] but at that time, well I used to do these things on the wall. I was noticed that I had some talent in that direction.
KG Subramanyan (1924-2016) was an Indian artist. A graduate of the renowned art college of Kala Bhavana in Santiniketan, Subramanyan was both a theoretician and an art historian whose writings formed the basis for the study of contemporary Indian art. His own work, which broke down the barrier between artist and artisan, was executed in a wide range of media and drew upon myth and tradition for its inspiration.
Title: Wood sculptures, temples and study in Mangalore
Listeners: Timothy Hyman
Timothy Hyman is a graduate of Slade School of Fine Art, London, in which he has also taught. In 1980 and 1982, he was Visiting Professor in Baroda, India. Timothy Hyman has curated many significant art exhibitions and has published articles and monographs on both European and Indian artists.
Duration: 3 minutes, 12 seconds
Date story recorded: 2008
Date story went live: 10 September 2010