NEXT STORY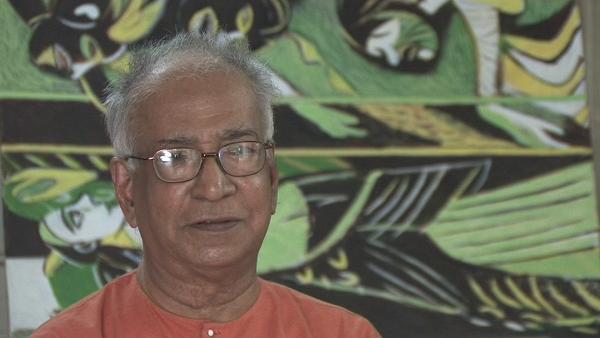 Somnath Hore
Comedy, innocence, tragedy - my Oxford paintings
1
...
4
5
6
7
8
My Oxford paintings, the use of an old man figure in my painting, it started earlier than I went to Oxford. I suppose at some stage I suddenly felt that after I went to Santiniketan, that age has its own advantages. It gives you a certain kind of a room in which to distance yourself from things, and that kind of a distancing probably, it makes you see the world a little differently, remote, but the world outside becomes more vivid. Then suddenly, I got reminded to something I had read I think in Dostoevsky's Idiot or somewhere. Well, there is an old man he talks to, an old cleric, who is on the verge of death, but he says that I see life as sharp as diamonds now, that everything glows. So I did a series of paintings like the old man looks at life which is full of colour and activity, and a kind of senselessness which he thinks he is distanced from, but then he enjoys seeing. That is how the Inayat Khan thing came to mind, because Inayat Khan, though he was meant to represent physical decay because of his rakishness, but then sort of the body has wasted but the eyes are sharp, kind of thing. So that, I started doing those series without fully knowing that the original was there in the Ashmolean Collection.
Do you want to say a little about that?
Huh?
Explain a little about Inayat Khan.
Then the whole idea is that suddenly the way I looked at Oxford, and I was not there for a very long time so I couldn't say that I felt Oxford in my blood, but then I saw the scenes of Oxford with great pleasure, the landscape, the streets, and the really sort of various kinds of those cats. In fact, the first time I could see that cats could have so many kinds of sometimes frightening personalities. The cats here are too slick and sort of, and they are, even in spite of their wanting to, very elegant, but there they can be quite awe-inspiring kind of cats, and that street was full of cats. They used to be crowded with cats in the morning. Then the kind of buildings, I mean they also, I mean very unlike the buildings we see, and they are not all bathed in sunlight as here all the time, but still they had their own sun, and all those landscape drawings I have done again are not done from life. I mean they are all reconstructed in the studio. But then I used to go round and see a lot of them, and the landscape certainly, because it is a different kind of landscape than here where there is a great variety of foliage and things of that kind, the Oxford landscape. Because Susheela was not in good health I didn't travel around very much there, which I wanted to at that time, even though many people made me offers to come here and let us go, but I couldn't do that. But anyway, for 6 months, Oxford was enough for me.
That is a whole vein of social comedy which...
That is there, that is partly what I got from reading the papers or seeing the films. Comedy and innocence tragedy, in fact one or two of them are related to things that came in the news. One is the suicide of a cleric who had spoken against the Archbishop of Canterbury and apparently he was a highly learned man and highly thought of. He was probably teaching religion somewhere, and he probably criticised them, but he was cold-shouldered by all his, all the people around, that he got depressed and killed his cat and killed himself and his body was found. So I did a park with this dead man in there. Similarly, there was another feature which came out of I think they are talking about the assaults of children, I mean infantile sort of, and then I sort of did something like Peter and the Wolf so that this discovery that children could be used as sex objects, and when it is widely there, now the whole question, every child will be thinking there is a wolf in any shadow he sees. So, like that there are one or two, and the third one is what I captioned later called Ethiopian Nativity. That came out of I think on the Christmas Eve, they wanted to raise money for Ethiopia, and there was a programme on the TV saying all the funny actors of the TV here, they will make people laugh throughout the whole night, and then ask them to donate money. It sounded a little awkward to me. There on one side Ethiopians were dying of starvation, which was bad enough, then here to make money to alleviate their suffering you had to make them laugh throughout the whole night and on New Year's Eve [sic]. So, that nativity painting came after that, not that it had any direct reference to this, except that it shows in the background people coming with aid to them. Certain of those things had that, and then I remember that when the whole thing was shown, you thought that my featuring cats had some reference to St Catherine's College. I remember that. But then of course that was unintentional. I didn't even know Catherine's people were called 'cats'.
Do you remember that occasion when a feminist asked you what exactly is your attitude to women? Do you remember that?
No.
Do you remember what your reply was?
That I don't remember.
Shall I tell you?
Yes.
There was a long pause and you said, 'I am obsessed'.
In fact, some of the critics here after seeing my painting, they even go to the extent of saying I am a misogynist, I hate women, which is not true, but then what can you do? Different people have different readings.
KG Subramanyan (1924-2016) was an Indian artist. A graduate of the renowned art college of Kala Bhavana in Santiniketan, Subramanyan was both a theoretician and an art historian whose writings formed the basis for the study of contemporary Indian art. His own work, which broke down the barrier between artist and artisan, was executed in a wide range of media and drew upon myth and tradition for its inspiration.
Title: Comedy, innocence, tragedy - my Oxford paintings
Listeners: Timothy Hyman
Timothy Hyman is a graduate of Slade School of Fine Art, London, in which he has also taught. In 1980 and 1982, he was Visiting Professor in Baroda, India. Timothy Hyman has curated many significant art exhibitions and has published articles and monographs on both European and Indian artists.
Duration: 8 minutes, 7 seconds
Date story recorded: 2008
Date story went live: 10 September 2010