NEXT STORY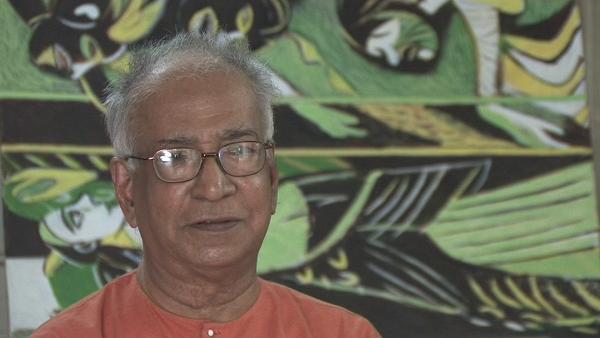 Siva Kumar
1
...
4
5
6
7
8
Well, Jogen Chowdhury, I liked his work quite a lot at one time, and then he was in the wrong place as a curator of the Rashtrapati Bhawan Museum and then I tried to get him into the academic field twice in Benares, in the university, which didn't come through due to certain sort of official resistance there, but finally we got him into Santiniketan, and by that time I had retired. He is still there. He is quite an active person. I probably think that he is a highly talented person, but his works are terribly uneven of late. He used to do a certain kind of a sense fully sort of prurient sort of kind of painting at one time, but then, now he wants to do something openly sort of cutting out into the other side, which he is not probably the right person to do. But the good thing about him is that he is a great influence on the youngsters. I mean he encourages them, so as a teacher he has been quite successful. Maybe he doesn't give them the ideas of how to discipline themselves, but he does give them a lot of push and enthusiasm, and then the other thing is that he is somebody who can get along with various people. In fact, in a place like Santiniketan, he is trying to get a kind of institution where its studio facilities where the young people can come and work, and he is the man behind the whole thing. Whenever I meet him I like him very much, but the whole idea is that he keeps too busy. So last time I said I think you should help yourself up a little and not become a man of the world so much. But I like him very much, yes, I am among those people.
KG Subramanyan (1924-2016) was an Indian artist. A graduate of the renowned art college of Kala Bhavana in Santiniketan, Subramanyan was both a theoretician and an art historian whose writings formed the basis for the study of contemporary Indian art. His own work, which broke down the barrier between artist and artisan, was executed in a wide range of media and drew upon myth and tradition for its inspiration.
Title: Jogen Chowdhury
Listeners: Timothy Hyman
Timothy Hyman is a graduate of Slade School of Fine Art, London, in which he has also taught. In 1980 and 1982, he was Visiting Professor in Baroda, India. Timothy Hyman has curated many significant art exhibitions and has published articles and monographs on both European and Indian artists.
Duration: 2 minutes, 29 seconds
Date story recorded: 2008
Date story went live: 10 September 2010