NEXT STORY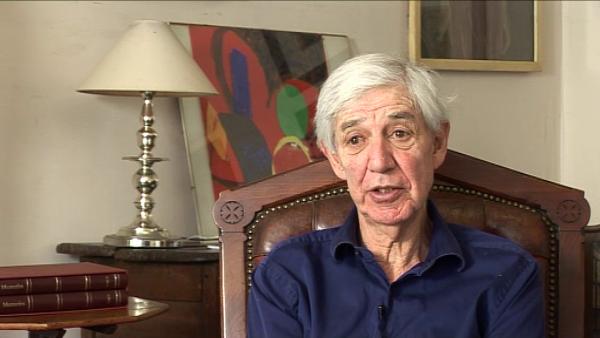 Controversy over positional information
Amata Hornbruch and colleagues at the Middlesex Hospital Medical School
1
2
3
4
I was very fortunate when I came to... to the Middlesex Hospital Medical School, because there was a technician already there — Amata Hornbruch — and she became my hands for the next 20 or so years and we're... we're still very good friends. And because I'm not good at experiments and we did, you know, we... she... she did all the... she did all the experiments and we published a lot of.... a lot of papers together. I was also blessed with a number of very good colleagues. There... one of my PhD students was Dennis Summerbell, who actually married Amata Hornbruch, and who died recent... just a few years ago. He was a very good PhD student. There was Julian Lewis who was a physicist who wanted to get into developmental biology and whom I hired over the telephone, from Moscow without even seeing... without even seeing him, and then Cheryll Tickle, you know, who came... who came... came as a post-doc and we worked extremely happily together and we put forward a series of models, which could explain patterning and positional information in the developing limb bud. Based on some experiments by a man called John Saunders, we came up with the idea that for the anterior/posterior... this is anterior, this is posterior, of... of the limb, there was a signalling region in this part of the limb and if you grafted that to the anterior part of your thing, then you'd get a mirror-image limb and, in fact, we... we analysed this in some detail. And then we came up with another model in which, how the cells knew their position... so sorry, this gave a signal — a graded signal — and that graded signal, told at a high concentration, you'd make the little... you'd make this digit and at the low concentration, this one. So, this was gradients, it... it was a gradient model. For this axis, going along this way, we came up with the model which is a bit more complicated, in which the cells in the developing limb, measured how long they remained near the tip — it was based on time.
Lewis Wolpert (1929-2021) CBE FRS FRSL was a developmental biologist, author, and broadcaster. He was educated at the University of Witwatersrand (BSc), Imperial College London, and at King's College London (PhD). He was Emeritus Professor of Biology as applied to medicine in the Department of Anatomy and Developmental Biology at University College London. In addition to his scientific and research publications, he wrote about his own experience of clinical depression in Malignant Sadness: The Anatomy of Depression (1999).
Title: Amata Hornbruch and colleagues at the Middlesex Hospital Medical School
Listeners: Eleanor Lawrence
Eleanor Lawrence is a freelance science writer and editor, and co-author of Longman Dictionary of Environmental Science.
Tags: Middlesex Hospital Medical School, Amata Hornbruch, Dennis Summerbell, Julian Lewis, Cheryll Tickle, John Saunders
Duration: 2 minutes, 33 seconds
Date story recorded: April 2010
Date story went live: 14 June 2010