NEXT STORY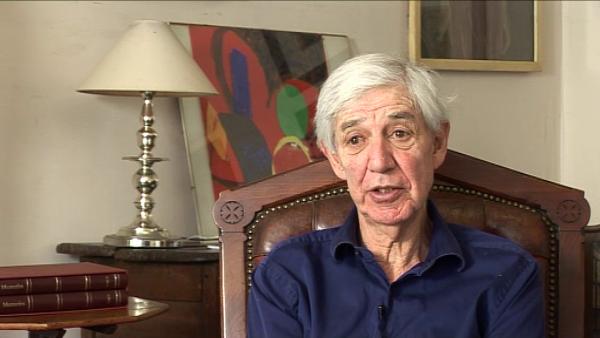 You're looking very well
Is there a relationship between art and science?
1
2
3
4
There are quite a few people who think that there's an important relationship between art and science, and even the journal Nature every now and then promotes this view, and I really think that this is very misleading. I think that there is zero relationship between art and science, and I think there's also zero relationship between religion and science. Let me deal with art and science first. It's very important to realise that one of the things about science is that if science... if we had to somehow go back 500 years and start again, the science we would end up with would be identical to the one we end up now. All right, DNA might be called pookie-pookie, but it... still it would be DNA. Proteins might be called something completely different, but we'd end up with exactly the same answers, there's only one... one thing. If you compare that with the arts, it's completely different. And one of the key things about science is that it builds one bit of... progress in science is dependent upon its relationship with other bits of science, and there must be no contradictions. In the arts, there's nothing like that whatsoever. If we had to re-run... you see, I think it's very important to realise that even the geniuses like Sydney Brenner, Francis Crick, or all the people who've made major contributions, if they hadn't existed, we'd have still have got there. It may have taken us longer. By contrast, in the arts, no Shakespeare: no Hamlet. They are completely and utterly different. There is no relationship between them whatsoever. And just can I point out when it comes to painting, there's no little bit of science which you can sell for large numbers... large amounts of money like a Leonardo da Vinci painting. I... I really think it is very confusing to think that there are similarities, or that the imagination in art and science is similar. I'm... It's absolutely essential to remember that in science you have to understand what is known at a particular time, and make sure that you're not contradicting or going too much against what is there already, and if you are going against it, you have to have very good evidence. There's nothing like... there's no such thing as contradiction in art, or logic in art, and so one shouldn't confuse the two. When one comes to religion, the same once again is true. There is zero relationship between science and religion. They are based on completely... the one is based on faith, the other is based on evidence. Science is very heavily based on evidence. The evidence for God, to put it mildly, is very, very small. In fact, it's totally non-existent.
Lewis Wolpert (1929-2021) CBE FRS FRSL was a developmental biologist, author, and broadcaster. He was educated at the University of Witwatersrand (BSc), Imperial College London, and at King's College London (PhD). He was Emeritus Professor of Biology as applied to medicine in the Department of Anatomy and Developmental Biology at University College London. In addition to his scientific and research publications, he wrote about his own experience of clinical depression in Malignant Sadness: The Anatomy of Depression (1999).
Title: Is there a relationship between art and science?
Listeners: Eleanor Lawrence
Eleanor Lawrence is a freelance science writer and editor, and co-author of Longman Dictionary of Environmental Science.
Tags: Nature, Sydney Brenner, Francis Crick
Duration: 3 minutes, 12 seconds
Date story recorded: April 2010
Date story went live: 14 June 2010