NEXT STORY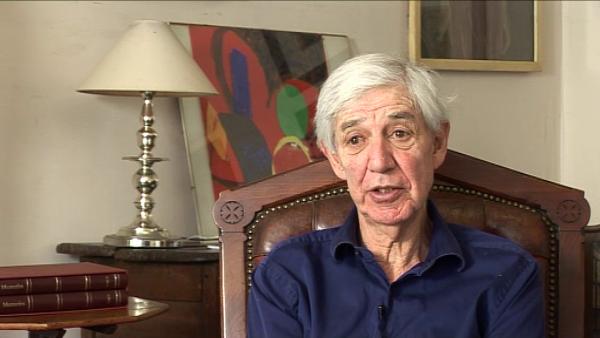 Wild times in Soho
1
2
3
4
I was also quite involved with politics in those days, and I — supporting Mandela — and I wasn't a member of the party, but I... every Sunday morning, we would sell... I and a friend would sell the communist newspaper in... in African townships and so forth. And I'd had enough of Pretoria and I wanted to leave South Africa, partly to get away from the politics and partly to get away from my parents who were very conservative and really didn't approve of much of what I was doing, and certainly knew nothing about my political activities. And a friend of mine — who was also an engineer — decided that we would hitch-hike up Africa, and I persuaded my parents to let me leave South Africa 'cause I said I'd go to Israel and work as an engineer. And I even got a letter... I carried a letter from Nelson Mandela, hitch-hiking up Africa, introducing me to other African military groups and carrying certain literature with me to... to give to them. Anyhow... left South Africa, we hitch-hiked... it... it was the most wonderful adventure for four or five months... we hitch-hiked up... Southern Africa and we went to Uganda, Belgian Congo, Kenya. And in those days, it was the safest place in the world. The idea that anyone would harm you or steal from you, no... no... nobody could even vaguely think about that. Yes, there was a little bit of Mau Mau, but nothing... but... nothing serious. And we ended up... I even climbed a volcano — Nyiragongo — which actually has... which erupted recently actually, and we had a wonderful time and we ended up on the beach of Mombasa and then took an Arab dhow for two weeks, to Arabia. And then we got a boat to Italy and then I ended up in Italy and worked as an engineer, vaguely working on building a dam or making sure this dam that, north of Haifa wasn't going to leak when they turned it into a dam. I was a soil mechanic but I couldn't... I didn't like it terribly much, and I kept thinking I wanted to get out of soil mechanics and to do something else, but I had no idea what I wanted to do. Should I become a doctor? Should I become a lawyer? Should I become a poet? I know that's absurd but that's the way I was thinking about in those days.
Lewis Wolpert (1929-2021) CBE FRS FRSL was a developmental biologist, author, and broadcaster. He was educated at the University of Witwatersrand (BSc), Imperial College London, and at King's College London (PhD). He was Emeritus Professor of Biology as applied to medicine in the Department of Anatomy and Developmental Biology at University College London. In addition to his scientific and research publications, he wrote about his own experience of clinical depression in Malignant Sadness: The Anatomy of Depression (1999).
Title: Hitch-hiking up Africa
Listeners: Eleanor Lawrence
Eleanor Lawrence is a freelance science writer and editor, and co-author of Longman Dictionary of Environmental Science.
Tags: Africa, Nyiragongo, Uganda, Belgian Congo, Kenya, Mombassa, Israel, Haifa, Nelson Mandela
Duration: 2 minutes, 39 seconds
Date story recorded: April 2010
Date story went live: 14 June 2010