NEXT STORY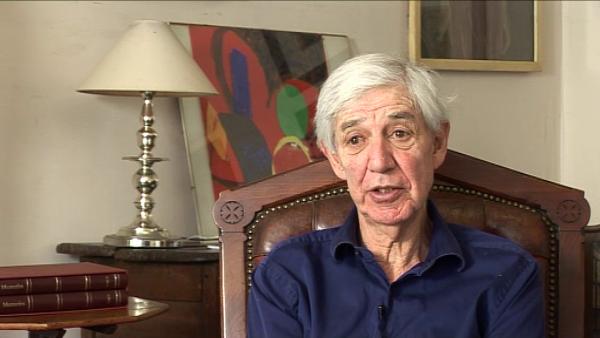 'You chop off its head it regenerates it'
Early work in cell biology: The Fluid Membrane model
1
2
3
4
I had already then started working with Gustafson on how sea urchins developed. And he loved working with me, not because I was applying my engineering so much, but he could run down his colleagues all the time while he was working and I would patiently listen to him. And the marine station was just... just so lovely and we published a lot of papers on how that sea urchin developed. And so, I got in... that's how I got into developmental biology, moving slightly away from cleavage and... and cell biology. But then I got married and I couldn't go to the marine station in Kristineberg each year and so I had to find another organism and at this… So were you in London then? I was... yes, I was still in London all this time and... at King's College, and I got an assistant lectureship after my PhD and so I was lecturing to students and I had to find another animal to work on because I couldn't work on my sea urchins anymore. But we had also done some other really quite important work. I'd supervised a PhD student — Charles O'Neill — we'd looked at actually how cells moved, we were looking at amoeboid movement and I think it was a remarkable bit of work... he did. By the way, I'm never... I'm never very good in the laboratory, my skill as a scientist has been to persuade other people to do the work. I care about the experiments but I'm not good at doing them myself. But I did by chance discover a way — actually doing it myself, when doing my PhD — of isolating the cell membranes of Amoebae and so we can actually isolate these and then Charles made an antibody against them, labelled the antibody with the fluoroscine label, put the antibody — the labelled antibody — back onto the living Amoeba and showed that the membrane was fluid. It's one of my papers that I don't think... it was published in Nature, I don't think it's ever, ever been quoted, because other people in America had came up with the fluid membrane model and nobody cared about our model. We also at that time, I also... also, although I say I don't work in the lab, but I did work a bit in the lab, I also found a way — quite by chance — of isolating and getting out contractile filaments from early Amoebae. And that... that was really quite important but I didn't pursue it. What intrigued me was developmental... was developmental biology.
Lewis Wolpert (1929-2021) CBE FRS FRSL was a developmental biologist, author, and broadcaster. He was educated at the University of Witwatersrand (BSc), Imperial College London, and at King's College London (PhD). He was Emeritus Professor of Biology as applied to medicine in the Department of Anatomy and Developmental Biology at University College London. In addition to his scientific and research publications, he wrote about his own experience of clinical depression in Malignant Sadness: The Anatomy of Depression (1999).
Title: Early work in cell biology: The Fluid Membrane model
Listeners: Eleanor Lawrence
Eleanor Lawrence is a freelance science writer and editor, and co-author of Longman Dictionary of Environmental Science.
Tags: Kristineberg, Sweden, Tryggve Gustafson, Charles O'Neill
Duration: 2 minutes, 49 seconds
Date story recorded: April 2010
Date story went live: 14 June 2010