NEXT STORY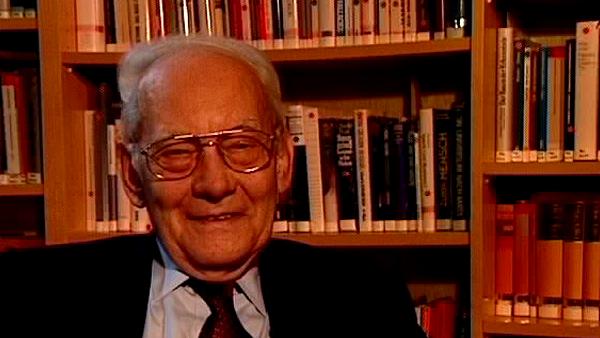 Walking home at the end of the war
1
2
3
4
5
...
12
The first big...
[Q] Crash.
... interruption of this life came when I was fifteen. At that time the bombing of the cities had started and, of course, they got their first... they were not successful any more in the war, and they were short of people, so they drafted the school classes for the anti-aircraft guns.
[Q] What was the limit of age?
Yes, I was a little bit younger in my class.
[Q] So fifteen was the...
Usually the people were sixteen years old when the school class draft, but I was only fifteen, at least for another half a year. And so we were drafted to the outside of Bochum to the anti-aircraft gun, were trained there, and since there were many air attacks during the night, and finally also during daytime, there was not much school we had.
[Q] Did you stay at home at that time still, or did you..?
No, no...
[Q] You slept in a military barrack?
Barrack, yes, and it was... yes.
[Q] So it was a soldier life.
It was a soldier life, and it was rough, I didn't like that!
[Q] Depressing.
Yes, is the words we were...
[Q] It was a crude time.
Yes, it was. Of course there's also some enthusiasm about young people first, but that soon...
[Q] Decayed?
Decayed and disappeared, yes. And, well, finally with seventeen I was also drafted to the airforce, but that was only in the last months of the war.
[Q] But you didn't know at that time that it were the last months of the war.
No, it was a terrible time I can tell you. At that time we were very clear about the system, and with a friend we said we prepare to escape. But we were finally over...
[Q] Rolled?
Rolled, yes, by the war. I remember that in April '45 I was a prisoner of war at the Salzburg airport.
[Q] So that means with the... as a soldier you were put down to the south of Germany, Austria, as it was Germany at that time.
Yes, and the war was over.
[Q] And what was your task at that time? What to defend and what to do?
Nothing. I mean, it was airforce. We were supposed to be trained on planes but there were no planes left then.
[Q] But you were just still in training.
Oh yes. I mean I was a few months only in that...
[Q] So you were not an active soldier in the sense? Whether indirectly...
What do you mean by active?
[Q] I mean you were still in the...
Fortunately we didn't have to shoot.
[Q] Ja, that's what I meant.
Could go back and in Salzburg at the airport we got imprisoned.
Nobel Prize winning German biophysical chemist, Manfred Eigen (1927-2019), was best known for his work on fast chemical reactions and his development of ways to accurately measure these reactions down to the nearest billionth of a second. He published over 100 papers with topics ranging from hydrogen bridges of nucleic acids to the storage of information in the central nervous system.
Title: Being drafted at fifteen
Listeners: Ruthild Winkler-Oswatitch
Ruthild Winkler-Oswatitsch is the eldest daughter of the Austrian physicist Klaus Osatitsch, an internationally renowned expert in gas dynamics, and his wife Hedwig Oswatitsch-Klabinus. She was born in the German university town of Göttingen where her father worked at the Kaiser Wilhelm Institute of Aerodynamics under Ludwig Prandtl. After World War II she was educated in Stockholm, Sweden, where her father was then a research scientist and lecturer at the Royal Institute of Technology.

In 1961 Ruthild Winkler-Oswatitsch enrolled in Chemistry at the Technical University of Vienna where she received her PhD in 1969 with a dissertation on "Fast complex reactions of alkali ions with biological membrane carriers". The experimental work for her thesis was carried out at the Max Planck Institute for Physical Chemistry in Göttingen under Manfred Eigen.

From 1971 to the present Ruthild Winkler-Oswatitsch has been working as a research scientist at the Max Planck Institute in Göttingen in the Department of Chemical Kinetics which is headed by Manfred Eigen. Her interest was first focused on an application of relaxation techniques to the study of fast biological reactions. Thereafter, she engaged in theoretical studies on molecular evolution and developed game models for representing the underlying chemical proceses. Together with Manfred Eigen she wrote the widely noted book, "Laws of the Game" (Alfred A. Knopf Inc. 1981 and Princeton University Press, 1993). Her more recent studies were concerned with comparative sequence analysis of nucleic acids in order to find out the age of the genetic code and the time course of the early evolution of life. For the last decade she has been successfully establishing industrial applications in the field of evolutionary biotechnology.
Tags: Bochum, anti-aircraft guns, drafted, prisoner of war, Salzburg airport, Germany, Austria
Duration: 3 minutes, 49 seconds
Date story recorded: July 1997
Date story went live: 24 January 2008