NEXT STORY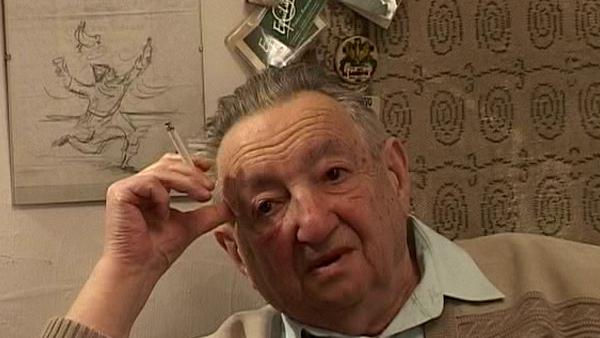 Enforcing ban on the use of thallium
Saving the life of a beautiful girl who had thallium poisoning
Marek Edelman
Social activist
1
...
10
11
12
13
14
15
[Q] A ta dziewczyna zatruta talem?
Nie, to była śliczna dziewczyna po mydle, to miała takie szczęście.
[Q] To z tego powodu.
No oczywiście. Bo wtedy były takie dyżury na całe miasto, myśmy przyjmowali w ciągu doby, jakieś 80 do 100 osób, znaczy nie wszystkich się przyjmowało do szpitala, ale załatwiało się sto osób mniej więcej, 80. I było tak, że było ciężko pracować, więc dyżurowały po dwie osoby. I ja wtedy dyżurowałem z Ryśkiem Feniksenem, takim kolegą o tych samych wiadomościach co ja, tylko że on był bardziej dokładny, bo on się uczył i on wszystko wiedział, co jest drobnym drukiem napisane.
[Q] Ale był nie tylko bardziej, on był nadzwyczaj dokładny.
Nadzwyczaj dokładny, tak. No i kiedyś w nocy on mnie budzi, była jego połowa nocy, mówi: 'Marek, przywieźli piękną dziewczynę, młodziutką, 18 lat, śliczna, przepiękna, zatruła się talem'. Ja mówię: 'Daj mi spokój, co mi będziesz...' 'Ale idź, zobacz, jaka ona jest ładna'. No chcąc nie chcąc poszedłem zobaczyć, no faktycznie była śliczna, blondynka taka - krow z malakom. To ja mówię: 'Co ty chcesz ode mnie?' To on mówi: 'Ja nie wiem, co ja chcę od ciebie, ona leży na twojej sali, to ty się nią zajmuj'. No i dobrze. A zatrucie talem, taką ilością, jaką ona wzięła, bo ona przyszła do domu, była głodna. A to tal był w trutce na szczury i było to osłodzone. I ona sobie marmoladą posmarowała grubo dwa kawałki chleba czy trzy chleba i zjadła ten tal i była po paru godzinach... była gotowa... miała straszne bóle i takie zaczęły się porażenia. No, ale rano ja przychodzę, położyłem się spać, bo co mogę zrobić z zatruciem talem, pomodlić się, a że jestem niewierzący, więc nie mam... nie mam u Pana Boga protekcji, tak?
[Q] Myślę, że jednak ma Pan protekcję.
Ty myślisz, bo...
[Q] Tak mi się wydaje.
Tak, tak, tak, tak... Twoja mamusia może tak myśli, ale ty to...
[Q] Też.
Ty też jesteś bezbożnik.
[Q] No, ale chciałabym, żeby Pan mówił o talu, a nie o mojej religii...
A ty się nie liczysz?
[Q] No i...?
No i... No taka ładna dziewczyna, co to tal, tal... Nie miałem zielonego pojęcia o zatruciach. Poszedłem tam do aptekarza, taki Formański. On kiedyś był naukowy doktor, teraz jest aptekarzem u nas. I mówię: 'Panie Magistrze, jak tutaj... jaka jest odtrutka na tal?' Więc on mi coś mówi: to, to, to... Ja mówię: 'Dobrze, ale przecież to jest... to podziała?' On mówi: 'Nie, to nie podziała'. 'Ale co może podziałać?' On mówi: 'Ja nie wiem, ale kiedyś mi profesor jakiś powiedział, że jest taki środek tioacetamid, który wiąże się z talem i on jest w płynie. I on może nawet w obcym środowisku też się związać'. Ja mówię: 'Wie Pan co, a ma Pan ten tioacetamid?' 'Mam ten tioacetamid, bo ja go używam do zupełnie czegoś innego'. 'No to niech Pan zrobi'. Więc on mówi: 'A w jakim rozcieńczeniu?' Ja: 'A kto to wie?' No i zrobił jakieś 200 cm tego tioacetamidu, śmierdziało to okropnie. No iśmy wzięli tą dziewczynę, iśmy ją włożyli do dyżurki i kroplówka z tioacetamidu. Pierwszy dzień nic nie pomogło, ale nie pogorszyło się. Drugi dzień nic nie pomogło. Trzeciego dnia bóle zaczęły być mniejsze, włosy zaczęły wypadać, bo to jak to w talu, zrobiła się łysa, ale nie krzyczała, już nie bolało ją, już ruszała palcami od nóg. Jednym słowem, po siedmiu dniach bez włosów, goła, łysa pała, wyzdrowiała. I poszła do domu. Poszła po paru dniach czy po tygodniu, czy po dwóch tygodniach, do domu no i już. I zginęła nam z oczu, ale za pół roku na rogu Szterlinga, tam przed szpitalem spotykamy jakąś dziewczynę, która ma piękne włosy, grubości każdy włos palca. Kto to jest? To właśnie jest Bogusia. Ona mówi: 'Tutaj byłam, wyście mnie leczyli, wszystkie włosy mi tego, tego, tego i owego'. I już. No i wyzdrowiała, było to nadzwyczajne. Nie wolno przecież robić eksperymentów na ludziach.
And that girl with thallium poisoning? No, this was a beautiful girl following an encounter with soap. She was lucky.
[Q] Because of that?
Well, of course. In those days, we treated patients from across the whole city so over 24 hours we'd see 80-100 patients. Not everyone was admitted to hospital but we got through 100, 80 people - that's more or less how it was and it was hard to work, for two people to be on duty. I was on duty then with Rysiek Fenigsen a friend who knew about as much as I did except that he was more precise than me because he studied and knew everything written in fine print. Not only was he more precise, he was extraordinarily precise. Yes, extraordinarily precise. One night, he woke me, it was his half of the night, and he says, 'Marek, they've brought in a beautiful girl, she's young, 18 years old, gorgeous, stunning, she's poisoned herself with thallium.' 'Leave me alone', I said. 'But come and see how beautiful she is.' Without really wanting to, I went to have a look and she really was beautiful, a blonde, peaches and cream. So I said, 'What do you want from me?' and he said, 'I don't know what I want from you, she's on your ward so you see to her.' Fine. Thallium poisoning with the quantity that she had ingested, because she'd come home and was hungry. The thallium was in some rat poison that had been sweetened. She'd spread 'marmalade' thickly on two or three slices of bread and ate the thallium, so that after a couple of hours she was done, and was in terrible pain and paralysis was setting in. I came by in the morning, I'd gone back to bed because what could I have done with thallium poisoning, said a prayer, but as I'm not a believer I don't have God's protection, right?
[Q] I think you do.
You think. Maybe that's what your mummy might have thought, but you're godless, too.
[Q] Yes, but I'd like you to talk about the thallium not about my religion...
What, don't you matter?
[Q] And...?
So there was this really pretty girl, thallium, I didn't have the faintest notion about poisoning. I went to the pharmacist, Formański who used to be an academic doctor but was now our pharmacist, and I said: 'Tell me, what's the antidote to thallium?' He told me something, this, this and this but I said, 'Good, but will it work?' He says, 'No, it won't.' 'So what will work?' 'I don't know but some professor once told me that there's this stuff called tioacetamide which binds itself to thallium, it's in liquid form and might even bind itself in an alien environment.' So I said, 'You know what, do you have any of this tioacetamide?' 'I do because I use it for something completely different.' 'So can you make some up?' And he said, 'What sort of concentration?' I said, 'Who knows?' So he made about 200 cm of this tioacetamide. The smell was awful. Well, we took this girl into the emergency room and hooked her up to an intravenous drip of this tioacetamide. The first day, it didn't help but she didn't get worse. The second day she was no better. By the third day the pain began to recede, her hair began to fall out as it does with thallium poisoning, she went bald but she didn't cry out, she wasn't in pain and she was able to move her toes. In short, after seven days she was left without any hair, bald as anything but she recovered. And she went home. She went home after a few days, or a week or after two weeks and that was it. She disappeared from sight. But six months later, on the corner of Sterling Street, we met a girl outside the hospital with beautiful hair, each hair was as thick as my finger and who was it? It was Bogusia. She says, 'I was here, you looked after me. All of my hair...' and so on and so on. She recovered. It was amazing. After all, you're not supposed to experiment on people.
Marek Edelman (1919-2009) was a Jewish-Polish political and social activist and a noted cardiologist. He was the last surviving leader of the 1943 uprising in the Warsaw Ghetto. Following the Second World War, he took an active part in domestic and international politics, dedicating himself to fighting for justice and peace.
Title: Saving the life of a beautiful girl who had thallium poisoning
Listeners: Joanna Klara Agnieszka Zuchowska Joanna Szczesna Anka Grupinska
Joanna Klara Agnieszka 'Aga' Zuchowska was born 20 January 1938. Her father was killed in the Katyń massacre. After the war, she moved from Warsaw to Lódz. She obtained a degree in medicine in 1960, qualifying as a specialist in internal medicine in 1973. Dr Zuchowska worked with Marek Edelman for 15 years. In 1982 she left Poland for Algeria where she remained for the next three years, returning to Poland in 1985. She currently lives in Lódz.
Joanna Klara Agnieszka 'Aga' Zuchowska, urodzona 20 stycznia 1938. Ojciec zginal w Katyniu. Po wojnie zamieszkala w Lodzi. Studia ukonczyla w 1960 r. a specjalizacje z chorób wewnetrznych w 1973 r. Doktorat obronila we Wroclawiu. Pracowala z Markiem Edelmanen przez 15 lat. W 1982 r. wyjechala do Algerii. Wrócila do Polski w 1985 r. i mieszka obecnie w Lodzi.
Joanna Szczesna is a journalist writing for Gazeta Wyborcza. Together with Anna Bikont, she's the author of Pamiatkowe rupiecie, przyjaciele i sny Wislawy Szymborskiej (The Recollected Flotsam, Friends and Dreams of Wislawa Szymborska) a biography of Wislawa Szymborska, the Polish winner of the Noble Prize for Literature. Since the 1970s, Joanna Szczesna has been involved with the democratic opposition movement in Poland, active in the Worker's Defence Committee (KOR), the co-founder of the independent press in Poland: editor of KOR's Information Bulletin, Solidarnosc Press Agency and Tygodnik Mazowsze.
Joanna Szczesna, dziennikarka "Gazety Wyborczej", autorka - wraz z Anna Bikont - biografia polskiej noblistki "Pamiatkowe rupiecie, przyjaciele i sny Wislawy Szymborskiej". Od lat 70-tych zwiazana z opozycja demokratycznaw Polsce, wspólpracowniczka Komitetu Obrony Robotników, wspóltwórczyni prasy niezaleznej w Polsce: redaktorka "Biuletynu Informacyjnego KOR-u", Agencji Prasowej "Solidarnosc" i "Tygodnika Mazowsze".
Anka Grupinska ukonczyla filologie angielska na UAM w Poznaniu. Wspólpracowala z poznanskimi pismami podziemnymi, wraz z innymi zalozyla i wydawala dwumiesiecznik "Czas Kultury". W latach 1988-1989 przebywala w Izraelu opracowujac wspomnienia ocalalych z Zaglady. W latach 1991-1993 pracowala jako attaché kulturalny w ambasadzie polskiej w Tel Awiwie. Od 1996 mieszka w Polsce. Anka Grupinska specjalizuje sie w tematyce stosunków polsko-zydowskich. Publikuje ksiazki (m. in. Wydawnictwo Literackie, Zydowski Instytut Historyczny, Twój Styl), artykuly prasowe (m. in. "Tygodnik Powszechny", "Rzeczpospolita"), realizuje projekty wystawiennicze. Jest takze koordynatorem miedzynarodowego projektu "Swiadek zydowskiego wieku" (archiwizowanie pamieci o zydowskiej przedwojennej Polsce), prowazi autorska audycje radiowa "O Zydach i o Polakach tez" i uczy warszawskich studentów sztuki czytania i pisanie tekstów literackich.
Anka Grupinska studied English at the Adam Mickiewicz University in Poznan, Poland. She wrote for Poznan's underground publications and was herself one of the founding publishers of the bi-monthly Czas Kultury. She spent 1988 and 1989 in Israel compiling reminiscences of Holocaust survivors. From 1991 to 1993, she held the post of Cultural Attache at the Polish Embassy in Tel Aviv. She moved back to Poland in 1996 and now writes books on Jewish subjects, mainly dealing with the history of the Warsaw ghetto. She is also a freelance journalist for Tygodnik Powszechny. Anka Grupinska is the director of the Centropa Foundation project in Poland (oral history project) called "The Witness of the Jewish Century¿, presents her own radio programme, "Of Jews and of Poles too¿, and teaches creative writing and oral history in Collegium Civitas and SWPS in Warsaw.
Tags: Sterling Street, Mgr Formański, Ryszard Fenigsen
Duration: 5 minutes, 5 seconds
Date story recorded: December 2003
Date story went live: 24 January 2008