NEXT STORY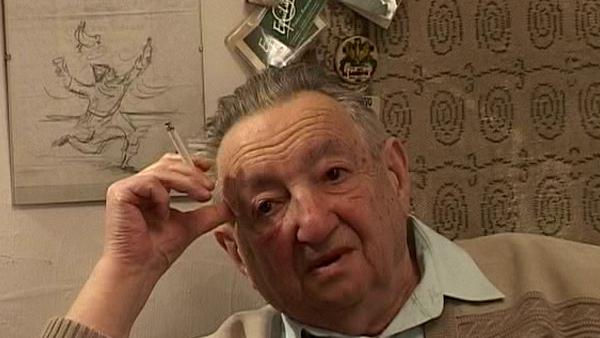 Mitral valve surgery
The golden Sixties in the clinic
Marek Edelman
Social activist
1
...
10
11
12
13
14
15
[Q] You were talking about the Sixties when I was already working in the clinic...
More like slaving away than working!
[Q] Those are your words... It was a very interesting time, there was a large team of people, everyone was interested in a different field, there was a department of nephrology, of cardiology, of cardiac surgery, haematology, in those days it was a leading clinic.
Well, yes, everything depends on the boss. If he has a broad perspective then he surrounds himself with people who have an interest, who have some standing and who want to make a contribution. For example, sugeries. You mentioned haematology. What happened in this clinic was that a Dr Kołodziejska, a young lady whose job it was to peer down microscopes, began to do these morphologies, and suddenly it turned out that there were 360 cases of malignant anaemia, as many as in the whole of Poland, in Łódź alone. It wasn't clear what was going on in Łódź. People even came from Tempka, Kubicki was his name, to check if it had been done properly. The trail finally led to Zgierz where it turned out that in the Borut factory there was a dye, I don't know what they were producing, paints for painting walls, and it was this that was causing the anaemia. From that moment on, there was a great social action to ban the production of this dye. This clinic had a broad horizon which is why it had a department of haematology, where a post-doc graduate was employed who knew how to use a microscope, and that Kołodziejska, who later trained a whole host of people who became expert in this. This made up the entire department.
[Q] And this was... in the anticoagulation unit.
She was in the anticoagulation unit, towards the end of her life, she'd learned this herself because Kołodziejska didn't have a clue about it although she knew all about morphology, Kołodziejska, having worked before the war. Her husband had been a great surgeon in Warsaw, he'd died during the war and after the war, Jakubowski took all of these girsl in to work with him, all of these lame ducks. If the girl was pretty, she could work on the ward, if she was ugly, she had to work in the basement, where she'd be out of sight. And that's how you got your wonderful haematologist. There was a wonderful haematologist, she stayed in the basement but she always worked there with the door open so whenever I walked past, she'd say, 'Marek, Marek - come and look into this microscope.' So I'd take a look, not just me but everybody and anyone who worked in a different field knew how to do this, because Helenka would call out, Dr Kołodziejska, eine grosse dame, who wore a fox fur collar and other items of clothing that we had no idea what they were, so you couldn't refuse her because she also held her head high. You couldn't refuse her invitation to look into the microscope. In addition, she was Kołodziejski's wife so that everyone who passed down that corridor, everyone learned this. When I look around me today, none of these doctors knows how to look down a microscope but I do. And those girls who worked in the laboratory who were also trained by a very good... by Wierzbowska, but they didn't have the same quickness, to look and to know straight away, because if someone just goes on and on that's a completely different matter, but I'm no worse than they are. They sit there every day whereas I, if there's something there that's unclear, they say, 'Doctor, can you come and take a look?' I don't know this, I don't have a clue about this, I just remember the images that she showed us.
[Q] Mówił Pan o latach '60., ja już wtedy byłam, pracowałam w klinice...
Tyrałam się mówi, nie pracowałam!
[Q] To Pan powiedział... I był to przecież taki bardzo ciekawy okres, był duży zespół ludzi, prawda, interesowali się właściwie różnymi dziedzinami. Był dział nefrologii, kardiologii, kardiochirurgii, hematologia, a wtedy była to przecież wiodąca klinika w tym czasie.
No tak, to wszystko zależy od szefa. Jak szef ma szeroki pogląd, to zbiera dookoła siebie ludzi, którzy się czymś interesują, którzy coś znaczą, którzy chcą coś wnieść, na przykład... Mówisz o hematologii... W tej klinice stała się taka rzecz, że taka doktór Kołodziejska, która była panienka od tego, że się patrzy w mikroskop i zaczęła robić te morfologię, tam poradnie... w poradni i nagle się okazało, że takiej anemii złośliwej jest 360 przypadków, tyle co w całej Polsce w jednej Łodzi. I nie było jasne co tu się dzieje w tej Łodzi. Nawet przyjeżdżali od Tempki, Kubicki on się nazywał, sprawdzać czy to jest dobre, czy to dobrze jest zrobione. No i po nitce do kłębka okazało się, że w Zgierzu, w tej fabryce...
[Q] Borucie?
Boruty, tam jest taki barwnik w anilanie, a nie wiem co oni robili z tego, no farby do malowania ścian, który daje tą anemię. No i potem, od tego czasu, to była znów taka wielka akcja społeczna, żeby zakazać produkcji tej... tego barwnika. Więc to była klinika, która miała szeroki horyzont. Dlatego była i jak ty mówisz hematologia, gdzie był jakiś docent, który się znał na mikroskopie i ta Kłodziejska, która wykształciła potem całą plejadę ludzi, którzy się znali na tym. Tak że to był cały dział.
[Q] I to na koagulologii, na krzepnięciu, prawda?

No to ona krzepnięciu, to pod koniec życia, to sama się nauczyła, bo Kłodziejska nie miała pojęcia o tym, ale morfologię to ona umiała, Kołodziejska, bo ona przed wojną pracowała. Jej mąż był wielkim chirurgiem w Warszawie, a po wojnie... mąż zginął w czasie wojny, a po wojnie, ona... Jakubowski przyjmował te wszystkie dziewczyny do pracy, te wszystkie poszkodowane kaczątka. Ale jak była ładna, to pracowała na oddziale, jak była brzydka to do piwnicy, żeby jej nie było widać.
[Q] I w ten sposób był świetny hematolog.
Był świetny hematolog, ale siedział w piwnicy, ale ten hematolog siedział w piwnicy przy otwartych drzwiach, jak się przechodziło, to ona mówi: 'Marek, Marek, chodź no tu, zajrzyj tu do mikroskopu'. To ja zaglądałem do... nie tylko ja, tylko... I ci wszyscy ludzie, którzy pracowali zupełnie w innych dziedzinach umieli to, bo Helenka wołała, a pani doktor Kołodziejska, eine grose dame, która nosiła szal z lisów i jeszcze takie inne ubrania, co myśmy w ogóle nie wiedzieli co to jest, to nie można było jej odmówić, a do tego trzymała wysoko głowę.
[Q] Spojrzenia w mikroskop nie można było odmówić.
A po drugie była żoną Kołodziejskiego, to wielka tego, no tak że... tak że wszyscy przechodząc przez korytarz, wszyscy się nauczyli tego. Ja tak patrzę dzisiaj, nikt z tych lekarzy nie umie zajrzeć w mikroskop, a ja umiem i wiem. I z tymi laborantkami, które były uczone też u bardzo dobrej, u Wierzbowskiej, u bardzo dobrej... ale one nie mają tego bigla, że to od razu spojrzą i wiedzą, bo tak jak się marudzi, marudzi, to jest zupełnie co innego i ja nie jestem gorszy od nich. Bo one siedzą codziennie, a ja... Jak jest coś takiego niejasnego, to one: 'Panie doktorze, niech Pan przyjdzie spojrzeć'. A ja nie umiem tego, ja w ogóle o tym nie mam zielonego pojęcia, ja tylko pamiętam te obrazki, które ona pokazywała.
Marek Edelman (1919-2009) was a Jewish-Polish political and social activist and a noted cardiologist. He was the last surviving leader of the 1943 uprising in the Warsaw Ghetto. Following the Second World War, he took an active part in domestic and international politics, dedicating himself to fighting for justice and peace.
Title: The golden Sixties in the clinic
Listeners: Joanna Szczesna Anka Grupinska Joanna Klara Agnieszka Zuchowska
Joanna Szczesna, dziennikarka "Gazety Wyborczej", autorka - wraz z Anna Bikont - biografia polskiej noblistki "Pamiatkowe rupiecie, przyjaciele i sny Wislawy Szymborskiej". Od lat 70-tych zwiazana z opozycja demokratycznaw Polsce, wspólpracowniczka Komitetu Obrony Robotników, wspóltwórczyni prasy niezaleznej w Polsce: redaktorka "Biuletynu Informacyjnego KOR-u", Agencji Prasowej "Solidarnosc" i "Tygodnika Mazowsze".
Joanna Szczesna is a journalist writing for Gazeta Wyborcza. Together with Anna Bikont, she's the author of Pamiatkowe rupiecie, przyjaciele i sny Wislawy Szymborskiej (The Recollected Flotsam, Friends and Dreams of Wislawa Szymborska) a biography of Wislawa Szymborska, the Polish winner of the Noble Prize for Literature. Since the 1970s, Joanna Szczesna has been involved with the democratic opposition movement in Poland, active in the Worker's Defence Committee (KOR), the co-founder of the independent press in Poland: editor of KOR's Information Bulletin, Solidarnosc Press Agency and Tygodnik Mazowsze.
Anka Grupinska studied English at the Adam Mickiewicz University in Poznan, Poland. She wrote for Poznan's underground publications and was herself one of the founding publishers of the bi-monthly Czas Kultury. She spent 1988 and 1989 in Israel compiling reminiscences of Holocaust survivors. From 1991 to 1993, she held the post of Cultural Attache at the Polish Embassy in Tel Aviv. She moved back to Poland in 1996 and now writes books on Jewish subjects, mainly dealing with the history of the Warsaw ghetto. She is also a freelance journalist for Tygodnik Powszechny. Anka Grupinska is the director of the Centropa Foundation project in Poland (oral history project) called "The Witness of the Jewish Century¿, presents her own radio programme, "Of Jews and of Poles too¿, and teaches creative writing and oral history in Collegium Civitas and SWPS in Warsaw.
Anka Grupinska ukonczyla filologie angielska na UAM w Poznaniu. Wspólpracowala z poznanskimi pismami podziemnymi, wraz z innymi zalozyla i wydawala dwumiesiecznik "Czas Kultury". W latach 1988-1989 przebywala w Izraelu opracowujac wspomnienia ocalalych z Zaglady. W latach 1991-1993 pracowala jako attaché kulturalny w ambasadzie polskiej w Tel Awiwie. Od 1996 mieszka w Polsce. Anka Grupinska specjalizuje sie w tematyce stosunków polsko-zydowskich. Publikuje ksiazki (m. in. Wydawnictwo Literackie, Zydowski Instytut Historyczny, Twój Styl), artykuly prasowe (m. in. "Tygodnik Powszechny", "Rzeczpospolita"), realizuje projekty wystawiennicze. Jest takze koordynatorem miedzynarodowego projektu "Swiadek zydowskiego wieku" (archiwizowanie pamieci o zydowskiej przedwojennej Polsce), prowazi autorska audycje radiowa "O Zydach i o Polakach tez" i uczy warszawskich studentów sztuki czytania i pisanie tekstów literackich.
Joanna Klara Agnieszka 'Aga' Zuchowska, urodzona 20 stycznia 1938. Ojciec zginal w Katyniu. Po wojnie zamieszkala w Lodzi. Studia ukonczyla w 1960 r. a specjalizacje z chorób wewnetrznych w 1973 r. Doktorat obronila we Wroclawiu. Pracowala z Markiem Edelmanen przez 15 lat. W 1982 r. wyjechala do Algerii. Wrócila do Polski w 1985 r. i mieszka obecnie w Lodzi.
Joanna Klara Agnieszka 'Aga' Zuchowska was born 20 January 1938. Her father was killed in the Katyń massacre. After the war, she moved from Warsaw to Lódz. She obtained a degree in medicine in 1960, qualifying as a specialist in internal medicine in 1973. Dr Zuchowska worked with Marek Edelman for 15 years. In 1982 she left Poland for Algeria where she remained for the next three years, returning to Poland in 1985. She currently lives in Lódz.
Tags: Sixties, Łódź, Zgierz, Borut factory, Dr. Hanna Kołodziejska, Dr. Jakubowski
Duration: 4 minutes, 45 seconds
Date story recorded: December 2003
Date story went live: 24 January 2008