NEXT STORY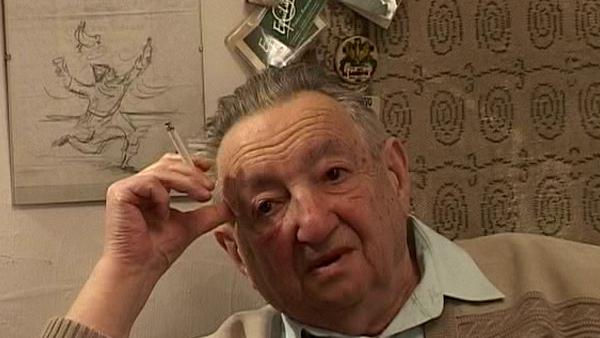 Anti-Semitism
Marek Edelman
Social activist
1
...
11
12
13
14
15
A jeszcze miałem habilitację przedtem.
[Q] 19 marca 1967 roku, ja pamiętam.
No bo ty jesteś...
[Q] W Krakowie, tak?

... niewolnica.
[Q] Tak, w Krakowie, Pan miał habilitację 'O niektórych mechanizmach obrzęku płuc', co zawsze mi się kojarzy 'O obrotach ciał niebieskich', prawda, bo to taki ładny, zgrabny tytuł.
Właśnie nie o niektórych, to jest właśnie, to jest cała rzecz. Więc któregoś dnia, jak nastała jakaś... po '56 roku jakaś wolność, Jakubowski mówi: 'Słuchaj, chłopcy róbcie doktoraty, bo was wyrzucą.' To ja mówię: 'Doktoraty? Co doktoraty...' Ale, to tam... Trzy czy cztery osoby w ciągu miesiąca zrobiły doktoraty, między innymi ja też. I potem Jakubowski mówi: 'Wystąpisz z tym doktoratem na zjeździe kardiologicznym'. A wtedy tam na tym zjeździe siedziały takie same tuzy – Biernacki, tam... o Boże co za ludzie, cała medycyna światowa. No i Biernacki mówi: 'Wiesz, on mówi, mówi, a ja nic nie rozumiem'. Ja mówię: 'Bo ty jesteś za głupi', do Biernackiego. 'Ja schodzę', Biernacki do mnie mówi. A... a szefem tej... tej konferencji był taki młody człowiek. Więc ja schodzę do Biernackiego, mówię: 'Pan nie zrozumiał? Ja mówię tak prosto, mówię takim językiem dla... dla rynku'. To on mówi: 'Ja zrozumiałem, ale ja wszystko rozumiem, to znaczy, że to jest nic nie warte'.
[Q] Ja nie pamiętam, jaki był tytuł Pana doktoratu.
Tytuł to ja nie pamiętam...
[Q] No tak, ale temat...
Temat był: 'Leczenie niedomogi krążenia dożylnie sterydami'. To było wtedy rewolucja. Więc to... I ten szef tego powiedział, że takich... ja mam w ogóle szczęście do tego, ten szef powiedział: 'My takich referatów więcej nie będziemy dopuszczali do zjazdów kardiologicznych'. I Biernacki, on mówi: 'Właśnie zrozumiałem, to jest fatalnie, jak się od razu rozumie, to nie może być nic dobrego'. No a potem kazali mi, już nie pamiętam kiedy, kazali mi robić habilitację. No ale habitacja... Więc coś takiego mi po... Nie wiem, skąd się to wzięło ten mechanizm, obrzęk płuc, że do dzisiaj on jest niejasny, ten cały mechanizm tej ostrej niedomogi krążenia. Z tym... No i wymyśliłem tak, że... bo zawsze się mówiło, że to jest z nadmiaru krwi w płucach, a ja wymyśliłem, że to nie jest z nadmiaru, tylko z niedoboru. Już nie będę opowiadał tych szczegółów, jak to jest. I Jakubowski mówi: 'Wiesz, tutaj nigdy nie zrobisz tego, bo ci antysemici cię nie puszczą. Jedź do Krakowa'. Pojechałem do tej Kowalczykowej, ona tego, tego... ona obejrzała te preparaty histopatologiczne i powiedziała: 'Zaskakujące, ale tak jest'. No i miałem taką habilitację w Krakowie.
[Q] Pana żona w kościele stała przez całą habilitację.
Nie stała, tylko siedziała, ją stawy bolą.
[Q] Szczegółów nie znałam...
No i miałem 99 głosów na sto, no oczywiście, że mi zrobili kawał, bo przecież ze mną przedtem się umówili co mnie będą pytać, ale pomylili te pytania i pytali o zupełnie co innego. I jak Jakubowski zadał mi pytanie: 'Dlaczego w niedomodze krążenia ustępują bóle stenokardialne', to trzeba być kuku na muniu, żeby tak to zapytać. No ale to jest habilitacja i tam coś mówię, mówię i tam jakiś profesor się odzywa, to, to... to taki starszy profesor fizjopatolog mówi: 'Kandydat ma rację, proszę mu nie przeszkadzać!' No i potem... I zrobiłem habilitację, ale w Krakowie już były takie czasy, że oni nie posłali tej habilitacji do Warszawy, a jak posłali to był '68 rok.
[Q] To już było po habilitacji.
To już było po habilitacji, zawołali tych wszystkich moich recenzentów, którzy postawili... tam tę Kowalczykową, Falkiewicza, już nie pamiętam kogo jeszcze, i był taki profesor wojskowy, który powiedział: 'Ja jestem przeciwny'. To oni się go zapytali dlaczego, 'bo jestem przeciwny'. To oni powiedzieli: 'Uzasadnienie'. 'Nie potrzeba'. I na tym się skończyło. No i już. Ale to był bardzo dobry pomysł z tym obrzękiem płuc, bo pierwsi to podchwycili Japończycy, a potem w literaturze naukowej polskiej to figuruje jako normalna rzecz, tylko że nie wiadomo kto to wymyślił, ale to nie szkodzi, byle poszło pod strzechy.
Ah, before that I had my post-doctoral thesis.
[Q] 19th March 1967, I remember.
Because you're a...
[Q] in Kraków.
... slave!
[Q] You presented your post-doctoral thesis about "Some of the mechanisms involved in pulmonary oedema". It always makes me think of "The movement of celestial bodies" because it's such a nice, neat title.
Yes, that's it with some, that's what it depends on. So one day, once there was a bit of freedom following 1956, Jakubowski said: 'Lads - you've got to do your PhDs, otherwise they'll kick you out.' So I said: 'PhD? Why a PhD?' Three or four people did their PhDs within a month, including me after which Jakubowski says, 'You'll present your thesis at the cardiology conference.' This conference was full of big-wigs - Biernacki, my God, the people who were there! The entire medical world. Biernacki says: 'You know he says, 'I can't understand a thing' so I said to Biernacki, 'That's because you're too stupid.' I went down, and the chairman of this conference was this young man, I went down to Biernacki, 'You misunderstood, I speak so simply, I use the language of the marketplace.' To which he says, 'I understood but I understood everything, which means it's worthless.'
[Q] I don't recall the title of your doctoral thesis.
I don't remember the title but the subject was Treating circulatory insufficiency with intravenous steroids. At the time, this was revolutionary. The chairman said that this kind, it was his luck to get them, he said, this kind of presentation wouldn't be allowed at cardiology conferences. And Biernacki said, 'I understood this and that's terrible when you understand everything straight away, it can't be any good.' After that, they told me to do a post-doctoral thesis. I don't know what the mechanism is behind pulmonary oedema, to this day it's not clear, this whole mechanism of acute circulatory insufficiency. So I came up with the idea... it was always said that it was caused by too much blood reaching the lungs whereas I came up with the idea that it wasn't because there was too much but rather not enough. I'm not going to go into the details of this. And Jakubowski said, 'You know, you'll never be able to do this here because the anti-Semites won't let you. Go to Kraków.' So I went to Kowalczykowa, she looked at my histopathology specimens and said, this is amazing but that's how it is. And that's how I had my post-doctorate in Kraków.
[Q] Your wife spent that entire time standing in a church.
She wasn't standing, she was sitting down because her joints were aching.
[Q] I didn't know the details.
I had 99 votes out of 100. Of course, they played a trick on me because they'd told me before what questions they were going to test me on, but then they got mixed up and began to question me about something completely different. Jakubowski asked me, 'Why chest pain disappears in cases of circulatory insufficiency?' You have to be raving mad to ask a question like that, but it was a post-doctoral thesis so I had to say something, I was coming back with some answer when an old professor of physiopathology spoke up and said, 'The candidate is right, please don't interrupt him!' And so I passed my post-doctorate but because the times had changed in Kraków, they didn't send it to Warsaw then, and when they did send it, it was already 1968.
[Q] So that was that.
That was that. They summoned all of the reviewers, Kowalczykowa, Falkiewicz, I don't remember any more who the others were, but there was this army professor who said, 'I contest.' So they asked him why. 'Because I contest.' So they said, 'On what grounds?' 'I don't need to tell you.' And that's how it ended. That was it. But it was a great idea to talk about pulmonary oedema because the Japanese had been the first to get hold of this idea, after which it was presented in Polish scientific literature as something ordinary, but no one knows who came up with this notion although that doesn't really matter as long as it's widely read.
Marek Edelman (1919-2009) was a Jewish-Polish political and social activist and a noted cardiologist. He was the last surviving leader of the 1943 uprising in the Warsaw Ghetto. Following the Second World War, he took an active part in domestic and international politics, dedicating himself to fighting for justice and peace.
Title: Post-doctoral thesis
Listeners: Joanna Szczesna Anka Grupinska Joanna Klara Agnieszka Zuchowska
Joanna Szczesna, dziennikarka "Gazety Wyborczej", autorka - wraz z Anna Bikont - biografia polskiej noblistki "Pamiatkowe rupiecie, przyjaciele i sny Wislawy Szymborskiej". Od lat 70-tych zwiazana z opozycja demokratycznaw Polsce, wspólpracowniczka Komitetu Obrony Robotników, wspóltwórczyni prasy niezaleznej w Polsce: redaktorka "Biuletynu Informacyjnego KOR-u", Agencji Prasowej "Solidarnosc" i "Tygodnika Mazowsze".
Joanna Szczesna is a journalist writing for Gazeta Wyborcza. Together with Anna Bikont, she's the author of Pamiatkowe rupiecie, przyjaciele i sny Wislawy Szymborskiej (The Recollected Flotsam, Friends and Dreams of Wislawa Szymborska) a biography of Wislawa Szymborska, the Polish winner of the Noble Prize for Literature. Since the 1970s, Joanna Szczesna has been involved with the democratic opposition movement in Poland, active in the Worker's Defence Committee (KOR), the co-founder of the independent press in Poland: editor of KOR's Information Bulletin, Solidarnosc Press Agency and Tygodnik Mazowsze.
Anka Grupinska studied English at the Adam Mickiewicz University in Poznan, Poland. She wrote for Poznan's underground publications and was herself one of the founding publishers of the bi-monthly Czas Kultury. She spent 1988 and 1989 in Israel compiling reminiscences of Holocaust survivors. From 1991 to 1993, she held the post of Cultural Attache at the Polish Embassy in Tel Aviv. She moved back to Poland in 1996 and now writes books on Jewish subjects, mainly dealing with the history of the Warsaw ghetto. She is also a freelance journalist for Tygodnik Powszechny. Anka Grupinska is the director of the Centropa Foundation project in Poland (oral history project) called "The Witness of the Jewish Century¿, presents her own radio programme, "Of Jews and of Poles too¿, and teaches creative writing and oral history in Collegium Civitas and SWPS in Warsaw.
Anka Grupinska ukonczyla filologie angielska na UAM w Poznaniu. Wspólpracowala z poznanskimi pismami podziemnymi, wraz z innymi zalozyla i wydawala dwumiesiecznik "Czas Kultury". W latach 1988-1989 przebywala w Izraelu opracowujac wspomnienia ocalalych z Zaglady. W latach 1991-1993 pracowala jako attaché kulturalny w ambasadzie polskiej w Tel Awiwie. Od 1996 mieszka w Polsce. Anka Grupinska specjalizuje sie w tematyce stosunków polsko-zydowskich. Publikuje ksiazki (m. in. Wydawnictwo Literackie, Zydowski Instytut Historyczny, Twój Styl), artykuly prasowe (m. in. "Tygodnik Powszechny", "Rzeczpospolita"), realizuje projekty wystawiennicze. Jest takze koordynatorem miedzynarodowego projektu "Swiadek zydowskiego wieku" (archiwizowanie pamieci o zydowskiej przedwojennej Polsce), prowazi autorska audycje radiowa "O Zydach i o Polakach tez" i uczy warszawskich studentów sztuki czytania i pisanie tekstów literackich.
Joanna Klara Agnieszka 'Aga' Zuchowska, urodzona 20 stycznia 1938. Ojciec zginal w Katyniu. Po wojnie zamieszkala w Lodzi. Studia ukonczyla w 1960 r. a specjalizacje z chorób wewnetrznych w 1973 r. Doktorat obronila we Wroclawiu. Pracowala z Markiem Edelmanen przez 15 lat. W 1982 r. wyjechala do Algerii. Wrócila do Polski w 1985 r. i mieszka obecnie w Lodzi.
Joanna Klara Agnieszka 'Aga' Zuchowska was born 20 January 1938. Her father was killed in the Katyń massacre. After the war, she moved from Warsaw to Lódz. She obtained a degree in medicine in 1960, qualifying as a specialist in internal medicine in 1973. Dr Zuchowska worked with Marek Edelman for 15 years. In 1982 she left Poland for Algeria where she remained for the next three years, returning to Poland in 1985. She currently lives in Lódz.
Tags: Some of the mechanisms involved in pulmonary oedema, The movement of celestial bodies, Treating circulatory insufficiency with intravenous steroids, 19th March 1967, Kraków, 1956, Jerzy Jakubowski, Andrzej Biernacki, Alina Kowalczykowa, Antonii Falkiewicz
Duration: 5 minutes, 42 seconds
Date story recorded: December 2003
Date story went live: 24 January 2008