NEXT STORY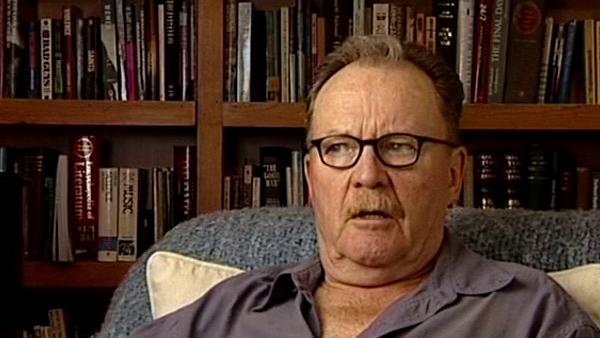 Exiled to Greenland for being left-wing
Student life at Columbia in the 1950s
Michael Chapman
Film-maker
1
2
3
4
5
...
10
Because we had moved from Wellesley which was rather a wealthy town to a small town nearby, a little country town, the education system was terrible, and in order to get into a decent college I had... my parents had to get me a good high school education somehow, and so they applied to Andover Prep School for a scholarship, we didn't have any money. And I got a scholarship and I went away to Andover, which turned out to be rather a... quite a thing for me actually. My oldest friends that I still have came from there, and there were other scholarship boys, I hasten to say, in a snobbish kind of way, but I got a very good education and I was able to get a... a scholarship to a... to a big Ivy League college, to Columbia, and I went away to New York in the early '50s, to go to school there at Columbia, and fell in to the sort of... what's the right word? Bohemian is too pompous, but some sort of arty-party world of New York City, and Morningside Heights, where Columbia was, of course was just alive with the mythology of the beatniks, who all came from there, Kerouac and Ginsberg and everybody had gone there, and... and met there in the late '40s and '50s, and that was sort of the dominant... if you were a member of the arty-party, that was certainly the dominant style of the time. In fact I ended up working on the railroad as a brakeman, because that was the chic think to do when you got out of college. But I again, had no idea that I would end up in the movies, nor... nor any... nor any aspiration to, frankly. I... I still loved movies, I went to them every... all the time, I went to all the classic things that one does in New York at the time. I went to all the movies on 42nd Street, where you could start in the morning and pay 50 cents and see a movie and then go have a beer and a hamburger for a dime, and then go see another movie and they were all sorts of movies, you know, usually not the big first run movies, but foreign movies and B movies and C movies and D movies and all kinds of things, you know, almost down to what would pass for porno in those days, but it wasn't really. And I, almost obsessively saw those, but I saw them because I loved movies, not because I was trying to be in the business. And then I got out of college, and as I say, worked on the railroad, and then I was drafted, in those days they drafted middle class white boys, in... in 1958.
Michael Chapman (1935-2020), an American cinematographer, had a huge influence on contemporary film-making, working on an impressive array of classic films including 'Taxi Driver', 'Raging Bull', 'The Lost Boys' and 'The Fugitive'.
Title: Student life at Columbia in the 1950s
Listeners: Glen Ade Brown
British Director of Photography and Camera Operator Glen Ade Brown settled in Los Angeles 10 years ago.

He has been working on features, commercials and reality TV. He played an instrumental role in the award-winning ABC Family series "Switched" and is also a recipient of the Telly and the Cine Golden Eagle awards for Best Cinematography. He was recently signed by the Judy Marks Agency and is now listed in her commercial roster.
Tags: Wellesley, Andover Prep School, Columbia, New York City, Morningside Heights, 42nd Street, Jack Kerouac, Allan Ginsberg
Duration: 2 minutes, 26 seconds
Date story recorded: May 2004
Date story went live: 24 January 2008