NEXT STORY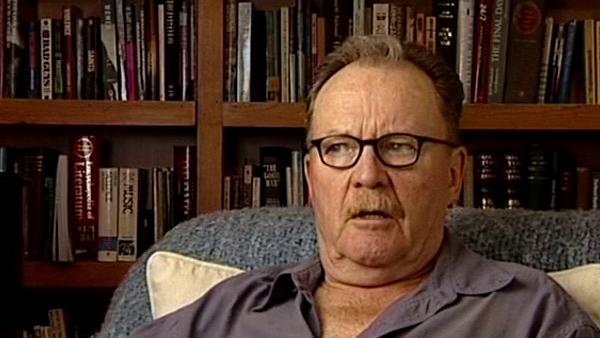 The Last Waltz: Filming in The Band's house at Zuma Beach
The Last Waltz
Michael Chapman
Film-maker
1
2
3
4
5
6
...
10
Marty [Martin Scorsese] had worked on Woodstock as an editor and kind of cameraman, and I think he had always wanted to do his own rock movie and he'd never gotten the chance to, and The Band got the idea of doing coverage for his last concert. And originally it was just going to be 16mm and almost like a home movie, and then it just grew and grew and grew and... until it became [The] Last Waltz. Was... I can't remember, eight or nine... no, maybe eight cameras, all 35mm, and a huge production, and... it… it was The Last Waltz. And it was... and I think still is probably the best of all the concert films by quite a bit, I think – that I know of anyway. And once in a while I see one because I get jealous; I want to make sure they haven't beaten us out, and they, so far, at least in my obviously prejudiced view, they haven't, and it's really quite wonderful.
And originally... I don't know whether I had my card on the West Coast – I must have, I guess, by then... I don't... I can't remember – but, anyway, originally he was going to use someone else and people... a couple of people kind of chickened out, and didn't want to do it for some reason, and so I said, 'Sure', I'd do it, and we went to San Francisco and there was... I mean, the date at which it was going to be done was set, we had to have everything ready and it was in... I remember a kind of nightmare of getting it together because under some previous administration some local crew from San Francisco had lit that hall and had just done an appalling job and got it all wrong, and so I and my crew had to start again from scratch with no time left and we worked something like two or three days straight without any sleep to try and get it ready. And we drew storyboards. I think I've talked about Marty's storyboards. He drew... Marty's storyboards, he drew 90% of them; I drew 10% because fortunately I... I knew the songs of The Band, and I really did and do think they're quite wonderful, and absolutely by accident I knew them, and Marty knew them, so we knew what the songs were going to be and we drew every... every verse for every song for every camera – what they were to do, dolly, zoom, whatever it was, for every camera – and we had pages with the notes and the drawings on and each camera had a kind of girlfriend or somebody recruited as a... as a page turner, like a page turner for a concert pianist, and they would turn the page and they would see what to do on this verse, you know – you do this and this verse you do that.
For each camera for all of the band's songs was totally worked out and light cues were worked out, every change in the lighting was done – the whole thing was really, really, really covered. The... the songs of the other people were not as... you know, there were all sorts of guests, and Bob Dylan and all other people coming in were not as well covered because we didn't know quite what they were going to sing, or we didn't have full command of what they were going to do, so it was somewhat more hit or miss. I can remember Marty and I during the concert stood at, I think, opposite sides with microphones, and talking to the people, and you could hear them saying, 'Which one's Dylan, which one's Dylan?' You know, 'Which ones...' They didn't know who they were, and I would say, 'Zoom into so and so', and they would say, 'Who's he?' But we got through it and actually some... some times... and we had... oh my, what's his name? Can't remember – great production designer who had worked with Marty, stole the sets from the from the San Francisco Opera, from the second act of... what opera is it? I can't remember. Anyway a big... oh it's the big waltz scene in... oh, it'll come to me, as the background for it and put that in, and then died right after it, actually; it was the last thing he did. Marty had a habit of somebody dying on every movie, and that was the one who died on that movie – the production designer guy who died on that one – but it was... it was wonderful and... and... a... also a sort of nightmare because we have... I have... just had not slept... I had not slept for days, and I stood there and... and originally I was going to operate a camera but then I... I had too much – I was swamped and couldn't do it – so we recruited Vilmos Zsigmond, who had come perfectly innocently to see the concert and we said, 'Vilmos, we'll pay for your ticket if you go operate this camera from the back', so he did. We had every... we had... oh God, we had all sorts of people doing it. And I stood on one side and Marty on the other and we sort of tried to control over it and send instructions to people. And when it was over, I hadn't slept in so long – there was a party and things afterwards and I couldn't... I couldn't go the party; I went back to the hotel and I tried to sleep and my... my legs were so cramped and... and things from... from standing for days that I ended up just lying in a hot tub for hours trying to get... oh, that part was unpleasant.
But the movie was wonderful, and when we finished the concert the footage was so good that... I think it was MGM, it must have been... yes, put much more money into it, and we did a whole series of other songs on a stage at MGM, and then we spent every weekend for God knows how long at the band's house on Zuma Beach. Every weekend night we would drive up there and get ready because they couldn't... that was true of the songs that we shot at MGM too: they couldn't face life until after... they were like vampires, they couldn't face life until after the sun had gone down, so the crew call was like six o'clock at night, and we'd work until eight or nine the next morning and under somewhat... well, I won't go into that, but under heightened conditions, let us say. We did a whole bunch of songs there at MGM – we did once The... The Staple... Staple Singers came and various other people, and those again were very, very elaborately laid out with camera moves – big cranes and dollies and all sorts of things. Because we were on a stage, you know, Marty could really let loose, so we really had... and then... and dimmers, and as the camera moved this way around them like that I would have lights on the back come up and down and up and down as I judged the cameras to be seeing them, and we had... they were very elaborate and great fun, and there we had really could really light, you know, because it wasn't a concert and we weren't restricted in any way, so some of those are really, really very jazzy. The Staple Singers singing, 'I come down to Nazareth about half past eight' [sic], whatever that's called – I can't remember. Anyway, they're very… I think very elaborately lit with all sorts of colored gels, and we had great fun; we had a wonderful time doing that... you know, as I say a heightened sort of way, or some of us a heightened sort of way.
Michael Chapman (1935-2020), an American cinematographer, had a huge influence on contemporary film-making, working on an impressive array of classic films including 'Taxi Driver', 'Raging Bull', 'The Lost Boys' and 'The Fugitive'.
Title: "The Last Waltz"
Listeners: Glen Ade Brown
British Director of Photography and Camera Operator Glen Ade Brown settled in Los Angeles 10 years ago.

He has been working on features, commercials and reality TV. He played an instrumental role in the award-winning ABC Family series "Switched" and is also a recipient of the Telly and the Cine Golden Eagle awards for Best Cinematography. He was recently signed by the Judy Marks Agency and is now listed in her commercial roster.
Tags: Woodstock, The Last Waltz, The Band, MGM, The Staple Singers, Martin Scorsese, Vilmos Zsigmond, Bob Dylan
Duration: 6 minutes, 36 seconds
Date story recorded: May 2004
Date story went live: 24 January 2008