NEXT STORY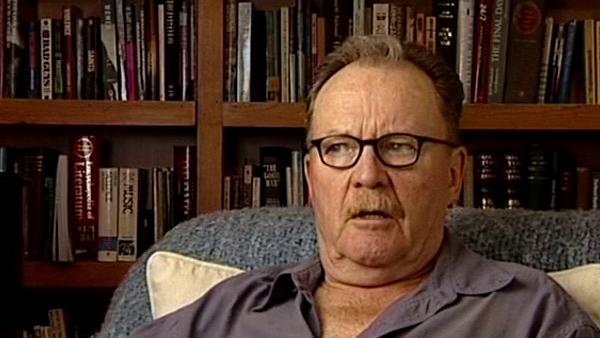 Raging Bull: Stills and first job in black and white
Working on Hardcore
Michael Chapman
Film-maker
1
...
3
4
5
6
7
...
10
Once George C Scott was the lead, none of the rest of that was ever going to happen; it was going to shot like a traditional movie and it was... shot like a... and I do remember a couple of things that I did that I enjoyed. At one point Scott is looking at a porn film that may have his daughter in it, as I remember, and what I did was take a camera and project it on to a shiny board, and let the shiny board light come back onto to his face, and I threw it out of focus so that it was a series of images but you couldn't see what it was, but you could see that it was flickering on his face, and then I turned my camera and looked at Scott and filmed him. And that was great fun, and I'm not sure that someone had done... if anyone... I... I had never done it before; it just occurred to me because I wanted to have some image cheating in a way because in fact light from a screen doesn't really come back that much at you, but it does in a small room where you're close to it; it does more. And then when I had him watch... then he watches an actual snuff film where someone is killed, and he then... there's some question that that might be his daughter. I mean... I can't remember the details of the plot, but I know that he did that, so then I did the same thing, but, instead of doing it on a shiny board, I did it onto a big old-fashioned mirror – mirrors they used to use to take the... on Westerns if the sun was coming this way, and they wanted it to come that way; they hit the mirror and they'd bring the mirror and use it to reflect, and the... there's a technical word for it, but I can't remember what they are, and they found one somewhere in the... back at the studio somewhere. It hadn't been used in years, and we cleaned it up, and I projected it onto a mirror so that it came back, and I made it be in focus so that it was in focus on his face, and you could see the images, and that's really a cheat because that would never happen, but that was... we got away with it because it was fun; we did it so you could see the images of what was happening reflected onto his face, and you could see... actually see a person pretend to stab and everything, and that was, as I say, completely a cheat because that would never, never happen, but we thought, what the hell, and we did it, and it worked out fine.
Other than that, I don't remember much about it being, you know, one way or another. It was a movie that we shot: we went to Grand Rapids; it was freezing cold and made you understand Paul [Shrader]. And I remember that somewhere in the course of it we were shooting in Los Angeles, and an old friend of George C Scott's – another actor who's also dead – who played... his name... anyway came to him, took him away and they disappeared for three days, drunk as skunks, and we had to shut down. They're both dead so I can say that without any fear of libel since it's certainly true. We missed... we only missed one day because I think it was the weekend and they disappeared. God knows where they went, but they came back by the next Monday, but it just... it was nice, actually; we shut down and went home – it was nice, we got paid, it was lovely. Other than that, I don't remember that much about it except those little bits and pieces and that I was disappointed in the way we got to do it but it was inevitable; it became a movie, you know. I mean, you can't.... you can't... what's the word? You can't dismiss the... the amount to which the movies are... all these other things we've been talking about... it's also a job, you know: you show up and you... and you work so many hours, whatever it is, and you go home, and you... and you want to do a job as... as best you can, and... and a lot of it is not art or aesthetics or whatever, but really a lot of it is just plain a job, you know, when you've got to get so many scenes done in a day, and that's a good thing too.
Michael Chapman (1935-2020), an American cinematographer, had a huge influence on contemporary film-making, working on an impressive array of classic films including 'Taxi Driver', 'Raging Bull', 'The Lost Boys' and 'The Fugitive'.
Title: Working on "Hardcore"
Listeners: Glen Ade Brown
British Director of Photography and Camera Operator Glen Ade Brown settled in Los Angeles 10 years ago.

He has been working on features, commercials and reality TV. He played an instrumental role in the award-winning ABC Family series "Switched" and is also a recipient of the Telly and the Cine Golden Eagle awards for Best Cinematography. He was recently signed by the Judy Marks Agency and is now listed in her commercial roster.
Tags: Hardcore, George C Scott, Paul Shrader
Duration: 3 minutes, 41 seconds
Date story recorded: May 2004
Date story went live: 24 January 2008