NEXT STORY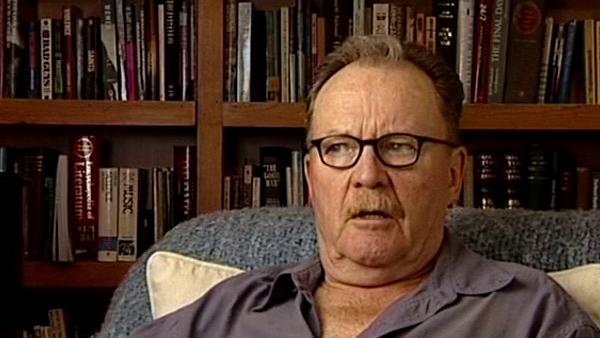 Raging Bull: Literary references
Raging Bull: The home movies
Michael Chapman
Film-maker
1
...
3
4
5
6
7
...
10
They are based on the real Jake's real home movies, which are the way home movies and albums of still photographs of families are: absolutely heartbreaking, just almost... you begin to weep watching them because of the... because there they are, and you know that most of these people are dead and you know what happened to them, and... you know, and history is just closed down around you as you watch them, and they're almost too painful to watch. And so we thought we would try and do something... we knew we could never do anything as... because they weren't the real people; we knew we could never do anything as heartbreaking as... as Jake's actual movies, but we thought we would do them, and I... I haven't talked to Marty [Martin Scorsese] in many years and my memory may be faulty, but I think it was I who suggested we should do those in color. I can't... I don't want to, you know, take credit... well, obviously I do want to take credit or else I wouldn't say it, but I... I don't want to absolutely say it because it may not be true, and it may be my self-serving memory urging me on, but I think it may have been my idea, you know... even if it was my idea it was Marty who said, 'Yes', so we shot them in 16mm color hand held with just a cheesy little camera, and when we... and I've told this story before, but I'll tell it again: when we went to shoot them, I started shooting them, and I couldn't make them... I couldn't frame them right, it didn't feel right, so I said, 'Marty, I think I'm being too arty here; I can't... I can't make myself frame them badly enough, so you do it.' So Marty started shooting... I think the first one we did they're there by a pool and, you know, he throws her in the water and things like that, and then after a while Marty realized he couldn't do it right because he kept framing them artistically and correctly and stuff, and finally we got the teamsters to come, and we'd say, 'Here, you... you shoot them', and they came up right and from then on, whenever we did it we just got any... practically stop people on the street and have... and say, 'You shoot it', to get them to be... to feel... to have that strangely amateur feel which I couldn't do, and even Marty, who was not a cameraman, couldn't do. And so we would have mostly... I remember the teamsters would do it, whenever we were... we'd say, 'Come on over here, we [sic] need shooting', and they turned out to be pretty good but they were done by teamsters.
Michael Chapman (1935-2020), an American cinematographer, had a huge influence on contemporary film-making, working on an impressive array of classic films including 'Taxi Driver', 'Raging Bull', 'The Lost Boys' and 'The Fugitive'.
Title: "Raging Bull": The home movies
Listeners: Glen Ade Brown
British Director of Photography and Camera Operator Glen Ade Brown settled in Los Angeles 10 years ago.

He has been working on features, commercials and reality TV. He played an instrumental role in the award-winning ABC Family series "Switched" and is also a recipient of the Telly and the Cine Golden Eagle awards for Best Cinematography. He was recently signed by the Judy Marks Agency and is now listed in her commercial roster.
Tags: Jake LaMotta, Martin Scorsese
Duration: 2 minutes, 30 seconds
Date story recorded: May 2004
Date story went live: 24 January 2008