NEXT STORY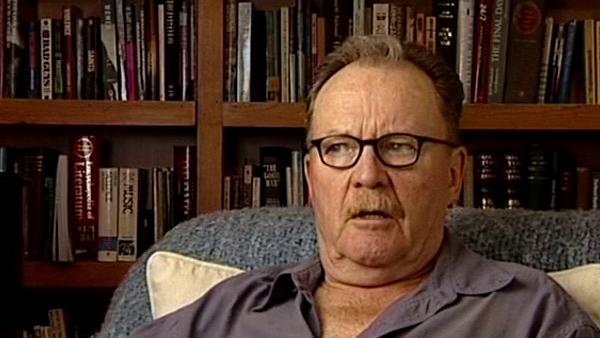 Personal Best: The subculture of women athletes
Raging Bull: The parallels with opera
Michael Chapman
Film-maker
1
...
4
5
6
7
8
...
10
I knew it was an opera, but then I happened to know about opera. And, of course, by the way, the... much of the music... some of the music in it is from... is the entr'acte from the first and second act or first and second scenes of Cavalleria Rusticana. I mean, we gave the show away; that... that music is played all the way through, you know. Taxi Driver is not an opera; Raging Bull is an opera. I don't think Taxi Driver is; Taxi Driver... I don't know what Taxi Driver is – it's not a classic tragic opera the way... the way Raging Bull is. Raging Bull is, I think, almost consciously an opera. Marty [Martin Scorsese] is very, very knowledgeable about music and very interested in music, and used to say that he had musical themes in his head before he started the movie – knew what... knew what the music... I don't think he meant that absolutely specifically but he... he very definitely had a musical idea in his head before he started the movie, and I'm not sure if he already had the... the Cavalleria Rusticana music in his head before the movie started, but it goes several times through it. It's always over the... the home movies in black and white, and, of course, it's just perfect for it, and it sort of gives the show away that it's an opera.
Taxi Driver... yes, it's tragic... I'm not sure tragic is the right word, I mean, in the sense that tragic implies a kind of heroic figure and I'm not sure what... that Travis is particularly heroic exactly. It seems to me that Taxi Driver is about the death of organized religion in a curious way, because somebody said that the trouble with the world after the death of organized religion was not that people would believe nothing, but they would believe anything, and that's certainly what Travis Bickle does. In... if there were some organized religion that had something to do with running a state he would have been some kind of monk or, you know, he would have been safely away in a... in a priory somewhere or a monastery and... and would have been very happy – or, if not happy, at least would have been under control. It's just that he's in the world where nobody believes anything and where he believes... well, what, you know, the insane stuff that he believes, and there is no way of organizing that belief. I think that's what Taxi Driver is about... in a curious way about the post... about the world after... all belief taken out, and I don't think that it's a tragedy in the kind of classic Greek sense, but it's certainly a very disturbing movie.
But, yes, they both are... no, they both are about... yes, about manhood all screwed up and that sort of thing. Now, again, I was just a worker there, guys; I mean, I'm not... I don't know about my manhood, but I don't think it's that... I mean, in other words, the people who were the most... the people emotionally involved were not Michael Chapman, so perhaps you should ask them about their... they've both all been married several times, have lots of children, and... but it may have... it may have been on their minds; it certainly was on their minds. It was on the minds of Jake La Motta... I don't know. Yes, Raging Bull is an opera; Taxi Driver is not an opera. I don't know what Taxi Driver is; it's not a classic tragedy. I don't know quite what category it fits in; it's a report from some very peculiar world, and I don't know quite what the right word is. Yes, there is... there is a link between them of disturbed maleness, but, I don't know, that seems too... that seems in a way too limiting. Certainly with Taxi Driver it's not just about that... the maleness of it; I mean, he can't... obviously he can't get laid, he can't even talk to women, but he can't talk to men either, you know – he's way beyond just that. Jake... and Jake is a character out of Cavalleria Rusticana where they... where they everything is... all the relations between the sexes are completely screwed up. But I don't know what the answer is about what... what kind of... how you categorize Taxi Driver; I really genuinely don't know. I think it's a unique thing, you know, that you can't put your finger on.
Michael Chapman (1935-2020), an American cinematographer, had a huge influence on contemporary film-making, working on an impressive array of classic films including 'Taxi Driver', 'Raging Bull', 'The Lost Boys' and 'The Fugitive'.
Title: "Raging Bull": The parallels with opera
Listeners: Glen Ade Brown
British Director of Photography and Camera Operator Glen Ade Brown settled in Los Angeles 10 years ago.

He has been working on features, commercials and reality TV. He played an instrumental role in the award-winning ABC Family series "Switched" and is also a recipient of the Telly and the Cine Golden Eagle awards for Best Cinematography. He was recently signed by the Judy Marks Agency and is now listed in her commercial roster.
Tags: Cavalleria Rusticana, Taxi Driver, Raging Bull, Martin Scorsese, Jake La Motta
Duration: 4 minutes, 38 seconds
Date story recorded: May 2004
Date story went live: 24 January 2008