NEXT STORY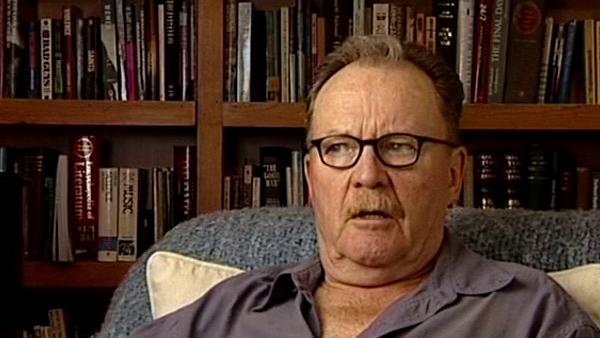 All The Right Moves: Casting
All The Right Moves: Valentine for my sons
Michael Chapman
Film-maker
1
...
5
6
7
8
9
10
We were going to do it Johnstown, Pennsylvania, where the Johnstown flood had been, which was very much a decayed steel town where the mills had all closed and everybody was on relief. The buildings were marked where the heights of the... there had been several floods, actually. And there was paint... and there were painted marks, like high tide marks, that how high up this building the flood had gone. It was wonderful. And we... and we... we shot it, and I thought that I was making a film about high school football, which I vaguely remembered and everything, and... and we did, and that it was expressing sympathy for these downtrodden steel towns and things, and it did do that, I hope. But, it was not until post-production that I realized what I had really... what had really attracted me and what I really, passionately, seemed to feel. And this was a very... this is a paramount example of what I was talking about, of concentrating on trying to get it done, and do it right, and the get the actors to do it right, and letting whatever unconscious material there is come up on its own. Because what I really was making was a kind of valentine to my two older sons. Because I had been divorced when they were young and had started a new life here with Amy, and the people you met, and had kept, you know... in their college years and high school years I had not been around, and this was very much... it turned out, and I swear to God I didn't realize it until well into editing... it was a kind of valentine to them saying that I still loved them, and that I, as their father, you know, supported them and would help them and do anything for them because, in fact, the father in the movie does, and it's very much about a father and two sons. One of them happens to be Tom Cruise, but that feeling is all through the movie. And I had no idea that that's what I was really saying, you know, until... I just... I can't remember when it came on me – I slowly began to realize it, and then it was a perfect example of concentrating on one thing and letting the other stuff come out on its own. And it... it's not a bad movie, and it... and it is full of that feeling, you know. I am far more proud of it than I would be if it didn't have that. Directing was, in that case, you know, hectic and frightening and full of all sorts of things, and nowhere near as straightforward and simple as when you're a cameraman. But I got through it and I liked it, sort of. First couple of weeks I must have been a... in fact, Jan de Bont told me I was a dreadful pain in the ass, because I kept saying, 'Don't you want to just move it, get light a little that way', you know, and that, but after a little while I was so swamped with work and with other things that... and, besides, I could see he was doing a very good job, that I shut up, and made... his life was easier. But the first week or so, I must have been really dreadful. He forgave me, I guess.
Michael Chapman (1935-2020), an American cinematographer, had a huge influence on contemporary film-making, working on an impressive array of classic films including 'Taxi Driver', 'Raging Bull', 'The Lost Boys' and 'The Fugitive'.
Title: "All The Right Moves": Valentine for my sons
Listeners: Glen Ade Brown
British Director of Photography and Camera Operator Glen Ade Brown settled in Los Angeles 10 years ago.

He has been working on features, commercials and reality TV. He played an instrumental role in the award-winning ABC Family series "Switched" and is also a recipient of the Telly and the Cine Golden Eagle awards for Best Cinematography. He was recently signed by the Judy Marks Agency and is now listed in her commercial roster.
Tags: Johnstown, Pennsylvania, All The Right Moves, Tom Cruise, Jan de Bont
Duration: 3 minutes
Date story recorded: May 2004
Date story went live: 24 January 2008