NEXT STORY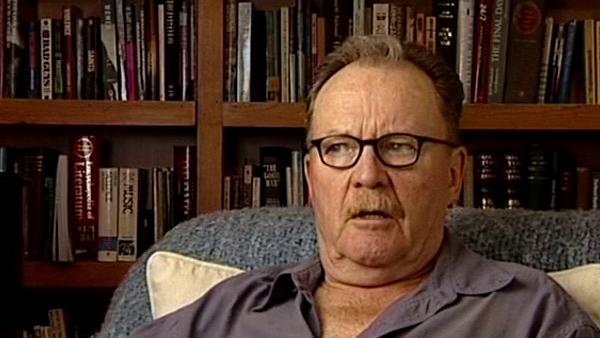 Working within the studio system
Suspect Zero: Operating is so much fun!
Michael Chapman
Film-maker
1
...
6
7
8
9
10
Most of them are not, you know, 26 weeks; they're only six or seven weeks. And I can do anything for six or seven weeks. And I get to think an awful lot. I have to do a lot of stuff and that keeps me going in a way. I find it very satisfying. And I've... actually, I've just been lucky and I've got along with Mike Clancy and with David [Duchovny] very well. I've known David – he'd been in movies and things that I'd done. But we were sort of buddies, and... no, I find it a very... I find it very satisfying. I can't... I made... the movie before that is a movie called Suspect Zero, which was also a low-budget movie, with a guy who had never made a big studio movie before. And for reasons of... that somewhat escape me, but I think partly vanity and partly just I thought it would be fun, I said I would operate it too, and we would just pay a guy to... but I'd be actually operating, and that was probably a mistake; I shouldn't have. I... that is too much to do at my age, but it was good... it was great fun. I so love operating that I did do it. I didn't operate the Eulogy or House of D, but I did operate Suspect Zero. And it was... it is heavenly to do; it really is. God, I love it. I wish I weren't old and sort of lost my reflexes, but, you know, I stagger along as best I can, and happily so.
Michael Chapman (1935-2020), an American cinematographer, had a huge influence on contemporary film-making, working on an impressive array of classic films including 'Taxi Driver', 'Raging Bull', 'The Lost Boys' and 'The Fugitive'.
Title: "Suspect Zero": Operating is so much fun!
Listeners: Glen Ade Brown
British Director of Photography and Camera Operator Glen Ade Brown settled in Los Angeles 10 years ago.

He has been working on features, commercials and reality TV. He played an instrumental role in the award-winning ABC Family series "Switched" and is also a recipient of the Telly and the Cine Golden Eagle awards for Best Cinematography. He was recently signed by the Judy Marks Agency and is now listed in her commercial roster.
Tags: Suspect Zero, Mike Clancy, David Duchovny
Duration: 1 minute, 27 seconds
Date story recorded: May 2004
Date story went live: 29 September 2010