NEXT STORY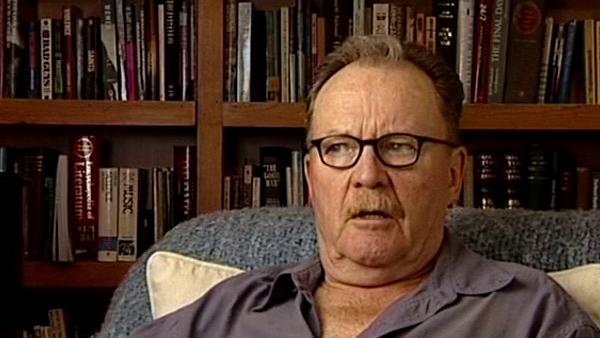 Osip Mandelstam and Haskell Wexler
Michael Chapman
Film-maker
1
...
6
7
8
9
10
I am very fond of Haskell and admire him and I feel that he has put his money where his mouth is. He really has. It's also true to a certain extent that only the very rich can behave as though the revolution had already taken place. And, unfortunately, that doesn't apply to me. Haskell has... has really, genuinely, worked for years and years. He's also done, you know, all sorts of regular... regular studio movies, just as I have. We've all done... In fact, he directed... he shot a movie that my wife directed. And has done any number of... did a wonderful... what was that wonderful movie about Woody Guthrie... what is it... Bound for Glory. That's... that's quite... he did a marvelous job on that, and that has a wonderful kind of political agenda and everything. But it was mostly just beautifully shot. The railroad stuff in it is gorgeously shot. I always meant to talk to him about that, because it's... they really let David Carradine jump off freight cars and walk on the top of freight cars. I don't know how they got... how they got insurance for it, or maybe they just did it. Maybe they didn't really understand how dangerous it was, but the... the railroad footage of just bumming around the country is extraordinary. And Haskell is very much to be praised for it. It's gorgeous at... at sunset with the light shining through the open doors of the cars as they go through so that it'll be light, dark, light, dark, light, dark, as the freight cars go past. It's beautiful, beautiful stuff. And, as I say, very dangerous. And they... they let David Carradine just climb up and down the sides of the cars. I don't know how they did it, but it's wonderful. And it has a genuine political content. I... as a cameraman, it's just... I mean, you can choose what you... what projects you take on, but beyond that there's not really a lot of... there's not really a lot... you know, you can't do left-wing photography, as far as I know. Maybe you can; I don't know. If it is, I don't know what it is. There's only subject matter that you're allowed to look at and you can look at it that way.
I'm very proud to say that... when in... in All the Right Moves, after it came out, the producer... no, a producer of another movie who was a friend of mine, told... how do I tell this? Well, I don't want to mention the names, so I won't mention any. But told a very big time actor, who was a friend of his and was looking for a director for a movie, that he should look at All the Right Moves, and the actor, who was quite a sophisticated guy, did. And, after he looked at it he said to the producer, who was a friend of mine... he said, 'What are Chapman's politics?' So something... and this producer told him what my politics were. So something of that came through in All the Right Moves. I'm very proud to say that. Happy of it. Beyond that, the politics of the world dictate what movies are going to be like and in what country, surely. I mean, very brutally they do. And I don't know that... I mean, underground filmmakers and filmmakers, in opposition to whatever the leadership of that country may be, manage to do things. And certainly in things like occupied France or Russia, filmmakers – not necessarily cameramen, but filmmakers in general – managed... I think sometimes brilliantly, and exactly because of the restraints of censorship and the regime looking down over their shoulders, managed to do some of their very best and most subversive work, because they have to... are forced to think so hard about how to get around the censorship and around the overt holding in of what they want to say, that they often... they offer a great example of the truest poetry is the most feigning. And we never had that opportunity.
An old friend of mine... long dead now but a guy I worked with when I was an assistant cameraman, was a French cameraman named Jean Bourgoin. He had an Academy Award for, I think, The Longest Day... Academy Award nomination really for The Longest Day. And he shot Orfeo Negre, the great movie in Brazil. I once travelled around South America with him doing a whole series of commercials for an American company, because I could speak French and so they had me. And he was a marvelous guy. And he told me that the most exciting time in his life, in terms of work, was during the German occupation of France because they had to think so hard of how to get around the censor that they did their very best work, you know. But we never had that kind of... I mean, alas, we never had that kind of overt thing hanging over us here, and so we never got to do that. You know, Western artists and things often feel a kind of secret envy for their... for their equivalents in Russia under... in the days of Stalin, because at least they were taken very seriously. They were taken so seriously they would be shot, you know. Nobody ever shot us.
Michael Chapman (1935-2020), an American cinematographer, had a huge influence on contemporary film-making, working on an impressive array of classic films including 'Taxi Driver', 'Raging Bull', 'The Lost Boys' and 'The Fugitive'.
Title: Politics and film
Listeners: Glen Ade Brown
British Director of Photography and Camera Operator Glen Ade Brown settled in Los Angeles 10 years ago.

He has been working on features, commercials and reality TV. He played an instrumental role in the award-winning ABC Family series "Switched" and is also a recipient of the Telly and the Cine Golden Eagle awards for Best Cinematography. He was recently signed by the Judy Marks Agency and is now listed in her commercial roster.
Tags: Bound for Glory, All the Right Moves, The Longest Day, Orfeo Negre, Haskell Wexler, Woody Guthrie, David Carradine, Jean Bourgoin
Duration: 5 minutes, 40 seconds
Date story recorded: May 2004
Date story went live: 29 September 2010