NEXT STORY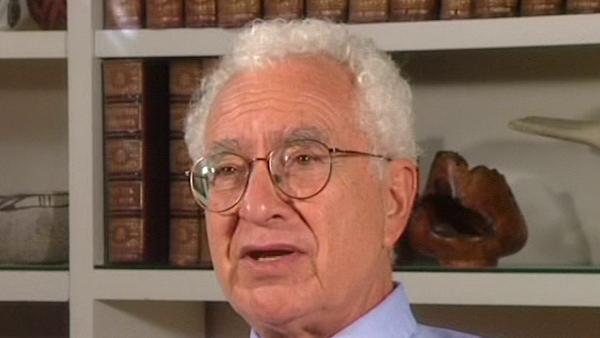 Applying to graduate schools
The many varied courses at Yale
Murray Gell-Mann
Scientist
1
2
3
4
5
...
20
I took a course in ornithology, I took a course in archaeology with Irvin Rowse, I took courses in various other things, a sprinkling of various things, a lot of history courses. Those worked very well. History courses with Hajo Hoborn and Dunham's course in English constitutional history, which was very good. I loved that. But I didn't succeed in… somehow in connecting up with what I was really excited about.
[Q] Which… which was?
Well the… the kind of approach to archaeology, linguistics —­ oh, I took a couple of linguistics courses too — but the… the kind of approach to archaeology, linguistics, biology and so on that would have made me happy somehow was not, didn't seem to be in these courses. I couldn't define it very well, but…
[Q] So it was..?
It somehow… I found them somehow un… mostly unsatisfying. The only thing I did pick up, in the bacteriology course that Harold Morowitz and I both took, there I began to pick up the modern synthesis in biology, and that I found very exciting; that is, the combination of genetics and evolution that constitutes the modern synthesis in biology. I understood that and I loved it, and I started to write an essay, which I never completed, on cancer, arguing that cancer probably consisted mostly of somatic mutations, distinct from germ cell mutations, and that… and so on and so forth. And, of course, it was quite right, but my friends with whom I discussed it couldn't see that there was much point in saying this and so I never finished it.
[Q] So do you see your involvement now with, for example, the Santa Fe Institute and so on, your helping to create that, as a fruition of that desire that you first felt at Yale, that you weren't getting fed at Yale?
Yes, yes, to a great extent, yes. Not so much what goes on at the Santa Fe Institute, but what the visitors…
[Q] No, but I mean the ideas.
… what the visitors to the Santa Fe Institute do, and some of what goes on at the Santa Fe Institute. Like your work with Jim Brown, for example, that is just the kind of thing I was hoping for, and somehow didn't find in those courses. They were not so elementary, they were undergraduate courses, but they were relatively advanced undergraduate courses. I stayed away from the… from the freshman survey courses in just about all subjects. I didn't like them, I felt I knew most of the material already and it wasn't very exciting. So I took somewhat more advanced courses in these things, but still I just didn't… didn't find them exciting, as exciting as I expected.
New York-born physicist Murray Gell-Mann (1929-2019) was known for his creation of the eightfold way, an ordering system for subatomic particles, comparable to the periodic table. His discovery of the omega-minus particle filled a gap in the system, brought the theory wide acceptance and led to Gell-Mann's winning the Nobel Prize in Physics in 1969.
Title: The many varied courses at Yale
Listeners: Geoffrey West
Geoffrey West is a Staff Member, Fellow, and Program Manager for High Energy Physics at Los Alamos National Laboratory. He is also a member of The Santa Fe Institute. He is a native of England and was educated at Cambridge University (B.A. 1961). He received his Ph.D. from Stanford University in 1966 followed by post-doctoral appointments at Cornell and Harvard Universities. He returned to Stanford as a faculty member in 1970. He left to build and lead the Theoretical High Energy Physics Group at Los Alamos. He has numerous scientific publications including the editing of three books. His primary interest has been in fundamental questions in Physics, especially those concerning the elementary particles and their interactions. His long-term fascination in general scaling phenomena grew out of his work on scaling in quantum chromodynamics and the unification of all forces of nature. In 1996 this evolved into the highly productive collaboration with James Brown and Brian Enquist on the origin of allometric scaling laws in biology and the development of realistic quantitative models that analyse the influence of size on the structural and functional design of organisms.
Tags: Santa Fe Institute, Yale University, Irvin Rowse, Hajo Hoborn, William Dunham, Harold Morowitz, James Brown
Duration: 3 minutes, 6 seconds
Date story recorded: October 1997
Date story went live: 24 January 2008