NEXT STORY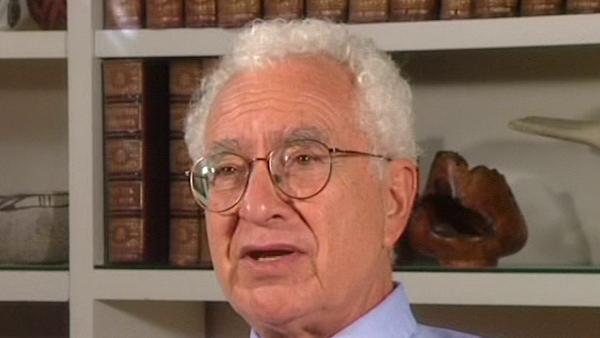 The World Resources Institute. Policy studies, climate change
Conservation. The MacArthur Foundation
Murray Gell-Mann
Scientist
1
...
16
17
18
19
20
My brother and I were premature conservationists. We were concerned with conservation, with population issues and so on in the 1930s when I was just a little boy and he was nine years older. There were not very many people thinking in those terms back then, but after about 1969 this country began to wake up to environmental, demographic concerns much more than before, and from a tiny band of people with not much influence, the people concerned with these issues became a major force in politics and society and that's, I think, very good. But one needs wise environmentalism; one needs environmentalist… environmental enthusiasm coupled with some policy studies to see what it is that one can really do and what the effects of things really are, because unforeseen side effects are such a major feature of policy in this and other domains. When I first became a director of the MacArthur Foundation just after it was started, a few months after it was started, I became a director in the spring of 1979; just... just 19 years ago, I came with certain ideas of what the foundation might do. We were not restricted in any way by the will of the... of John MacArthur who had created the foundation. He said in effect, 'I made all this money: you guys figure out how to spend it'. So, I thought of research in scientific fields relevant to mental health, and so did many of the other directors, and we set up such a program, which has been, I think, quite successful, although now it's being scaled back unfortunately. I also argued for policy studies, in particular policy studies that might be connected with the possible approach to sustainability, and we did some things along that line, and began to call together people to give us advice on how we could contribute, and finally we created the World Resources Institute, and that was in great part my work. It's one of the hardest things I've ever done, was to persuade the other directors to try to refine the plans so they made sense, try to get the right people involved and so on and so forth, and it cost the Foundation in the long run something like 40 million dollars. The other foundations wouldn't help, as usual; we had to do it by ourselves.
New York-born physicist Murray Gell-Mann (1929-2019) was known for his creation of the eightfold way, an ordering system for subatomic particles, comparable to the periodic table. His discovery of the omega-minus particle filled a gap in the system, brought the theory wide acceptance and led to Gell-Mann's winning the Nobel Prize in Physics in 1969.
Title: Conservation. The MacArthur Foundation
Listeners: Geoffrey West
Geoffrey West is a Staff Member, Fellow, and Program Manager for High Energy Physics at Los Alamos National Laboratory. He is also a member of The Santa Fe Institute. He is a native of England and was educated at Cambridge University (B.A. 1961). He received his Ph.D. from Stanford University in 1966 followed by post-doctoral appointments at Cornell and Harvard Universities. He returned to Stanford as a faculty member in 1970. He left to build and lead the Theoretical High Energy Physics Group at Los Alamos. He has numerous scientific publications including the editing of three books. His primary interest has been in fundamental questions in Physics, especially those concerning the elementary particles and their interactions. His long-term fascination in general scaling phenomena grew out of his work on scaling in quantum chromodynamics and the unification of all forces of nature. In 1996 this evolved into the highly productive collaboration with James Brown and Brian Enquist on the origin of allometric scaling laws in biology and the development of realistic quantitative models that analyse the influence of size on the structural and functional design of organisms.
Tags: MacArthur Foundation, World Resources Institute, John MacArthur
Duration: 2 minutes, 49 seconds
Date story recorded: October 1997
Date story went live: 29 September 2010