NEXT STORY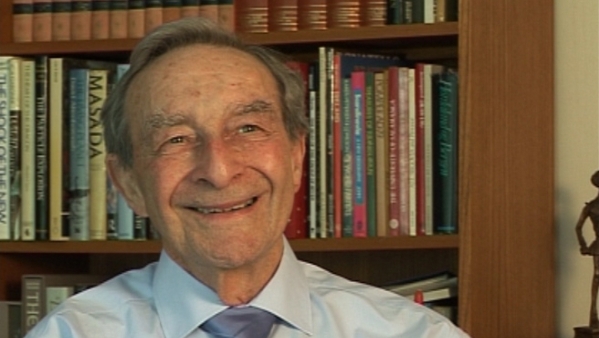 Physical chemistry: thermodynamics
A world class chemistry department
Norman Greenwood
Scientist
1
2
3
4
5
...
26
I think another interesting thing about the coursework was the people that were teaching me. I've, of course, singled out Abe Yoffe because I was doing research with him, but I think it would be fair to say that in Melbourne, although it was a smallish department, it had an extremely high standard and was a world class chemistry department.
One of the first main Professors of Chemistry was Sir David Orme Masson who in fact started chemistry, virtually, in Australia and in physics there was Sir Thomas Laby, both of whom became Fellows of the Royal Society. But in my day there was, in charge of chemistry, Ernst Johannes Hartung who, despite his name, was born in Melbourne and was a strict disciplinarian, but he was renowned for the elegance and the beauty of his experimentation. He had devised – before, of course, television and videos and so forth – he had devised a series of miniature experiments which he could do on a lantern slide projector and project the results of this to the class on a screen. And the experiments that he did were colourful, visually beautiful and sometimes, of course, quite explosive, making colours, making bangs in big tubes, you know, the classical explosions of gasses and so forth. He had us enthralled, and he was a showman and a past master at this.
I can recall one incident when we had, in the Masson Lecture Theatre – it was a raked lecture theatre that held about 250 students – and it was packed for first year lectures. On one occasion, when Hartung turned to write something on the board, some wag in the back, or near the back, took a marble out of his pocket and rolled it down the steps, pop, pop, pop, pop, and Hartung kept on writing on the board as though nothing was happening and then, when it got to the bottom, he turned around and said, 'Leave the lecture theatre now'. And the lad who'd done it was so stunned that he got up and sheepishly walked out. And, of course, what Hartung had been doing was counting the steps and just pointed in the general area towards the top and the lad was shamed into leaving.
Norman Greenwood (1925-2012) was born in Australia and graduated from Melbourne University before going to Cambridge. His wide-ranging research in inorganic and structural chemistry made major advances in the chemistry of boron hydrides and other main-group element compounds. He also pioneered the application of Mössbauer spectroscopy to problems in chemistry. He was a prolific writer and inspirational lecturer on chemical and educational themes, and held numerous visiting professorships throughout the world.
Title: A world class chemistry department
Listeners: Brian Johnson
Professor Brian FG Johnson FRS, FRSE, FRS Chem, FAcad Eu, FAS. Professor of Inorganic Chemistry University of Edinburgh 1991-1995, Professor of Inorganic Chemistry University of Cambridge 1995-2005, Master Fitzwilliam College Cambridge 1999-2005. Research interests include studies of transition metal carbonyls, organometallic chemistry, nano- particles and homogeneous catalysis. Professor Johnson is the author of over 1000 research articles and papers.
Tags: University of Melbourne, Australia, Royal Society, Melbourne, Abe Yoffe, David Orme Masson, Thomas Laby, Ernst Johannes Hartung
Duration: 3 minutes, 8 seconds
Date story recorded: May 2011
Date story went live: 25 November 2011