NEXT STORY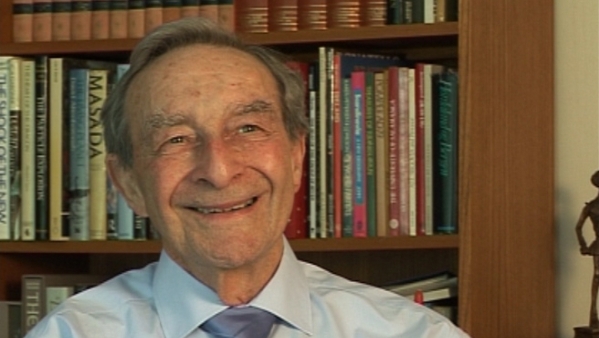 'If you want to learn a subject, write a book on it'
Realising other uses for Mössbauer spectroscopy
Norman Greenwood
Scientist
1
...
15
16
17
18
19
...
26
Now, that is a good introduction, perhaps, to Mössbauer spectroscopy, but what you'll realise, Brian, is having said that, that it is a solid state… you need a crystalline solid, perhaps at liquid helium temperature, certainly liquid nitrogen temperature, whereas most of my other work had been done on liquids. But this new interest in solids revived my interests in what I had been doing in Melbourne many years earlier.
That was, you recall, on nonstoichiometry, and the effect in cuprous oxide, which had cuprous and cupric irons in the lattice. Copper, unfortunately, is not a Mössbauer element, but I realised that this would be a very good technique in principle for looking at the structure of defects in the solid – whether it was an interstitial site, whether it was a vacant site – a lattice vacancy, what the structure was around the vacancy, is it a vacancy cluster, what the actual energy and oxidation states were, of elements, when this was confused.
For example, if you have a mixed iron sulphide, is it ferrous and ferric, in what proportions? Are there other elements there as well? Something which you can't get from simple chemical experiments on the solid, but Mössbauer would give a clear answer to.
Norman Greenwood (1925-2012) was born in Australia and graduated from Melbourne University before going to Cambridge. His wide-ranging research in inorganic and structural chemistry made major advances in the chemistry of boron hydrides and other main-group element compounds. He also pioneered the application of Mössbauer spectroscopy to problems in chemistry. He was a prolific writer and inspirational lecturer on chemical and educational themes, and held numerous visiting professorships throughout the world.
Title: Realising other uses for Mössbauer spectroscopy
Listeners: Brian Johnson
Professor Brian FG Johnson FRS, FRSE, FRS Chem, FAcad Eu, FAS. Professor of Inorganic Chemistry University of Edinburgh 1991-1995, Professor of Inorganic Chemistry University of Cambridge 1995-2005, Master Fitzwilliam College Cambridge 1999-2005. Research interests include studies of transition metal carbonyls, organometallic chemistry, nano- particles and homogeneous catalysis. Professor Johnson is the author of over 1000 research articles and papers.
Tags: Mössbauer spectroscopy, Melbourne University
Duration: 1 minute, 43 seconds
Date story recorded: May 2011
Date story went live: 25 November 2011