NEXT STORY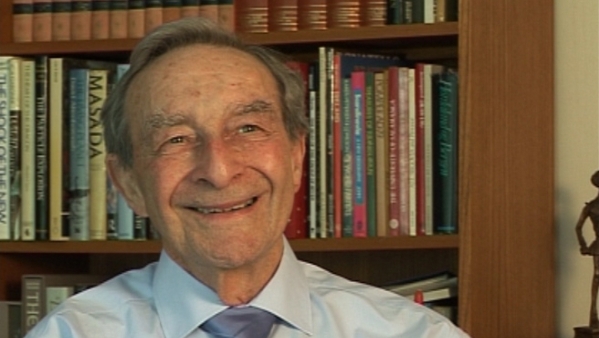 Founding an MSc course in spectroscopic properties
My new group's work at Leeds University
Norman Greenwood
Scientist
1
...
15
16
17
18
19
...
26
Well, of course, coming down... and I think there were about 13 people with other people's families coming down with us, but at least half a dozen of the science group came down with me, to various posts. Some of them I've mentioned: Terry Gibb and Bob Greatrex, then there was Arthur Howe, who came from Melbourne, and several other people came, both in the Mössbauer group and in the... in the solid state... in the Mössbauer group and in the borane, boron hydride and gallium work. They came down.
And of those, I should mention, I think, particularly, Tim Akitt, who was an NMR [nuclear magnetic resonance] specialist, and he'd been appointed to run our NMR... I haven't said much about NMR, except that it got continually bigger and better as the years went by. But where we were interested, and where we made our impact, I think, was that instead of concentrating, as most people did, on the 'obvious' and easily done ones of proton, carbon, phosphorus and fluorine – they were the ones that were easy to do and they of course have many important compounds including the whole of organic chemistry – we wanted to look at the NMR of other elements, particularly, for example, aluminium. We did some very interesting work with Tim Akitt on aluminium compounds in solution. That's a long story which I won't go through, except to say that, as you know, that aluminium is amphoteric, so as you make it increasingly basic or acidic, you go through a solution phase, it precipitates, it's hydrated aluminium, and then redissolves again, so there are many solutions, and he did some beautiful work unravelling that.
Gallium, I think we were the first. Gallium has two isotopes, 69 and 71. Both are NMR active. The 69 is rather easier to work with, but we did work on both of those with Tim Akitt and successive graduate students.
Norman Greenwood (1925-2012) was born in Australia and graduated from Melbourne University before going to Cambridge. His wide-ranging research in inorganic and structural chemistry made major advances in the chemistry of boron hydrides and other main-group element compounds. He also pioneered the application of Mössbauer spectroscopy to problems in chemistry. He was a prolific writer and inspirational lecturer on chemical and educational themes, and held numerous visiting professorships throughout the world.
Title: My new group's work at Leeds University
Listeners: Brian Johnson
Professor Brian FG Johnson FRS, FRSE, FRS Chem, FAcad Eu, FAS. Professor of Inorganic Chemistry University of Edinburgh 1991-1995, Professor of Inorganic Chemistry University of Cambridge 1995-2005, Master Fitzwilliam College Cambridge 1999-2005. Research interests include studies of transition metal carbonyls, organometallic chemistry, nano- particles and homogeneous catalysis. Professor Johnson is the author of over 1000 research articles and papers.
Tags: Leeds University, Melbourne University, Mössbauer spectroscopy, Terry Gibb, Bob Greatrex, Arthur Howe, Tim Akitt
Duration: 2 minutes, 39 seconds
Date story recorded: May 2011
Date story went live: 25 November 2011