NEXT STORY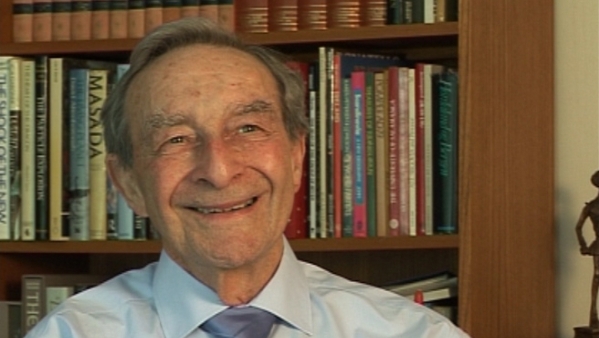 The Royal Society of Chemistry
Unification of the UK chemistry societies
Norman Greenwood
Scientist
1
...
18
19
20
21
22
...
26
I want now to say something about the arrangement of chemical societies in the United Kingdom. The first of the chemical societies, which was actually called, unsurprisingly, The Chemical Society, was founded in London in the mid-19th century and was in fact the first such chemical society, I think, in the world. They were concerned with the publication and transmission of chemistry, organising conferences and so forth, but particularly publishing the results of chemistry that were of work that was being done in the United Kingdom and elsewhere. The thought of training in chemistry, the degree courses, the professional qualifications of chemistry was not high on the agenda of the original Chemical Society and because of this the... there was a breakaway society, I suppose we could call it, which was the Royal Institute of Chemistry, and that was concerned, amongst other things, with professional qualifications, with professional standards, with the training of chemists, particularly part-time chemists who were perhaps in work and studying part-time or at technical colleges and places where there were evening classes. So that came along, and then there was the Society of Analytical Chemistry and at the turn of the century, about 1901 the Faraday Society was formed which was specialising in electrochemistry and physical chemistry.
Now, these went on and they had their own publications, but the feeling gradually developed that it was not a good idea to have these as separate organisations but chemistry as a profession would be very much better served if there was a single overarching society where all of these matters were taken care of and there was not any duplication of effort. And so in the '60s, I suppose, it became a fairly rapid movement. But there were difficulties and the sort of difficulties there were was that the... each of the individual societies had their own remits and their own rules and two of them by this time had royal charters. The Chemical Society had a royal charter and the...
[Q] Institution.
Sorry, the...
[Q] Royal Institution.
The Royal Institution [sic – should be Royal Institute of Chemistry], sorry for the hesitation... The Royal Institution also had a charter. They were charities, had charitable status which was important for taxation reasons, and the Faraday Society did not have a separate royal charter but it was a charitable organisation. So the legal and legalistic problems of joining these societies had to be overcome, but by and large there was goodwill. The individual societies ballotted their members on this and got, I think, an overwhelming support for it – there were some people who didn't like the idea, obviously – but the idea of amalgamation developed and in '71 – and I was on the council of the Chemical Society and, in fact, was Vice President of the Royal Institution... Royal Institute of Chemistry at that stage – they agreed to amalgamate, and the Faraday Society did not have such difficulty in amalgamating, but they wanted to make sure that physical chemistry was a recognised part of it.
Norman Greenwood (1925-2012) was born in Australia and graduated from Melbourne University before going to Cambridge. His wide-ranging research in inorganic and structural chemistry made major advances in the chemistry of boron hydrides and other main-group element compounds. He also pioneered the application of Mössbauer spectroscopy to problems in chemistry. He was a prolific writer and inspirational lecturer on chemical and educational themes, and held numerous visiting professorships throughout the world.
Title: Unification of the UK chemistry societies
Listeners: Brian Johnson
Professor Brian FG Johnson FRS, FRSE, FRS Chem, FAcad Eu, FAS. Professor of Inorganic Chemistry University of Edinburgh 1991-1995, Professor of Inorganic Chemistry University of Cambridge 1995-2005, Master Fitzwilliam College Cambridge 1999-2005. Research interests include studies of transition metal carbonyls, organometallic chemistry, nano- particles and homogeneous catalysis. Professor Johnson is the author of over 1000 research articles and papers.
Tags: UK, The Chemical Society, London, Royal Institute of Chemistry, Faraday Society, 1901, 1960s, 1971
Duration: 4 minutes, 36 seconds
Date story recorded: May 2011
Date story went live: 25 November 2011