NEXT STORY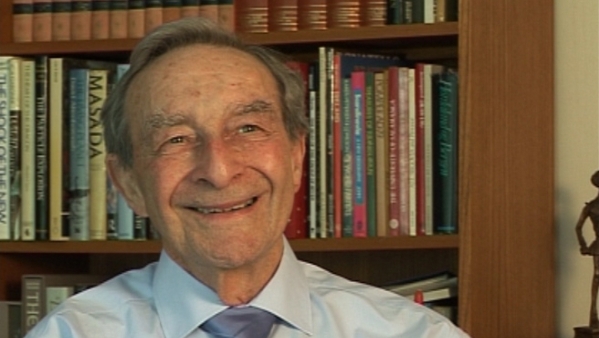 Visiting the science institutes in Bombay
Norman Greenwood
Scientist
1
...
20
21
22
23
24
...
26
Then from Delhi – and this was the tourist part of it – spent a day in Jaipur just a short aeroplane ride, starting about six o'clock in the morning, to Jaipur which has some wonderful palaces and sights to be seen, and particularly astronomical observatories that were from the 16th and 17th centuries and there are some of those in New Delhi, as well, which I didn't talk about. And then on early the next morning to Udaipur which has a Lake Palace... a huge gleaming palace in the middle of a lake which I understand now has become badly polluted and is drying up because so much water is being used for the city. But in those days it was a beautiful sight, and we came from the airport into the palace on land with big elephant stables and so forth, which were an amusing thing and to see the town, but also to catch a launch over to the Udaipur Hotel which I was staying at which is on the island in the middle of the lake, which was I suppose a maharaja's palace at one stage, and the feature there is not only the wonderful view you get, but the sunset. That is the thing. And at the sunset there are such gorgeous colours in the sky as the sun goes down and the atmosphere's not completely clear because of the pre-monsoonal weather so the purples and oranges and mauves and reds and yellows are lighting up the sky and then, whoosh! You start, and... huge flocks of parrots come in. They are, I think, green and yellow as far as I could make out in the failing light, but – I was going to say 'drove' but I think 'flock' is the word – flock after flock of these, hundreds of thousands of birds fly from the town where they've been scavenging as these birds do, down into the trees in the forests on the far side of the lake and that was one of the sights again which would be a memorable memory for me.
But I was there to work and not to see parrots flying around, so I was on to Bombay. I call it Bombay. I think some people now like to call it Mumbai but to me it's always Bombay and I don't particularly want to use Bombay... Mumbai in the modern form reminds me of course that in Europe we don't talk about München and Warszawa, and so forth. We use the translations and, I think, if you're speaking English it's not too discourteous to use the English phrase.
Norman Greenwood (1925-2012) was born in Australia and graduated from Melbourne University before going to Cambridge. His wide-ranging research in inorganic and structural chemistry made major advances in the chemistry of boron hydrides and other main-group element compounds. He also pioneered the application of Mössbauer spectroscopy to problems in chemistry. He was a prolific writer and inspirational lecturer on chemical and educational themes, and held numerous visiting professorships throughout the world.
Title: Being a tourist in India
Listeners: Brian Johnson
Professor Brian FG Johnson FRS, FRSE, FRS Chem, FAcad Eu, FAS. Professor of Inorganic Chemistry University of Edinburgh 1991-1995, Professor of Inorganic Chemistry University of Cambridge 1995-2005, Master Fitzwilliam College Cambridge 1999-2005. Research interests include studies of transition metal carbonyls, organometallic chemistry, nano- particles and homogeneous catalysis. Professor Johnson is the author of over 1000 research articles and papers.
Tags: India, Delhi, Jaipur, New Delhi, Udaipur, Taj Lake Palace, Mumbai, Bombay, München, Warszawa
Duration: 3 minutes, 26 seconds
Date story recorded: May 2011
Date story went live: 25 November 2011