NEXT STORY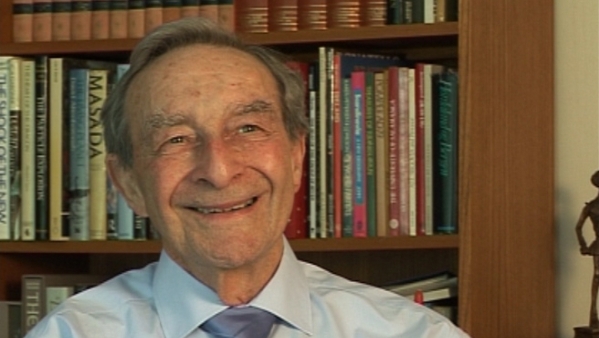 Teaching technical English to the Japanese students
'One must never show one's tongue in Japan'
Norman Greenwood
Scientist
1
...
22
23
24
25
26
Well , we did these lectures and they seemed to go well, and then Takeda said, 'Would you teach them to speak English properly?' Well, I felt less comfortable about this because it's not my area of expertise, but he was thinking of something more basic. It's interesting about how meticulous Japanese are... if you're speaking English you speak it properly and you learn the correct way of doing things.
So the first thing was the names of the elements – how do you pronounce them? So we went through that and I immediately came up against a difficulty. The Japanese and their courtesies... one of the things is, you must not show your tongue. Well, of course, you and I would not go to someone like that, that would be rude of course.
But in English, as you know, there are many sounds which you can't make without using the tongue and your lips. And so, 'though' and 'thou' and 'thither', not that they were words that I was teaching them, you need to show the tongue.
Now we got to thorium and they said torium so I said, no you put your tongue out, thorium. Great surprise, so they would say thorium, and whenever there was a 'th', thorium, thallium, up would come the hand. It's an interesting cultural thing that is a difficulty that one wouldn't suspect perhaps until you had met it.
Norman Greenwood (1925-2012) was born in Australia and graduated from Melbourne University before going to Cambridge. His wide-ranging research in inorganic and structural chemistry made major advances in the chemistry of boron hydrides and other main-group element compounds. He also pioneered the application of Mössbauer spectroscopy to problems in chemistry. He was a prolific writer and inspirational lecturer on chemical and educational themes, and held numerous visiting professorships throughout the world.
Title: 'One must never show one's tongue in Japan'
Listeners: Brian Johnson
Professor Brian FG Johnson FRS, FRSE, FRS Chem, FAcad Eu, FAS. Professor of Inorganic Chemistry University of Edinburgh 1991-1995, Professor of Inorganic Chemistry University of Cambridge 1995-2005, Master Fitzwilliam College Cambridge 1999-2005. Research interests include studies of transition metal carbonyls, organometallic chemistry, nano- particles and homogeneous catalysis. Professor Johnson is the author of over 1000 research articles and papers.
Tags: Japan, Mosua Takeda
Duration: 1 minute, 44 seconds
Date story recorded: May 2011
Date story went live: 25 November 2011