NEXT STORY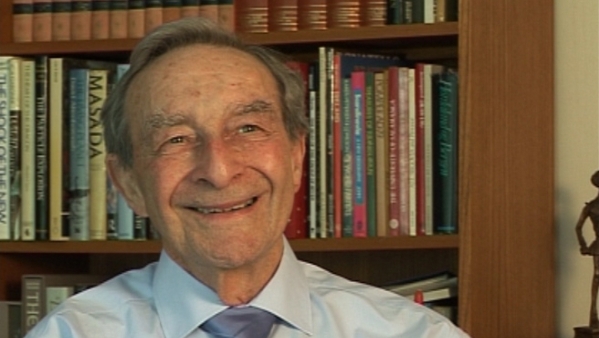 Courtesy and formality in Japan
Experiencing a Japanese wedding
Norman Greenwood
Scientist
1
...
22
23
24
25
26
One of the great joys of Japan, of course, is the traditional costumes, the churches, if I can call them that, pagodas, the costumes that they wear, flower arranging, all of these things were a delight to watch and see, and we learnt a great deal about the customs.
On one occasion Geoff Sykes had actually, in Leeds, had a Japanese student, and he had gone back and later had got married, and he'd actually timed the wedding so that we would be in town at the time and we were invited to this wedding. It was a thrilling experience for us because the bride and others were in traditional dress and I had, in this case it wasn't Takeda it was another chap, Saito... Kazuo Saito, he was the Master of Ceremonies. And I said, 'Well, you know, I've been invited will I have to say something?' Oh no, perfectly all right.
But when we got there we found that this was a 13-course dinner. In between some of the courses the bride would disappear and come back in a different gown, and finally in a Western gown, so she was changing two or three times within the meal. In between each course a fellow student played the banjo and sang something or recited or gave an anecdote, and inevitably... and now Professor Greenwood is here, he will say…
Well, I had no idea what would be appropriate, and I was very conscious of the fact that if you don't get it right it can be a real social gaffe. So I said something, I don't even really remember what I said now, but it seemed to be appropriate. But they are very formal when they're formal, there's no doubt about that, but they're also very delightful.
Norman Greenwood (1925-2012) was born in Australia and graduated from Melbourne University before going to Cambridge. His wide-ranging research in inorganic and structural chemistry made major advances in the chemistry of boron hydrides and other main-group element compounds. He also pioneered the application of Mössbauer spectroscopy to problems in chemistry. He was a prolific writer and inspirational lecturer on chemical and educational themes, and held numerous visiting professorships throughout the world.
Title: Experiencing a Japanese wedding
Listeners: Brian Johnson
Professor Brian FG Johnson FRS, FRSE, FRS Chem, FAcad Eu, FAS. Professor of Inorganic Chemistry University of Edinburgh 1991-1995, Professor of Inorganic Chemistry University of Cambridge 1995-2005, Master Fitzwilliam College Cambridge 1999-2005. Research interests include studies of transition metal carbonyls, organometallic chemistry, nano- particles and homogeneous catalysis. Professor Johnson is the author of over 1000 research articles and papers.
Tags: Japan, Leeds University, Geoff Sykes, Kazuo Saito, Norman Greenwood
Duration: 2 minutes, 22 seconds
Date story recorded: May 2011
Date story went live: 25 November 2011