NEXT STORY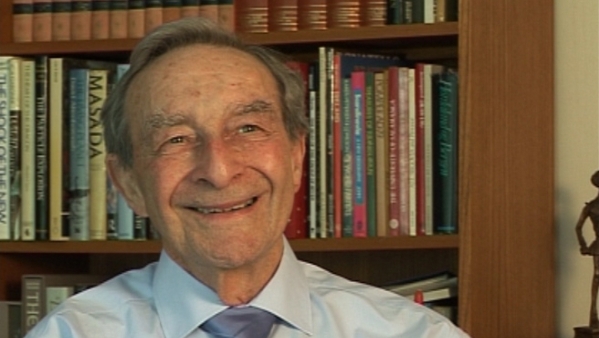 The deferential headmaster
The Young Australia League
Norman Greenwood
Scientist
1
2
3
4
5
...
26
Another occasion, quite differently, in fact it was when I was at school still, I was 14, just coming up to 15, and as I told you I was in the school orchestra, I played the flute. But independently of that I joined a thing called the Young Australia League which was to help young Australians, boys and girls, to travel around and the way they could do that was by giving concerts. So I joined a concert troupe, it was called a Minstrel Show – fortunately not a black and white minstrel show – but there was a band of, I think, eight or 10 pieces, of which I was a flute, and the other obvious instruments and a drum, and there were about another 15 or 20 boys that did song and dance acts, jokes and so forth.
And what we would do was we would drive along in a bus, we had a nurse with us and a couple of chaps to keep us out of harm's way, we would drive to the next town, we would be met by the mayor, have a mayoral luncheon and then shown a local site, like a silo, a wheat mill, a hospital, a brewery, an engine factory, all of these sorts of things which were of great interest to young boys. We learnt a lot about Western Australia [sic – should be Australia]. After the lunch and the mayoral reception we'd do the trip in the afternoon or go swimming in one of the rivers, and then in the evening we would give our show which was actually very well received.
When I came to write my memoirs many, many years later I decided to see if I could get in touch with these people and so I'd ring to... the Shire Council and say to their archivist have you got anything, and they would shunt me off to the local history people or to the film... to the local... newspaper, and I was touched at the amount of interest that it had generated. And out of the 30 places that we stopped in a month – and you can do the arithmetic – so we were doing a show a night and moving on, we had a write-up, sometimes, you know, 20 or 30 column inches which was amazing in wartime when paper was restricted. In fact, to my shame, I have to tell you that on one occasion I was written up, or the show was written up, on the same page as the cricket scores and one name, Don Bradman, had been bowled by a duck, so that was the news when South Australia were playing Brisbane in the Sheffield Shield match, and this is the one and only occasion that my name has been on the same page as Don Bradman, but for different reasons.
But amongst these people one lady wrote back and said, 'I'm so glad you have written. We hold meetings of our local history society, and when I showed them your letter two of our elderly members remembered seeing your show'. It was in 1941 and they were 12-year-old girls at that stage and they still remembered. So that was... but that was very interesting.
Norman Greenwood (1925-2012) was born in Australia and graduated from Melbourne University before going to Cambridge. His wide-ranging research in inorganic and structural chemistry made major advances in the chemistry of boron hydrides and other main-group element compounds. He also pioneered the application of Mössbauer spectroscopy to problems in chemistry. He was a prolific writer and inspirational lecturer on chemical and educational themes, and held numerous visiting professorships throughout the world.
Title: The Young Australia League
Listeners: Brian Johnson
Professor Brian FG Johnson FRS, FRSE, FRS Chem, FAcad Eu, FAS. Professor of Inorganic Chemistry University of Edinburgh 1991-1995, Professor of Inorganic Chemistry University of Cambridge 1995-2005, Master Fitzwilliam College Cambridge 1999-2005. Research interests include studies of transition metal carbonyls, organometallic chemistry, nano- particles and homogeneous catalysis. Professor Johnson is the author of over 1000 research articles and papers.
Tags: Young Australia League, Western Australia, Australia, South Australia, Brisbane, Sheffield Shield, 1941, Donald Bradman
Duration: 3 minutes, 55 seconds
Date story recorded: May 2011
Date story went live: 25 November 2011