NEXT STORY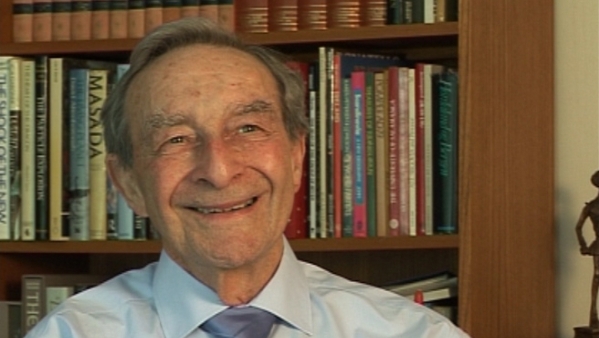 The unique assessment system at University High School
The superb University High School
Norman Greenwood
Scientist
1
2
3
4
5
...
26
So, I then went to school, first at Mont Albert, but after the divorce we had to move to a neighbouring suburb, both in the east of Melbourne, about seven miles to the east of Melbourne, and I went to Canterbury School which had its centenary not so long ago. After that, I went to Auburn Central High where after a bit of hard work I became "Dux", that was my first big prize I suppose, and then went on to University High School. At that stage it was interesting in Melbourne that there were virtually no secondary schools run by the state. All of the secondary schools in the eastern suburbs of Melbourne were, I think it's fair to say, religious foundations, Church of England, Methodist, Presbyterian, both for boys and girls but of course we couldn't afford the fees for that so I went to the nearest state school, which was in central Melbourne, and it was called University High School.
But this was a stroke of good luck because it was a superb school, still is, in fact today I got an email with their latest report – they had a centenary last year – but they're doing extraordinarily well both in the academic subjects, but also I would say in music and in sport. They had this wonderful ability to bring out the best, if I could put it that way, in the students. But, perhaps you'd like me to say a little bit about...?
[Q] Didn't you revisit the school quite recently, Norman?
Yes, I did. Kirsten and I went out last October for their centenary and I was absolutely astonished at the change. Of course, you have to remember that I went to University High School from 1939 to 1942, so it's the first years of the war, that's a long time ago now and clearly there have been many changes but I think probably all for the better, and they still have this... great love of music. I was in the school orchestra whilst I was there, I played second flute – I wasn't much good I have to say but I did enjoy it!
[Q] Better than second fiddle, Norman.
Better than... Absolutely right! But we played, I mean, we were good enough to play on the radio, for example, the Australian State Radio, and to give concerts twice a year and so forth at which parents came and were very proud of their youngsters. But, no, it was a good time at the University [High School].
Norman Greenwood (1925-2012) was born in Australia and graduated from Melbourne University before going to Cambridge. His wide-ranging research in inorganic and structural chemistry made major advances in the chemistry of boron hydrides and other main-group element compounds. He also pioneered the application of Mössbauer spectroscopy to problems in chemistry. He was a prolific writer and inspirational lecturer on chemical and educational themes, and held numerous visiting professorships throughout the world.
Title: The superb University High School
Listeners: Brian Johnson
Professor Brian FG Johnson FRS, FRSE, FRS Chem, FAcad Eu, FAS. Professor of Inorganic Chemistry University of Edinburgh 1991-1995, Professor of Inorganic Chemistry University of Cambridge 1995-2005, Master Fitzwilliam College Cambridge 1999-2005. Research interests include studies of transition metal carbonyls, organometallic chemistry, nano- particles and homogeneous catalysis. Professor Johnson is the author of over 1000 research articles and papers.
Tags: Mont Albert Primary School, Melbourne, Canterbury Primary School, Auburn central school, University High School, 1939, 1942, WWII, the Australian State Radio
Duration: 3 minutes, 6 seconds
Date story recorded: May 2011
Date story went live: 25 November 2011