NEXT STORY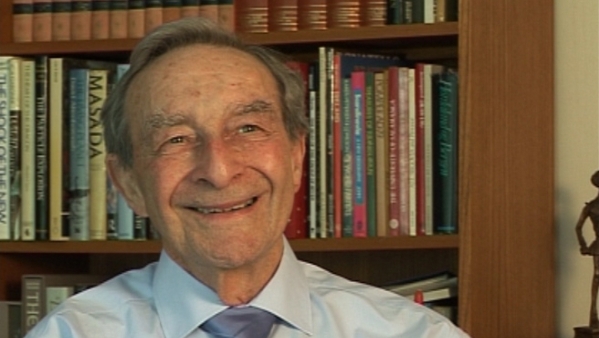 Harry Emeléus
Norman Greenwood
Scientist
1
2
3
4
5
6
...
26
So you're not surprised to learn that when I got to England I was again pretty speechless. I admit it, I was overwhelmed by London. But of course I hadn't come to be a tourist.
What I did first – I was met by my uncle, and he lived, he and his wife, who was my mother's sister, they lived in London, but they'd lived in Mecklenburgh Square, and they were bombed out, through, during the Battle of Britain. And they had a house near –a cottage really – near Boxmoor, he was a chemical engineer, so he worked from there. And in fact, my mother's family came to meet me at this place, some of them still lived in Manchester, my grandmother, and another aunt, my mother's eldest sister, came down to meet me, so it was a family reunion. But that was only for a day, to say hello, and bring some presents that I'd brought over, and some pictures particularly, that they wanted to see of the house where we lived and so forth. But then I went to Cambridge which was where I had been accepted, because I think we mentioned earlier, the team, Emeléus and Anderson, from pre-war Imperial College, they had written the definitive book on modern aspects of inorganic chemistry, and that was our bible. I'd got my Masters degree with JS Anderson, and I'd sought his advice, and he mentioned various places, though in his own inimitable way, with his little toothbrush moustache twitching, he said he'd been at Harwell for about eight months, at that stage. I forgot to mention that during my MSc he left, so we had to correspond, so I'd half-written my thesis by writing letters to JS Anderson and discussing the work. But anyway, he was at Harwell, and he said, 'Norman, in my experience, pre-war inorganic chemistry, in the best German sense, is dead in England, except for Cambridge and Bristol', and at Bristol was Garner, who was doing solid-state chemistry. Now, I think that of course was some exaggeration, but I chose, and I've certainly never regretted it, choosing Harry Emeléus, and Cambridge.
Norman Greenwood (1925-2012) was born in Australia and graduated from Melbourne University before going to Cambridge. His wide-ranging research in inorganic and structural chemistry made major advances in the chemistry of boron hydrides and other main-group element compounds. He also pioneered the application of Mössbauer spectroscopy to problems in chemistry. He was a prolific writer and inspirational lecturer on chemical and educational themes, and held numerous visiting professorships throughout the world.
Title: Reaching England
Listeners: Brian Johnson
Professor Brian FG Johnson FRS, FRSE, FRS Chem, FAcad Eu, FAS. Professor of Inorganic Chemistry University of Edinburgh 1991-1995, Professor of Inorganic Chemistry University of Cambridge 1995-2005, Master Fitzwilliam College Cambridge 1999-2005. Research interests include studies of transition metal carbonyls, organometallic chemistry, nano- particles and homogeneous catalysis. Professor Johnson is the author of over 1000 research articles and papers.
Tags: UK, London, Mecklenburgh Square, Battle of Britain, Boxmoor, Manchester, Cambridge University, Imperial College, Harwell, University of Bristol, JS Anderson, Harry Emeléus, WE Garner
Duration: 3 minutes
Date story recorded: May 2011
Date story went live: 25 November 2011