NEXT STORY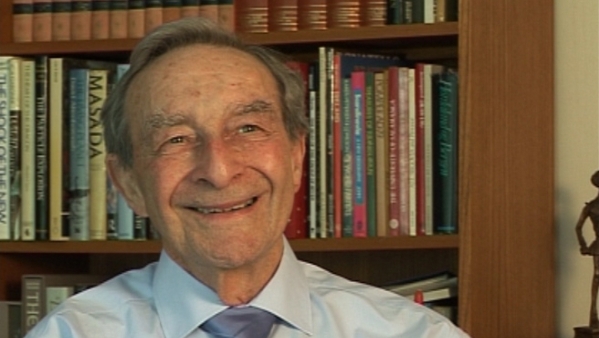 Meeting my paternal relations
Norman Greenwood
Scientist
1
2
3
4
5
6
...
26
I then went to Cambridge, because that's why I'd come to England. I hadn't yet been assigned a college, and it was not even term or half-term or full-term, or any of these strange names that they have in Cambridge. It was a week, no, it was a month before term ended [sic – should be began], it was the... well, it was mid-August, I guess. No, it was the first week in September actually, the first week in September, so of course the undergraduates certainly weren't back, there were some graduate students around. So I went into Emeléus' room... I'd just come off the ship, I had two big hand luggage, the rest had been put into storage, and I had a big, long overcoat, trench coat, on. Unbeknown to me, it was an unprecedented heatwave in Cambridge, it was... I think it was actually 89 degrees, or something like that, it was really, well into the mid-30s. And Emeléus' first remark was... to me, was, 'Good God, man, take your coat off, you must be boiling!' And I said, yes it is rather warm, isn't it? So perhaps I was picking up English understatement, already, but anyhow, I was glad to take my coat off.
But he said, 'Well, there's no point in coming to work at the moment, no-one's here, they've gone to conferences, or on holidays, and so forth, and I haven't got you into college yet, why don't you look around England for a month, and come back in the first week of October, and we'll settle things then, but you're definitely in, I've got a place for you in my laboratory'. He then took me to the Red Lion, which I don't think is a pub anymore, I think... Lion's Yard, it's in Petty Cury.
[Q] Yes, it's disappeared, Norman, sadly.
I think it has.
[Q] The Lion's still there, but the pub's gone.
Okay. Well, the... it was the Lion in Petty Cury, and again in his own inimicable way, he said, 'Norman, I'll leave you to the pleasures of finding out about Cambridge on yourself... on your own', and so I bought a guide book and decided to walk around Cambridge.
Norman Greenwood (1925-2012) was born in Australia and graduated from Melbourne University before going to Cambridge. His wide-ranging research in inorganic and structural chemistry made major advances in the chemistry of boron hydrides and other main-group element compounds. He also pioneered the application of Mössbauer spectroscopy to problems in chemistry. He was a prolific writer and inspirational lecturer on chemical and educational themes, and held numerous visiting professorships throughout the world.
Title: Arriving in Cambridge
Listeners: Brian Johnson
Professor Brian FG Johnson FRS, FRSE, FRS Chem, FAcad Eu, FAS. Professor of Inorganic Chemistry University of Edinburgh 1991-1995, Professor of Inorganic Chemistry University of Cambridge 1995-2005, Master Fitzwilliam College Cambridge 1999-2005. Research interests include studies of transition metal carbonyls, organometallic chemistry, nano- particles and homogeneous catalysis. Professor Johnson is the author of over 1000 research articles and papers.
Tags: Cambridge University, UK, Petty Cury, Harry Emeléus
Duration: 2 minutes, 28 seconds
Date story recorded: May 2011
Date story went live: 25 November 2011